This warm appetizer is such a delicious dish to serve and is always a big hit.
Old fashioned clam dip is wonderful when served for parties or special occasions. It's always such a crowd-pleasing appetizer and one of the first things to go when served. And it's so easy to prepare and can be made in advance of baking!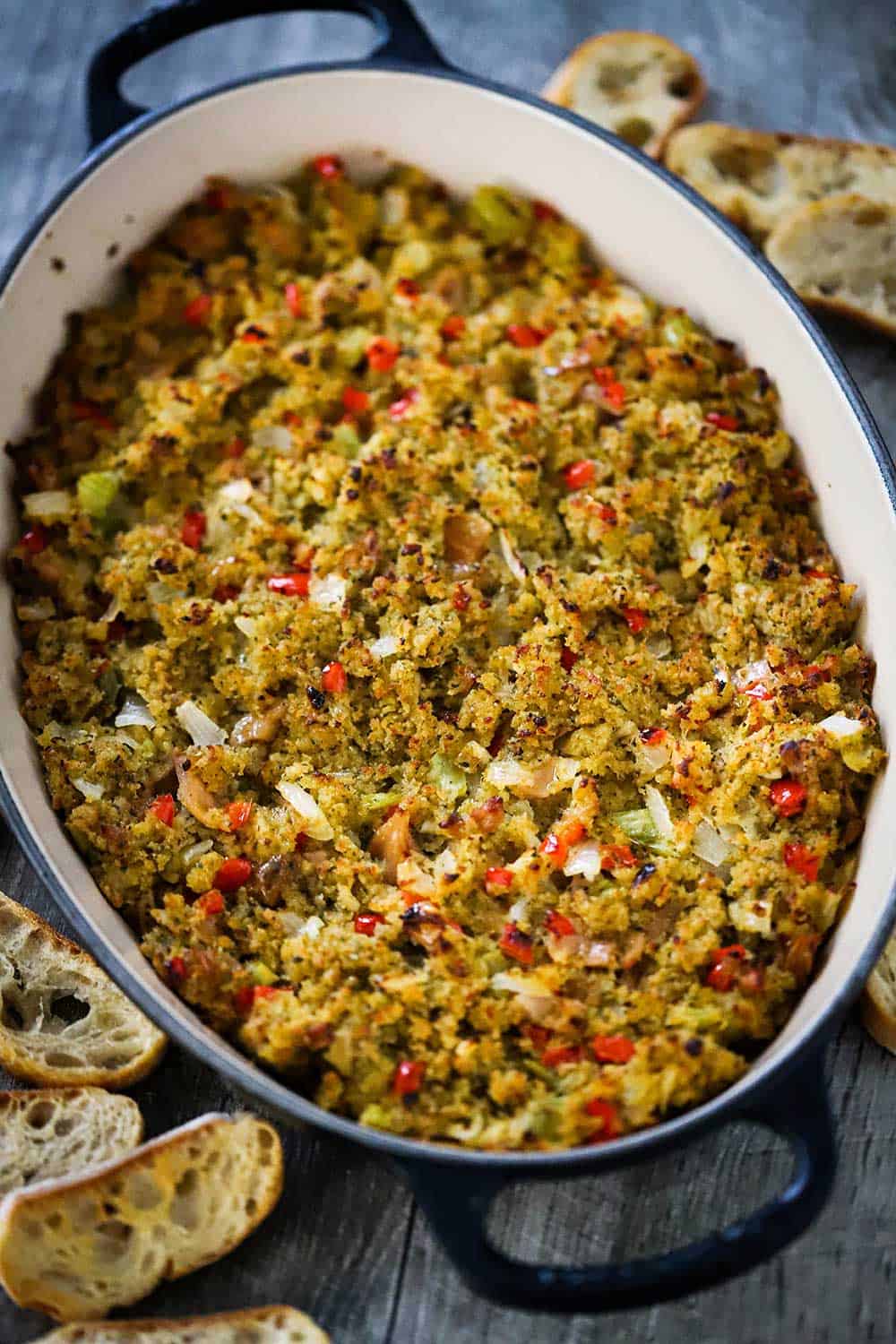 How To Make Baked Clam Dip
This is one of those party dips that is huge on taste and texture, but so simple to prepare.
We love serving it piping hot with lightly toasted baguette slices and cut veggies, such as celery.
The Ingredients You Will Need
We start off by sautéing some veggies.
Chopped onion, red bell peppers, and celery add a depth of flavor, as well as beautiful color.
Sauté until just soft and translucent, about 5 to 8 minutes.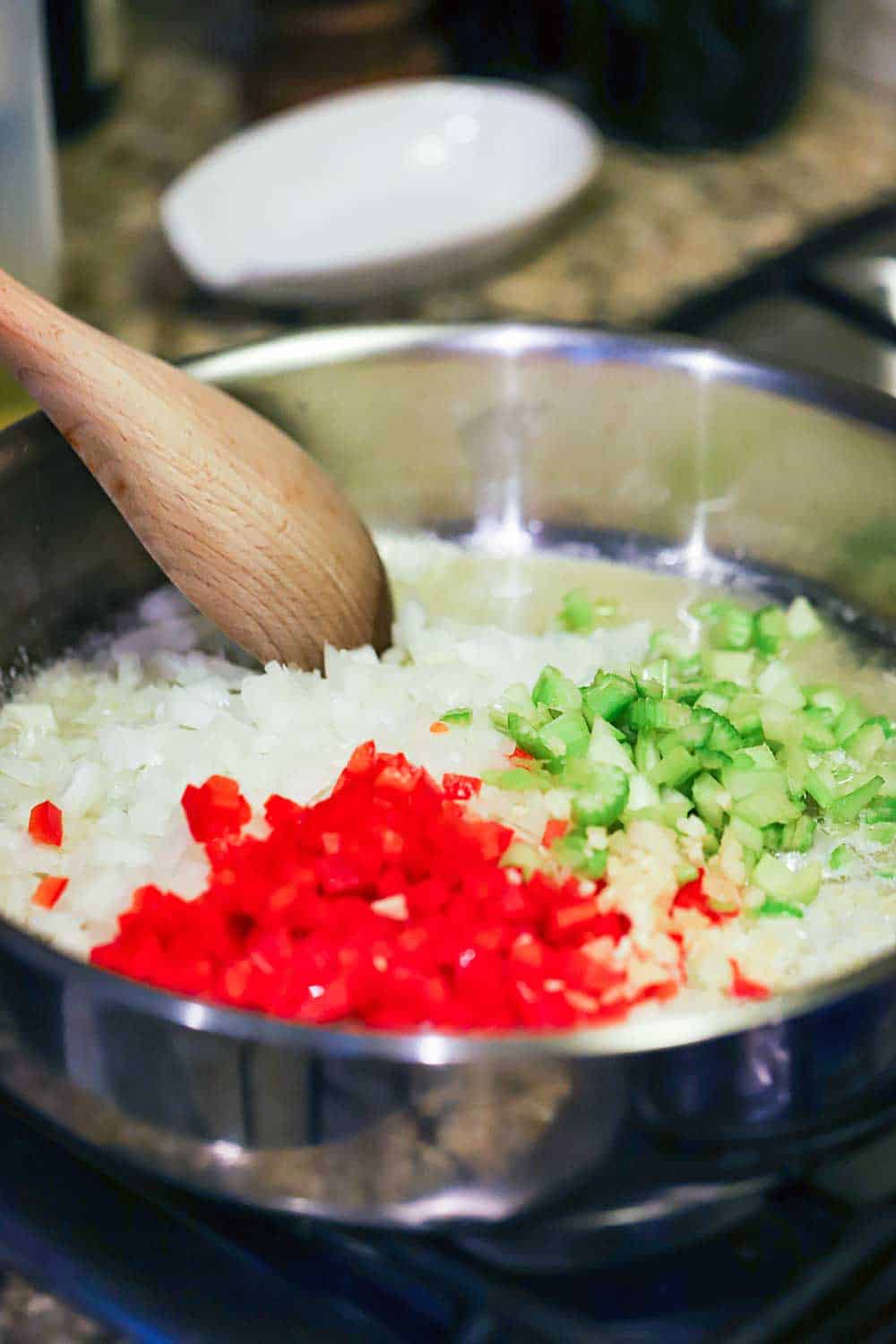 What Clams Are Best for Baked Clam Dip?
You definitely don't need to break the bank when selecting the clams for this dish.
We've tried many varieties, from fresh to canned, from expensive to affordable. Go with the canned variety at the supermarket and you'll be in good shape.
EXPERT TIP: You can find canned clams in the same area that you find canned tuna fish in your local market. We go with three 6.5 oz cans, and be sure to transfer the clams along with the juice to the pan.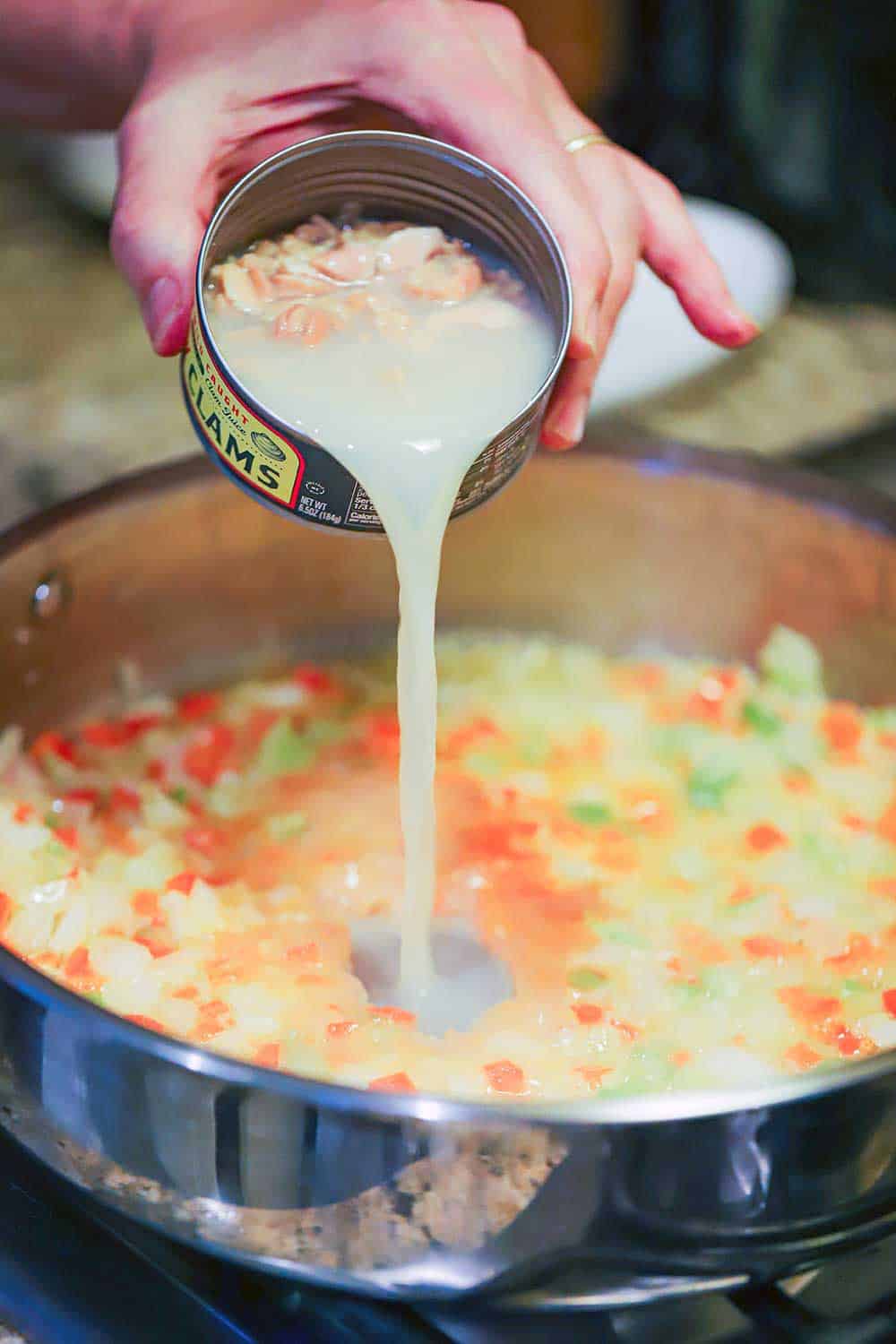 Freshly squeezed lemon juice (about 2 tablespoons) and 1 tablespoon of your favorite hot sauce round out the flavors.
Don't worry, the hot sauce does not make the dip spicy at all. The hot sauce and lemon juice add a little acid and just a 'zip' to match perfectly against the clams.
EXPERT TIP: For the bread crumbs, we love the texture of Panko bread crumbs, which are a little more substantial than standard breadcrumbs. We even love using Italian-style Panko bread crumbs. But, whatever are your favorite types of breadcrumbs will work just fine. You'll need 2 cups of them. Just mix them right into the skillet with the clams and vegetables. The addition of 1/4 cup of grated Parmesan mixed into the party is optional, but delicious!
When and How to Serve
There is just something extra enticing (and a little nostalgic) about this dish. Baking clams is a tried and true method for preparing this delicious shellfish.
It's perfect for game day snacking or an appetizer before a wonderful dinner party. But, guests always comment that the dip is really delicious, and, it's not fishy tasting AT ALL!
EXPERT TIP: You can easily prepare the baked clam dip in advance. Do all the steps right up to placing it in the oven to bake. We love to slice a couple of baguettes and then toast them with a little butter or olive oil brushed on the tops. If serving to guests, we suggest also including cut vegetables, such as celery or bell pepper strips, which are great for scooping. Buttery crackers are wonderful, too.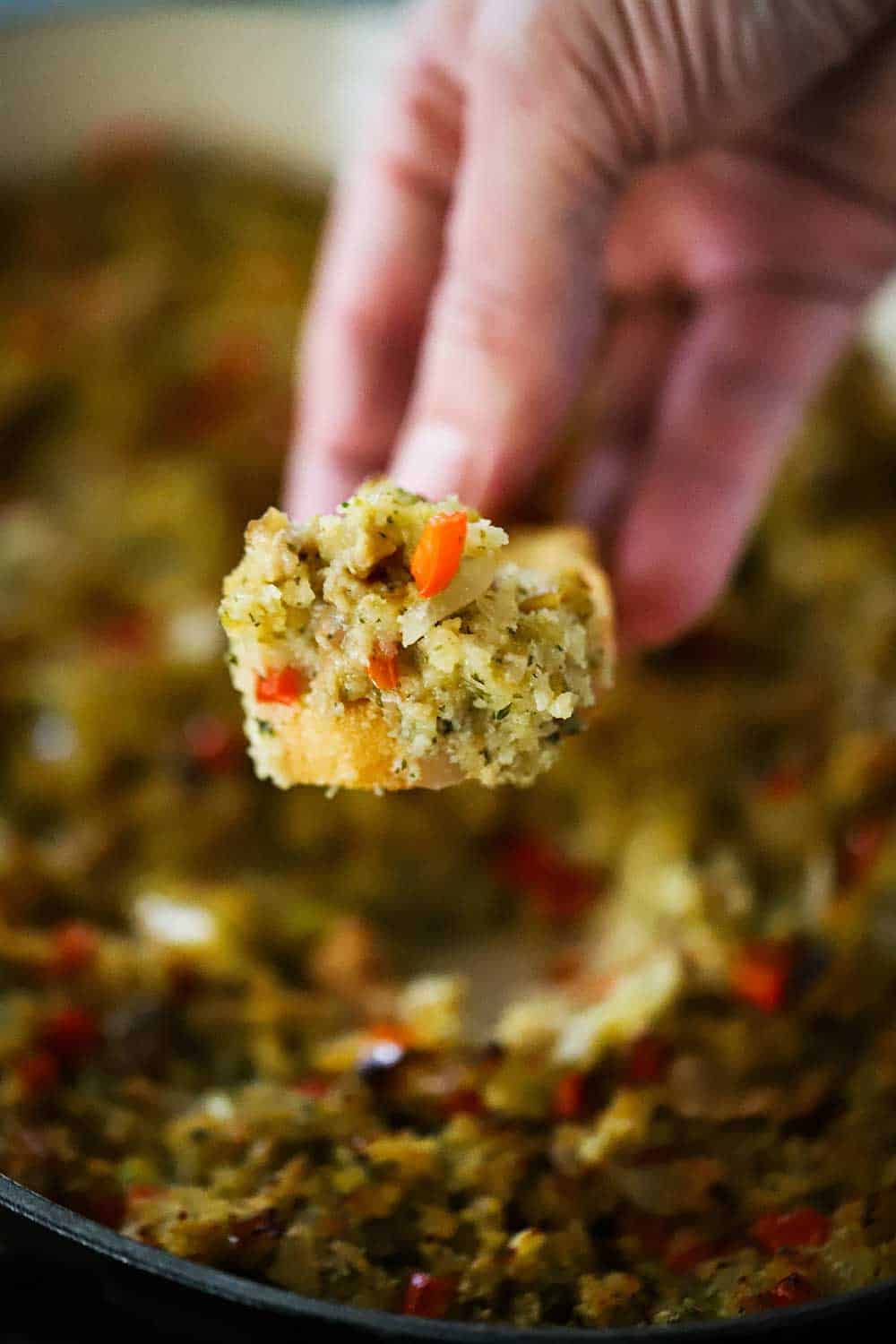 This dip is the quintessential party dip. We had one guest tell us that the taste is like the topping of baked clams. We 100% agree!
Speaking of baked clams, if you love this recipe, you'll most likely love our incredible Baked Clams!
But in the meantime, you really should whip up a batch of this appetizer.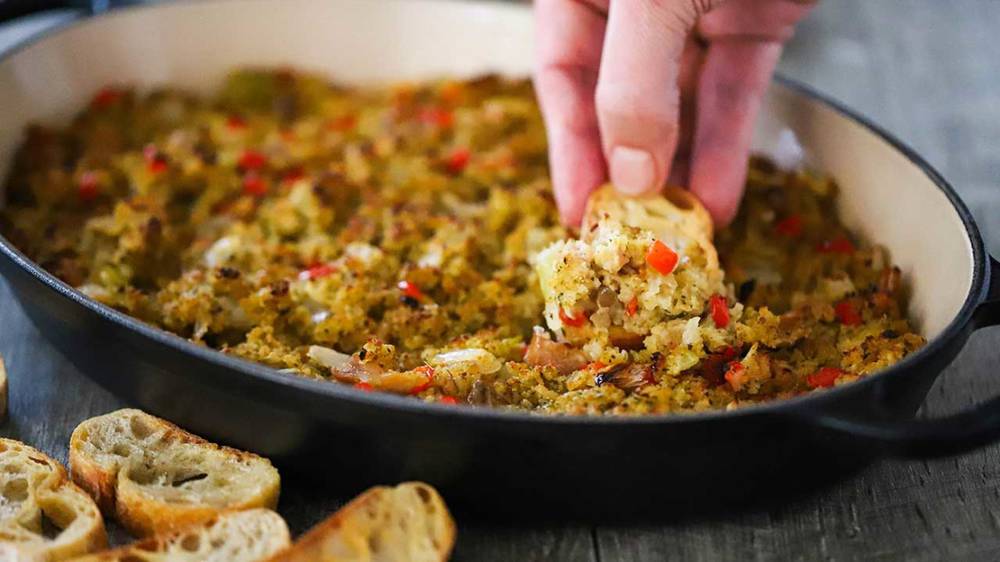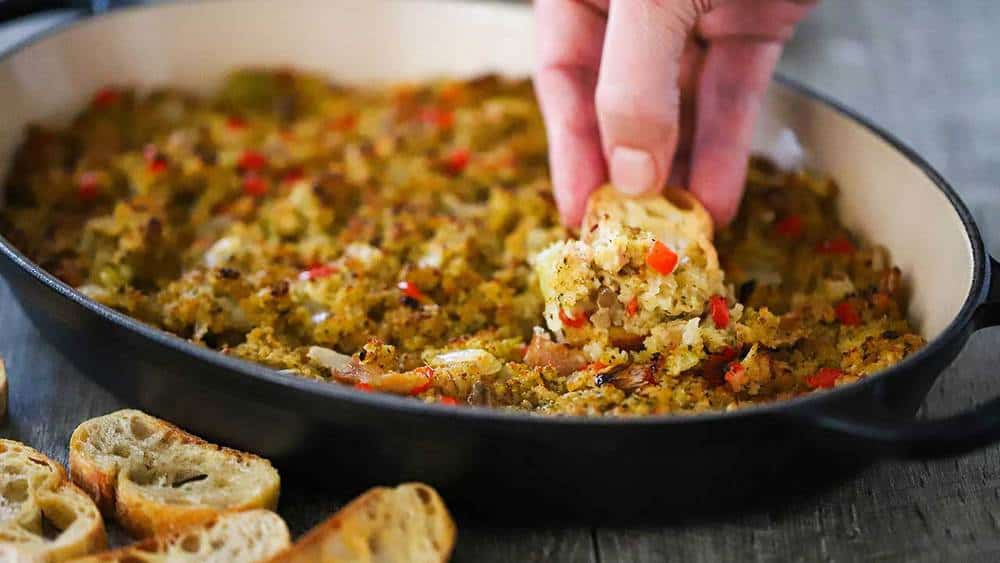 Ready to make the best clam dip recipe in the world? Go for it!
And when you do, be sure to take a photo of it, post it on Instagram, and tag @HowToFeedaLoon and hashtag #HowToFeedaLoon!
Baked Clam Dip
This incredible baked clam dip is like dipping into a giant baked clam with all the yummy toppings. Buttery with veggies, clams, with a hint of citrus and hot sauce. So good.
Print
Pin
Rate
Servings: 10 people
Calories: 159kcal
Ingredients
6 tbsp unsalted butter ¾ stick
1 cup onion chopped
1 red bell pepper seeded and chopped
1 cup celery chopped
2 cloves garlic minced
1 whole lemon juiced, about 2 tbsps
3 6.5 oz. cans clams chopped, with juice
1 tbsp hot sauce ie, Tobasco of Krytsals
½ tsp Kosher salt
2 cups bread crumbs Italian-style Panko crumbs are great!
¼ cup Parmesan cheese grated, optional
Instructions
Preheat oven to 350°F.

Melt butter in a large skillet over medium-high heat. Add onion, pepper, celery, and garlic. Cook until tender, about 10 minutes

Add lemon juice, clams (with juice), hot sauce and salt

Take off the heat and add the bread crumbs and Parmesan cheese (if using)¼

Put into a greased medium-sized casserole dish (8"x11" works well).

Bake for 25 minutes.

Remove from oven and turn on the broiler

Add the dish back in and broil for about 3 minutes...until lightly browned on top (keep an eye on this...will brown quickly).

Serve with warm bread slices or crackers
Notes
No need to get expensive clams for this dip. Canned clams (with juice) can be found in the area of your supermarket where canned tuna fish is sold. You'll need three 6.5 oz cans (don't drain!). The tbsp of hot sauce does not add much spice to the dish. Just a little zest. We often add ¼ cup of grated Parmesan cheese when we stirring in the bread crumbs. Not 100% necessary, but really delicious! We love using Italian-style Panko bread crumbs, but any type will work just fine. You'll need a total of 2 cups. The dip can be made up to 24 hours in advance before baking. Keep in the fridge, covered with plastic wrap or foil. Be careful when placing the cooked dip under the broiler to slightly brown the top. Broilers vary, so keep an eye on it the dish and be sure it doesn't get too browned or burned. We serve the dip with pieces of warmed bruschetta or sliced baguettes that we have toasted with a little olive oil or butter. It's also great with Town House crackers, and cut veggies. The cooked dip will keep in the fridge for up to 1 week.
Nutrition
Calories: 159kcal | Carbohydrates: 18g | Protein: 3g | Fat: 8g | Saturated Fat: 5g | Trans Fat: 1g | Cholesterol: 18mg | Sodium: 321mg | Potassium: 124mg | Fiber: 2g | Sugar: 3g | Vitamin A: 631IU | Vitamin C: 18mg | Calcium: 52mg | Iron: 1mg
POST UPDATE: The recipe was originally published in November 2015, but was updated with improved tweaks to the recipe with new tips and photography, and a fabulous new video in February 2021!