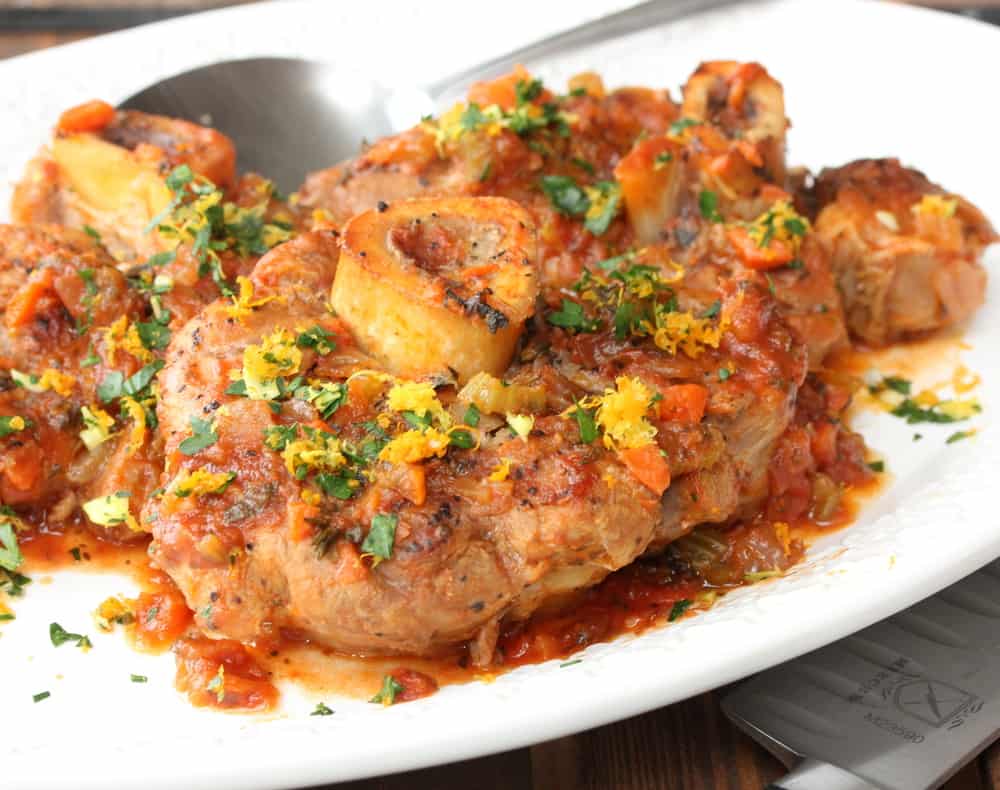 Authentic Osso Buco is one of those 'special' dishes for special occasions.  There is an amazing hole-in-the-wall Italian restaurant in the Tribeca neighborhood of Manhattan, NYC, that serves the most amazing Osso Buco and I order it every time we go…it's that good.  Osso Buco (which means:  Bone with a hole) is an Italian dish, originating in Milan, that consists of veal shanks braised in stock, wine and vegetables.   In Milan, it is always served with a saffron risotto (coming soon to H2FaL!).  It is a luxurious dish that is truly incredible.  Be sure to top with the citrus/garlic gremolata…it gives it such a nice touch of color, but also a burst of flavor.  The bone marrow is a real delicacy and an amazing treat.  This is a keeper.  100% Loon Approved!
Authentic Osso Buco
This Authentic Osso Buco is sublime. It's the classic low and slow technique that produces the most tender and flavorful veal. The sauce is incredible. It's topped with gremolata, which gives an added burst of flavor and color. Amazing!
Author: Kris Longwell / Melanie Barnard
Recipe type: Entree
Cuisine: Italian
Serves: 4
Ingredients
4 veal shanks, about 2 inches thick, each
Kosher salt and freshly ground black pepper
¼ cup olive oil
1 medium red onion, diced
2 garlic cloves, minced
1 cup dry white wine (such as Pinot Grigio)
1 carrot, peeled and diced
1 celery rib, diced
1½ cups canned crushed tomatoes
1 cup chicken (or veal) stock
2 teaspoons fresh oregano, chopped
2 teaspoons fresh thyme, chopped
FOR THE GREMOLATA:
2 tablespoons fresh flat-leaf parsley, finely chopped
2 garlic cloves, minced
Zest of 1 lemon
Zest of 1 orange
Instructions
Pre-heat the oven to 375 F.
Season the veal shanks all over with 1 teaspoon salt and ½ teaspoon pepper.
In a large skillet over medium-high heat, warm the olive oil.
Add the veal shanks and cook until browned on all sides, about 10 minutes. Remove from the pan and set aside.
Add the onion and garlic to the pan and saute over medium-high heat until they start to turn tender, about 3 minutes.
Pour in the wine and deglaze the pan, stirring and scraping up the browned bits on the bottom of the pan with a wooden spoon.
Stir in the carrot, celery, tomatoes, stock, oregano, and thyme and bring to a boil.
Transfer the veal shanks to a large Dutch oven.
Pour in the vegetable mixture .
Cover and cook until the veal is fork-tender, about 2 hours.
Shortly before the veal is done, mix the gremolata ingredients together in a small bowl.
When the shanks are done, divide them among warmed plates, spooning the cooking liquid and vegetables over the veal.
Garnish with the gremolata.
Serve at once and enjoy!