Wild Mushrooms with Shallots and Garlic really are the perfect side dish, they are also an amazing topping to a perfectly grilled steak or burger.
I just love going to a gourmet food market and getting a wide variety of 'shrooms.
CHOOSING THE RIGHT MUSHROOMS
We've got to say that you really can't go wrong with whatever mushrooms you pick out. Some of our favorites include:
Shiitake
Oyster
Porcini
Cremini
Trumpet
Portobello
Chanterelle
NOTE: You may find mushrooms that have been dried. These are still great, but important that you re-constitute them by soaking them in warm water for at least 20 to 30 minutes. The soaking liquid is amazing to use in cooking!
Each variety has its own special flavor and characteristics, and when sauteed in butter with shallots, garlic and a little red pepper…wow oh wow!!
This dish doesn't take long to make, either.
And, mushrooms are good for you, too! Read more here.
WILD MUSHROOMS WITH SHALLOTS AND GARLIC ARE DELICIOUS
We love this dish so much. These are good in the middle of a grilled cheese, too.
And if you love this recipe, you'll love our Cream of Mushroom Soup!
Delicious!! And the other amazing thing about this recipe is that it comes together in less than 30 minutes!! 125% Loon Approved!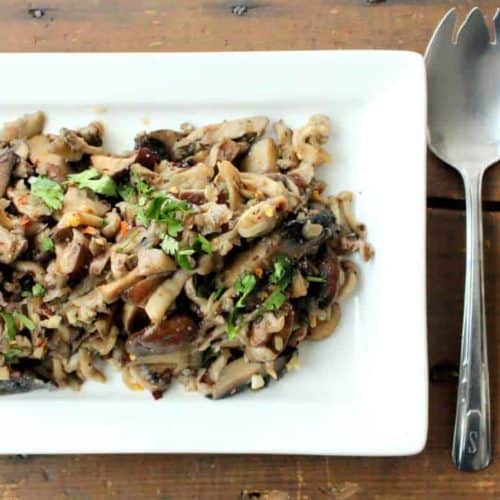 Wild Mushrooms with Shallots and Garlic
Wild Mushrooms with Shallots and Garlic could not be easier to make and they really make a beautiful and truly delicious side dish, or topping for steaks and burgers. Seek out a nice variety of wild mushrooms at your favorite market, and you'll be so pleased.
Print
Pin
Rate
Servings: 6 people
Ingredients
8 cups fresh wild mushrooms including any of the following: Shiitake, Maitake, Crimini, Portabella (tops only), Beech, Royal Trumpet, Chanterelles, Porcini. Slice small mushroom and roughly chop the large ones.*
1 tbsp olive oil
2 large shallots chopped
4 cloves cloves minced
2 tbsp unsalted butter divided
1 tsp Kosher salt
1/2 tsp ground black pepper
1/2 to 1 tsp red pepper flakes to taste
2 tbsp fresh parsley chopped
*If using dried mushrooms be sure to reconstitute in water before using
Instructions
In a large pot, preferably a Dutch oven, heat oil over medium-high heat.

Add the shallots and cook until translucent, about 5 minutes.

Add the garlic and cook for another minute.

Add the butter, mushrooms, salt, pepper, and pepper flakes and cook, stirring frequently, until soft and beginning to release their liquid, about 10 to 15 minutes.

Transfer to serving dish and top with chopped parsley, and a sprinkle of Kosher salt and red pepper flakes (optional).