Our last stop (for this trip) on our culinary tour through Atlanta was Watershed, a James Beard Award-Winning restaurant located in the heart of the historic Brookwood Hills neighborhood. (Watch this video of us right before we go in, and then read about our incredible experience below).
There were several reasons we knew we must come to Watershed.  First, I knew that one of the owners was Emily Saliers (of the Grammy-winning Indigo Girls).  Now, I have been a huge fan of the Girls since they hit the scene nationally back in the late 80s…but that's another story.  I had also seen Watershed on Food Network as having some of the best (if not..THE best) fried chicken in the land. And we had heard from our Atlanta peeps that their new location was just so comfortable, relaxing, and cool. And the Sunday Jazz Brunch was to die for. Well, that's all we needed.
Everything Good…And Even More
I can tell you, after dining there one afternoon in May, it was definitely all that…but so much more. First, our friends were exactly right, the atmosphere of the restaurant is comfortable and relaxing. But it's also elegant, with a distinct Southern charm.  Take a look at the bar…as mentioned, it was a weekday, after the lunch crowd had left…but you get the idea.  Beautiful and inviting.
An Amazing Team
Everyone we met along the way could not have been more welcoming, intelligent, funny, kind…and truly interested in making sure that we, as well as everyone else dining, were exquisitely taken care of. We met Ross Jones, co-owner, who told us she and Emily had been best friends 'forever.'  She was awesome, gracious, and a clear cornerstone in the creation and growth of this great place.
Executive Chef Zeb Stevenson, one of the most acclaimed and respected chefs in Atlanta, came out and chatted with us for at least 20 minutes.   Our server, Meg (you'll see her later), never missed a step, guiding us seamlessly through one of the best lunches we've ever had.   Emily, unfortunately for us, wasn't there, but we were told she frequents the restaurant often and has been instrumental in its evolution, and genuinely cares for the entire Watershed family.  We definitely felt her spirit in this amazing place.  Here's a shot of Ross, Zeb and Emily.
Chef Zeb (that's kind of fun to say) took over as executive chef in early 2015.   Watershed first opened its doors in Decatur, GA about 17 years ago, and moved to their new location in 2012.   The previous head chef,  interestingly, moved to Dubai, changed gears, and opened a widely successful pizza place.   After meeting Zeb, eating his food, and hearing his thoughts on preparing quality cuisine…we completely understood why he became the perfect fit into the Watershed philosophy and family.
Zeb rose through the ranks in the culinary world by honing his skills at the renowned Dick & Harry's Restaurant.  He would then soon train under one of the worlds' greatest chefs – Jean-Georges Vongerichten.  Stevenson spoke how invaluable that training was to him as a blossoming chef.
Zeb is USDA certified in canning. He's funny. He's passionate. And it was clear that he didn't settle for less than perfection with his food.  Zeb is described as someone who has evolved into a forward thinking chef with a commitment to local and sustainable ingredients, allowing him to be at his creative best.  After the food we ate and the conversations we had…we couldn't agree more.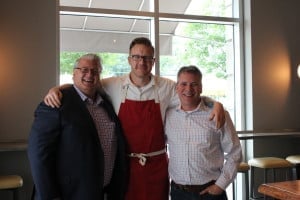 The Food
We started with a dish that Chef Zeb had created recently for Mother's Day. It turned out to be such a huge hit that it's now a permanent fixture on the menu. We're talking about Duck Hush Puppies. These are a twist on the original pup, with perfectly seasoned duck mixed in, and served over a pickled rhubarb tartar sauce. Oh, did we mention Chef Zeb makes everything in house? He's a master at pickling, and even makes his own cheeses for the restaurant – and that's just for starters. Yeah…he's good.
The Best Fried Chicken
Okay…now it's time to talk about Watershed's legendary, world-famous fried chicken.  Let me explain to y'all how epic this dish is.  It's so good..it's only served on Wednesdays.   So, plan ahead, and don't show up late, because they will run out. I'm ashamed to say that we did not realize this, and came on a Monday.  No fried chicken.  Why only on Wednesday?  Well, for one thing, it takes 3 full days to make it. They start by cutting and trimming the chicken. Then it all goes into a salt brine for 24 hours. Then, the salt brine is washed away, and now it all goes into a buttermilk bath for another 24 hours. Finally, the pieces are dredged in a secret seasoned flour mixture, and then fried in a giant shallow pan in fresh butter and lard that has been scented with ham hocks.  Um.  How does one even respond to that description? Take a look:
Zeb says that folks (even those in the culinary industry) look at him funny when he says he fries in a shallow pan (vs. deep frying). He says this is the ONLY way to achieve true Southern fried chicken. Back in the early Watershed days, this entire method was actually taught to the cooks by legendary Southern chef and cookbook writer, Edna Lewis. Zeb put it clearly when he said "there is a real piece of Southern cuisine history thriving in the Watershed kitchen."
Look at this beautiful tapestry that provides the entire Watershed Fried Chicken process.  Love it.
Fresh and Delicious at Every Bite
So, I went for the 'Market Fish of the Day' Beer-Battered Sandwich, which happened to be flounder – one of my favorites. Gently fried, light and flaky, served with a Creole remoulade, Bibb lettuce, arugula, red onion, house-made pickles and pepper slaw…and a toasted bun. I love a good fried fish sandwich…and I can say, without doubt, this was the best one I've ever had.  So fresh, not heavy…and bursting with flavor.
The Loon went for the Crabby Shrimp Burger (I guess we were feeling a little fishy that day!).  Good Lord, was he not disappointed.  It's a house-made patty of crab and shrimp meat. Seasoned with a touch of Old Bay and onion, with a tangy remoulade dressing, Bibb lettuce, and a Brioche bun. House-made pepper slaw was served on the side, but made for an incredible topping for the 'burger.' The Loon went silent for a few moments as he took in this incredible taste sensation.
The menu boasts other classic dishes such as Deviled Eggs with Bacon Jam,  Homemade Chicken and Dumplings, and their newest item:  Roasted Pork Sandwich…Stevenson's nod to a Cuban Sandwich, which is made with roasted pork, country ham, homemade mayo & mustard, butter pickles, Gruyere cheese…all pressed 'panini-style' with fresh chiabatta bread. Wow.
Using Only the Best  Ingredients
Chef Zeb explained to us that 2015 yielded an 'epic' strawberry harvest.  So, he, and his pastry chef, Laura, worked tirelessly until they crafted the perfect strawberry dessert.   After one bite…we knew they had.  One note…Zeb is 100% focused on utilizing the freshest ingredients; so the menu changes frequently, according to what is in season.  If strawberries aren't in season when you visit, you won't see this on the menu, but I promise, there will be something equally as delicious with an ingredient that is. Blueberries come to mind.
I present you: Tres Leches Cake topped with Fresh Strawberry and Raspberry Preserves.  Divine.
Watershed Gets It Right
Watershed has been at the forefront of the 'farm to table' philosophy, and in turn, has significantly helped Atlanta become one of America's unquestionably favorite 'foodie' cities.  Atlanta is blessed for sitting right in the middle of a vast and vibrant agricultural community.  And thanks to people like Zeb Stevenson, Emily Saliers, and Ross Jones, Atlanta has transcended the 'farm to table' concept, and made it a way of life.
We can't thank the folks of Watershed enough for making our stay at your beautiful restaurant so wonderful.  One of my favorite lyrics from Emily is "We're better off for all that we let in."  Though that song has a much deeper meaning, I still must say, Wesley and I are much better off for letting Watershed in.
When in Atlanta, don't miss Watershed.  It's truly amazing.
And of course, we thank Meg, our fearless and fabulous server who really went the extra mile to make everything so special.
Watershed
1820 Peachtree Road, NW
Atlanta, GA 30309
Phone: 404-809-3561
Website: http://watershedrestaurant.com/
Hours:
Lunch:
Tuesday – Saturday, 11:30am – 3:00pm
Dinner:
Tuesday – Thursday, 5:00pm – 10:00pm
Friday – Saturday, 5:00pm – 11:00pm
Jazz Brunch:
Sunday, 11:30am – 3:00pm
Reservations Recommended
Attire:  Casual
$$$$