Turkey Cutlets with Honey Mustard-Lim Sauce are exploding with flavor.
We love these cutlets with the savory sauce for so many reason. First and foremost, they're scrumptious, but also because they are healthy and it's really easy to prepare. What could be better than that?
HOW TO PREPARE TURKEY CUTLETS WITH HONEY MUSTARD-LIME SAUCE
This recipe is really such a great recipe. It's easy enough that it makes the perfect weeknight meal.
But it's also so beautiful in presentation that is makes for a wonderful dinner party meal.
Season the cutlets up to 8 hours in advance of searing. The sauce comes together in a matter of minutes.
EXPERT TIP: Boneless turkey cutlets can be found in the poultry meat section of most well-stocked supermarkets. Boneless, skinless chicken breast will work very well, too.
SEARING LOCKS IN FLAVOR
Get a large skillet nicely heated over medium-high heat and add the oil.
Sear the cutlets, until nicely browned all over and has reached an internal temperature of 165°F.
Once the cutlets have been cooked, place them on a cutting board, or platter, and loosely cover with foil to keep them warm while you prepare the sauce.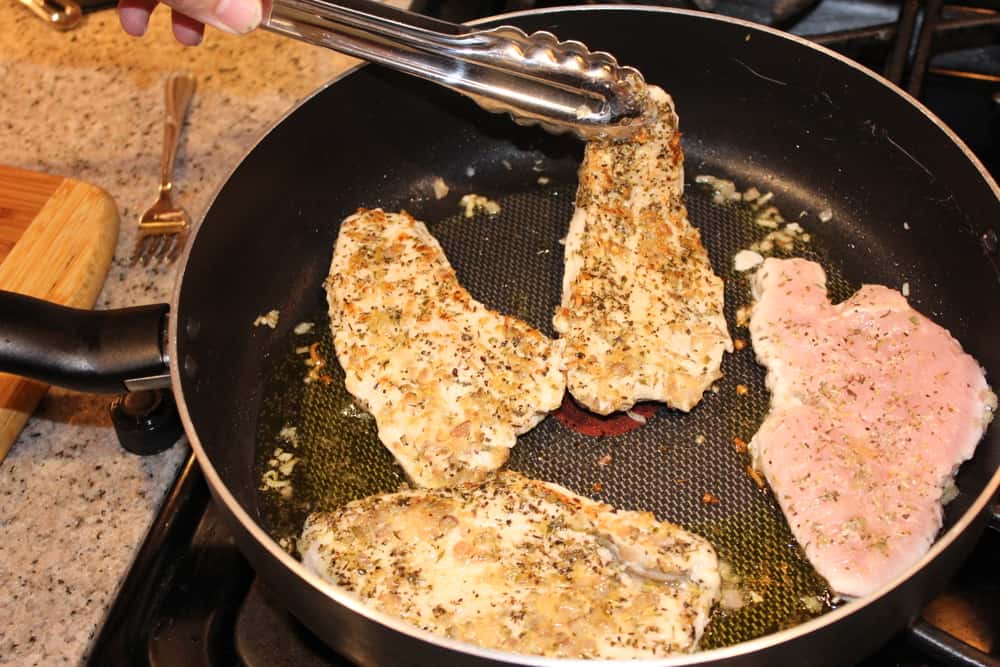 The sauce is tangy and so delicious.
If you can't find Hot and Sweet Honey Mustard, just go with good quality honey mustard. If you like a little heat, add some red pepper flakes.
And the sauce comes together in only 5 to 6 minutes!
These Turkey Cutlets with Honey Mustard-Lime Sauce are truly something special. It has a similar taste profile as Chicken Picatta, but even healthier.
You gotta try this…it's that good. 140% Loon Approved!
Turkey Cutlets with Honey Mustard-Lime Sauce
These Turkey Cutlets with Honey Mustard-Lime Sauce is really something special. Exploding with flavor, yet healthy, and comes together in about 30 minutes. Talk about a perfect weeknight meal, or even a special weekend dinner for guests. You'll love it!
Print
Pin
Rate
Servings: 4 people
Calories: 252kcal
Ingredients
1 tsp dried basil
1 tsp fresh tarragon or 1/2 teaspoon dried
1 tsp fresh thyme or 1/2 teaspoon dried
1/2 tsp dried rosemary crumbled
1/4 tsp Kosher salt
1/4 tsp freshly ground black pepper
2 tbsp all-purpose flour
4 turkey breast cutlets about 1 3/4 lbs
2 tbsp extra-virgin olive oil
1 shallot chopped
2 1/2 tbsp fresh lime juice
1/3 cup white wine
2 tsp sweet & hot honey mustard or just top notch honey mustard
1/4 tsp white balsamic vinegar
1 tsp Worcestershire sauce
6 splashes of hot sauce ie, Tobasco
2 tbsp capers drained
Fresh parsley chopped, for garnish
Instructions
In a small bowl, combine the basil, tarragon, thyme, rosemary, salt, pepper, and flour and mix thoroughly.

Rub the seasoned flour all over the turkey breasts, set aside.

In a large, non-stick skillet, heat the olive oil over medium-high heat.

Add shallots and saute for 2 minutes, until soft.

Add the turkey cutlets and brown one side for 3 to 4 minutes. Turn, and brown the other side for about another 3 to 4 minutes. Should be nicely browned on both sides.

Remove the cutlets from the pan.

Add lime juice, wine, mustard, balsamic vinegar, Worcestershire sauce, hot sauce and capers. Saute for 4 to 5 minutes, or until slightly thickened.

Add the cutlets into the sauce to re-heat.

Place turkey cutlets on plate(s) and top with sauce.

Garnish with parsley.
Nutrition
Calories: 252kcal