James Beard "Best Chef in the Northeast" winner Chef/Owner Michael Schlow's wonderful Tico restaurant in Boston is an absolute gem. Both the Loon and I really loved it. We came here for lunch, and the place was bustling with excitement. The ambiance was unpretentious, but yet festive and inviting.
As soon as we walked in and took in the Tico landscape, we knew we were in for a real treat. And good heavens, were we right.
As we were brought to our table, Wesley took a quick shot of the open kitchen. Hey! Look what's on the laptop right next to the chefs! (in case you can't see it…it's H2FaL!)
The decor and ambiance was really top notch.
Now, onto our fantastic dining experience at Tico. I must start by saying the service was wonderful. And, of course, the food, ah, yes…the food. Just incredible. Naturally, being a Texan at heart, I was drawn to Chef Schlow's passion for Spanish, Mexican and South American influences.
We started off with amazing Shishito Peppers. Blistered in hot oil and topped with a bright lime zest, sea salt and crispy shallots. We were told that one in every 12 of these peppers has a seriously fiery kick to it, with all of the others nice and mild. It's sort of like the Russian Roulette of pepper dishes. Man on man, they were incredibly delicious.
Next, Tico Dining Room Manager, Guillaume, (born and raised in France) brought us crispy fried Manchego cheese with a lovely spicy pomegranate honey sauce. An amazing twist on fried cheese. Divine.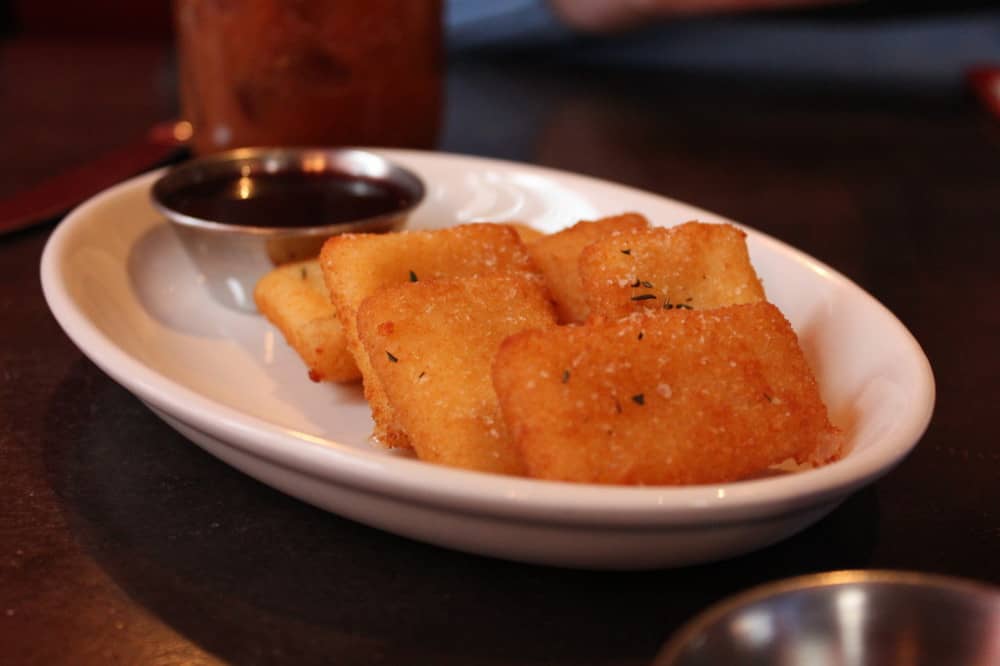 Our next culinary delight was brought to us by Tico Sous Chef Ben Harwood. It was Yellowtail Hamachi, served with fresh pico de gallo, crispy brown rice, resting on an amazing avocado mousse, and garnished with their house spice: Tico-rachi. Refreshing and unbelievably delicious.
As if this wasn't enough, Guillaume returned with a Tico classic: Roasted Cauliflower with chipotle, topped with Mexican cotija cheese and toasted Peruvian fava beans. Heavenly.
Next, came our main dishes. Naturally, I had to go for the tacos. Wow…they were amazing. A sumptuous platter holding four of about the best tacos I've ever had (wait a minute, we're in Boston???? Oh yes) :
Let's start with a marinated pork taco topped with a green chili sauce and spicy pickled cucumbers.
Now, an amazing braised duck taco topped with a mango & red onion salsa and charred serranos.
How about a lobster taco with avocado and pickled red onion. Yes please.
And, of course, a 2-texture beef taco, braised and super tender, topped with pickled jalapenos, morita chile sauce, and sliced radishes. Wow.
Well, I was in Heaven. And so was Wesley. He ordered Tico's iconic Cubano Sandwich. Talk about a stunning and delectable dish. Fresh bread, toasted, generously filled with pork confit, ham, cheese, pickled jalapenos and house-made mustard. Over-the-top delicious.
Obviously, we were stuffed with pure goodness, but Emily, our fabulous server, recommended that we end our incredible Tico dining experience with a signature dessert. As happens a lot with us on our culinary adventures…we simply couldn't decline. What Emily brought to our table certainly did not disappoint. Wow…when you come to Tico…be sure to order this: A bruleed banana split, sitting atop a house-made chocolate gelato, nestled in a peanut butter mousse, finished off with a dark chocolate drizzle and fresh peanuts. What? Are you kidding me? Oh yes…It's all that, and even more. Incredible.
Our experience at Michael Schlow's Tico in Boston was magnificent. The food and the ambiance was straight-forward and absolutely delightful. With a nod to Latin cuisine, but still decidedly American, Chef Schlow and Executive Chef Leo Asaro hit it out of the proverbial park with Tico. We can hardly wait to return when we're back in beautiful and historic Boston.
Special thanks to our awesome server, Emily, who made our experience at Tico one we will never forget. If you are heading to Boston, be sure to put Tico on your list of places you MUST dine at. Fantastic.
Here I am with Emily, our fabulous server, and Ben, Sous Chef extraordinaire.
Tico
222 Berkley Street
Boston, MA 02166
Phone: 617-351-0400
Website:
http://www.ticoboston.com/
Hours:
Mon-Fri: 11:30 – 2:00am
Saturday brunch: 11:30am – 2:30pm – 2:00am
Sunday: Closed
Dress code: Casual
Reservations recommended
$$$$