The Perfect Chanukah Table: An Ideal Menu is truly filled with delicious recipes that are rich in history, tradition and love. Whether you observe this beautiful holiday or not, you will want to treat you and your loved ones to one, or all, of these amazing dishes.
Happy Chanukah and Happy Holidays to all during this special time of the year.
Now, let's get started with this Matzo Ball Soup recipe! Now, we know Matzo Ball Soup is more traditional during Passover, but hey, it's a heartwarming soup that is ideal for getting things started for you Chanukah feast. So, why not!
You will just love this incredible Matzo Ball Soup recipe! (click for full recipe)
And now, for what we think is one of the tastiest dishes we know: Classic Latkes (Potato Pancakes). As I look back, I realize that our exposure to an enormous array of cuisines, along with the communities and cultures where they were born and thrive, was increased a thousand times over when we moved to New York City.
Wesley and I had a tradition of eating at a local, small restaurant in the West Village in the early 90s called the Pot Belly Stove Cafe. They had a huge, extensive menu, with many types of cuisines. The food was spectacular, but we still to this day remember their version of latkes, called Latke Balls. They came as a side (in place of fries) on most of their signature sandwiches and dishes. We weren't sure what they were, but we loved them. Sadly, the Pot Belly Cafe in Greenwich Village, NYC is no longer there, but the memories of those delicious balls of goodness are still alive and kicking in our memories.
A few years later, I would learn much more about the origin of latkes, and then I began to make them myself. When I do, which is pretty often, I always think of those humble days in the Village. We respect and honor the Jewish heritage, and man, oh man, do we love Latkes.
Get the recipe for latkes (potato pancakes) here, or click the image below.
Now, let's move on to the headliner of this wonderful Chanukah feast. Just look at this incredible Beef Brisket with Carrots and Apricots recipe.
This slowly braised brisket is so incredibly melt-in-your-mouth tender and so amazingly delicious. Your loved ones will rejoice when you bring this to the table!
Get the full recipe here, or click on the mouth-watering image below!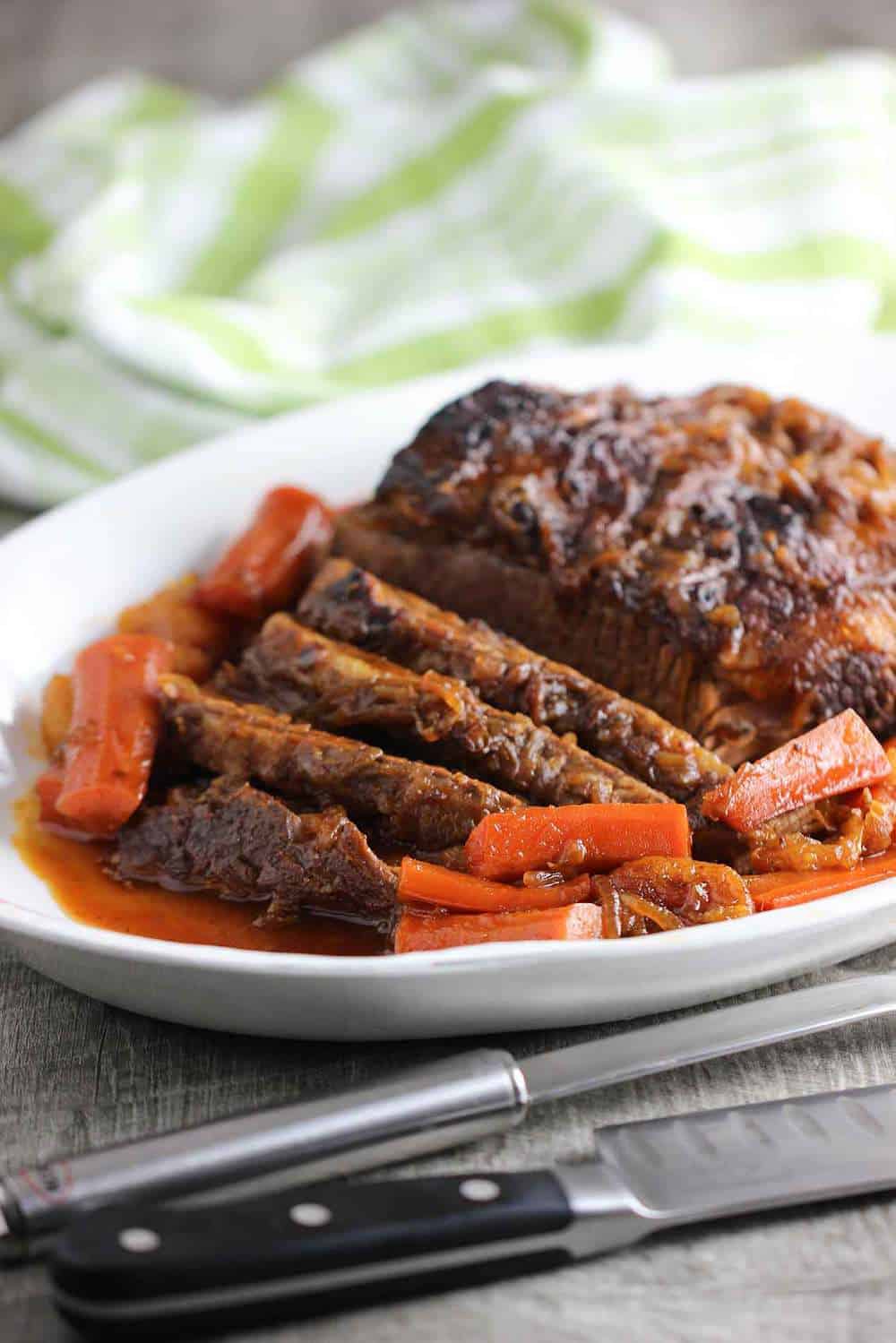 If you're going to have such a spectacular main dish, you need to have an accompanying dish that matches in taste, texture and presentation. This Fried Cauliflower with Lemon does not disappoint!
This is a take on a traditional Sephardic Jewish dish and is perfect for a wonderful Chanukah dinner!
Click here for recipe, or the image below:
And finally, everyone's favorite sweet ending to such an amazing meal is our famous Jelly and Custard Doughnuts!
These wonderful treats can be made well in advance, and everyone, not just the kids, will eat these up with joy! We just love this Jelly and Custard Doughnuts recipe and so will you!
Click here for recipe, or click the image below
We really hope you have enjoyed this presentation of recipes for creating a Perfect Chanukah Table.
Of course, the very most special ingredient in a perfect Chanukah table is the love, faith and family that come together to celebrate this beautiful holiday.
Happy Chanukah and Happy Holidays to you and your family!
Love,
Kris & Wesley