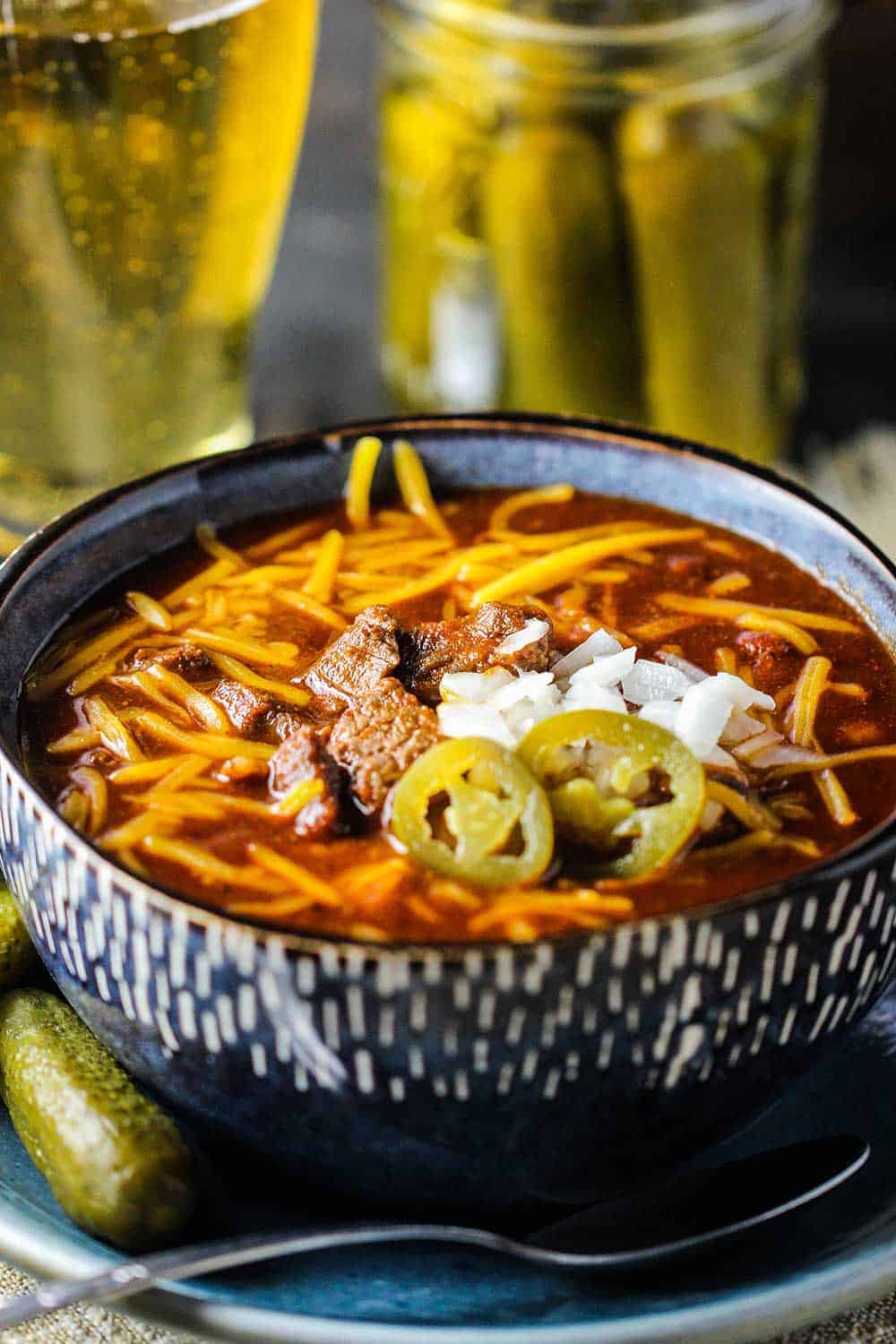 Well, I must say, I'm a bit partial to Kris' Texas Red Chili, because, well, it's my recipe!!  I've been playing around with this for many years.   And I do several different types of chili, from white bean chili, to turkey chili, to vegetarian chili…but this Texas Red, I must say, is my crowning achievement.   True to Texas tradition…no beans are found here.  And I love using a nice sirloin steak (or even ribeye) for the beef.
This could easily be doubled (or tripled) to feed a crowd.  Quality chili powder is important.  You can find the very best in Fort Worth, Texas at Penderys…or easily peruse the endless selections of spice, chili powders and more at www.Penderys.com.  Enjoy!  This is one of the Loon's all-time favorite recipes.  Top with chopped onion, shredded cheddar, and jalapenos, if you like!   Yee-haw!  This chili will knock your cowboy boots off, it's that good!

Kris' Texas Red Chili
Kris' Texas Red Chili is what I consider to be true Texas-style chili. Bold. No beans. Bite-size chunks of steak. And slow cooked. Incredible.
Author: Kris Longwell
Recipe type: Chili
Cuisine: Texas
Serves: 6 - 8
Ingredients
¼ cup good quality chili powder
3 tablespoons onion powder
3 teaspoons garlic powder
1 teaspoon black pepper
1 teaspoon Cayenne pepper
1 teaspoon dried oregano
1 tablespoon smoked paprika
2 teaspoons salt, or to taste
1 teaspoons Adobo seasoning
2 teaspoons olive oil
3 lbs boneless beef steak, such as sirloin or ribeye, cut into bite-size pieces
2 15 oz cans tomato sauce
3 cups chicken stock
3 cups beef stock (plus more, as needed)
1 teaspoon hot sauce (ie, Tobasco, Franks)
2 tablespoons ground cumin
2 tablespoon light brown sugar
Diced white onion, shredded cheddar cheese and sliced jalapeno - for garnish (optional)
Instructions
Combine first 9 ingredients in a bowl; divide into thirds.
Heat oil in large pot (Dutch oven works well) over medium heat.
Season meat with salt and pepper all over.
Cook meat in hot oil until browned all over. Drain. Add meat back to pot.
Add tomato sauce, chicken and beef stocks,
Bring to a simmer and and then add ⅓ of the chili powder, after 30 minutes, add the next ⅓ of chili powder mixture, and then after another 30 minutes, add the last ⅓ of chili powder mixture.
With the last addition of the chili powder mixture, add in the hot sauce, cumin and brown sugar.
Let simmer for another 30 minutes. (Chili will thicken as it cooks over the course of the 2 hours).
Garnish with onion, cheese and peppers, if desired.
Serve and enjoy!