Spaghetti with Lamb and Sweet Pepper Ragu is just so comforting.
Lamb pairs nicely with the sweet red and yellow peppers in this Spaghetti with Lamb and Sweet Pepper Ragu. And it all comes together in about 40 minutes. Perfect weeknight meal!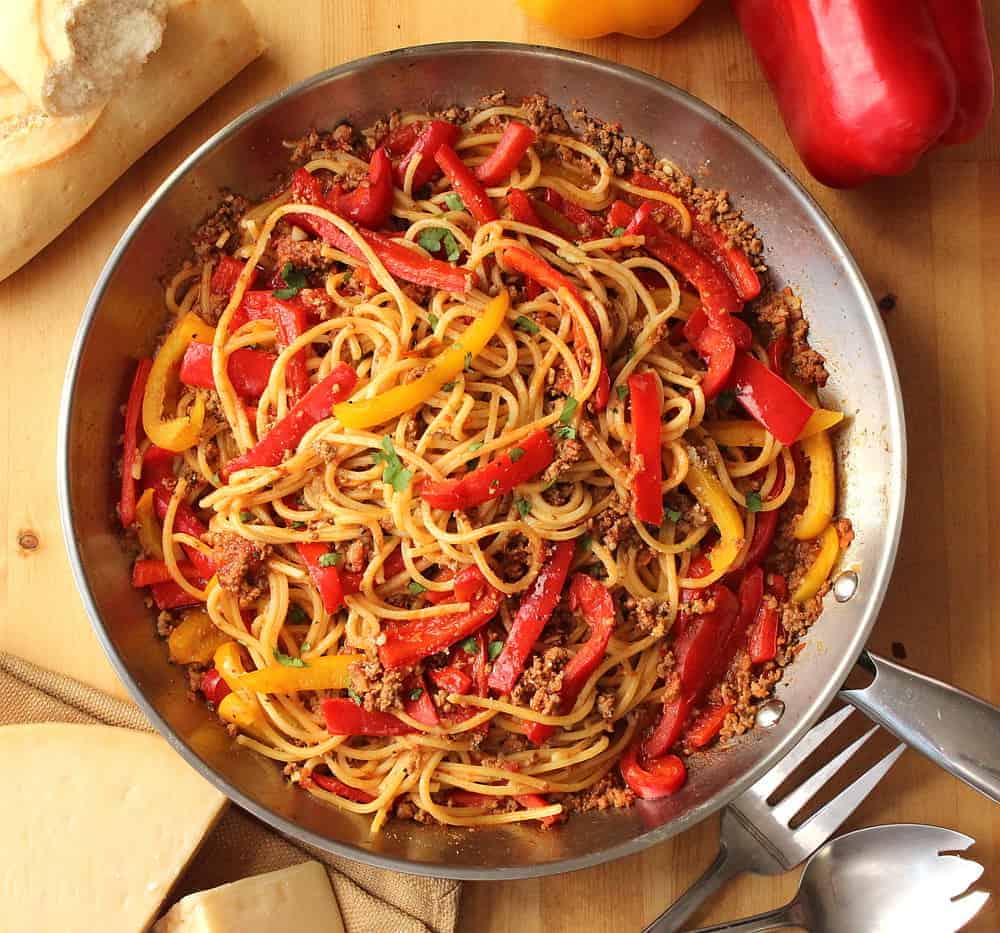 SPAGHETTI WITH LAMB IS EASY TO PREPARE
Lamb is a little lighter than the usual beef or pork in this ragu, which we really like. However, if you're not a fan of lamb, which has it's own distinct taste, then you can by all means use ground beef, or pot, a combination of all any or all of them!
Simmering the lamb with the aromatics and white wine truly deepen the flavor so much.
And the smell? Amazing! And if you like this, you will probably love our Roast Rack of Lamb or our Lamb Lollipops!
A BEAUTIFUL DISH TO SERVE
We use a combination of both red, yellow, and orange (if available) bell peppers for this Spaghetti with Lamb and Sweet Pepper Ragu.
Each pepper has it's own distinct taste, but they also add such a beautiful color to the final dish.
After you've cored them and removed the seeds, cut into thin, long strips. They will cook down perfectly.
SIMMER FOR ONLY 30 MINUTES
As mentioned, it really takes no time at all for this dish to come together.
Simmer everything together for just 20 minutes, enough time to boil the pasta to a perfect al dente.
I've been using thick-style spaghetti lately, bucatini, which we love!
The sauce really sticks to the pasta in a wonderful way. Serve with crusty Italian bread and a lot of grated Pecorino Romano…super delicious!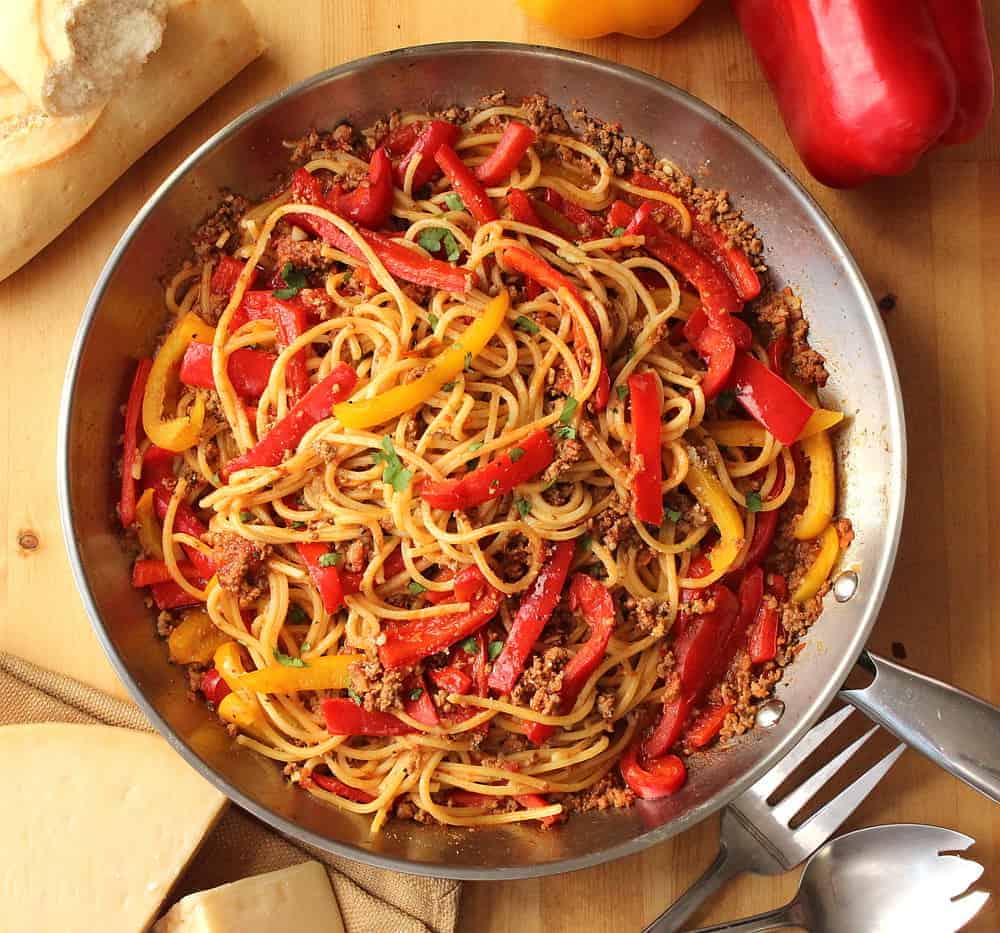 Spaghetti with Lamb and Sweet Pepper Ragu
This spaghetti with lamb and sweet pepper ragu is wonderful. The lamb is lighter than beef or pork ragu, and pairs beautifully with the sweetness of the red and yellow peppers. Delicious!
Print
Pin
Rate
Servings: 6 people
Calories: 286kcal
Ingredients
1/2 cup quality olive oil
1 lb ground lamb
3 dried bay leaves
3 cloves garlic thinly sliced
Kosher salt and freshly ground black pepper
1/2 cup dry white wine
1 & 1/2 cups chicken stock
1 15 oz can whole tomatoes crushed by hand
2 large red bell peppers stemmed, seeded, and sliced 1/4" thick
1 large yellow bell pepper stemmed, seeded, and sliced 1/4" thick
1 lb spaghetti ie.; chitarra, or thick spaghetti
Grated Pecorino Romano for garnish
Instructions
Heat oil in a large skillet over medium-high heat.

Cook lamb, stirring and breaking up the meat into small pieces, until browned, about 8 minutes.

If desired, spoon off most of the excess grease by tilting skillet.

Add bay leaves, garlic, 1/4 teaspoon of salt and pepper (to taste) and cook until garlic is slightly golden, about 4 minutes.

Stir in wine and cook until reduced by half, about 3 minutes.

Add stock, tomatoes, 1/4 teaspoon of salt and pepper (to taste); bring to a simmer.

Reduce heat to medium-low; cook, stirring occasionally, until sauce is slightly thickened, 30 to 40 minutes.

Stir in peppers, cook until peppers are tender but not falling apart, about 6 minutes.

Discard bay leaves.

Meanwhile, bring a large pot of salted water to a boil.

Cook pasta until al dente, 10 - 12 minutes.

Drain pasta and transfer to pan with sauce.

Adjust seasonings (you may need a little more salt and pepper, to taste).

Using tongs, toss pasta into the sauce.

Divide pasta between bowls and garnish with Pecorino Romano.
Nutrition
Calories: 286kcal