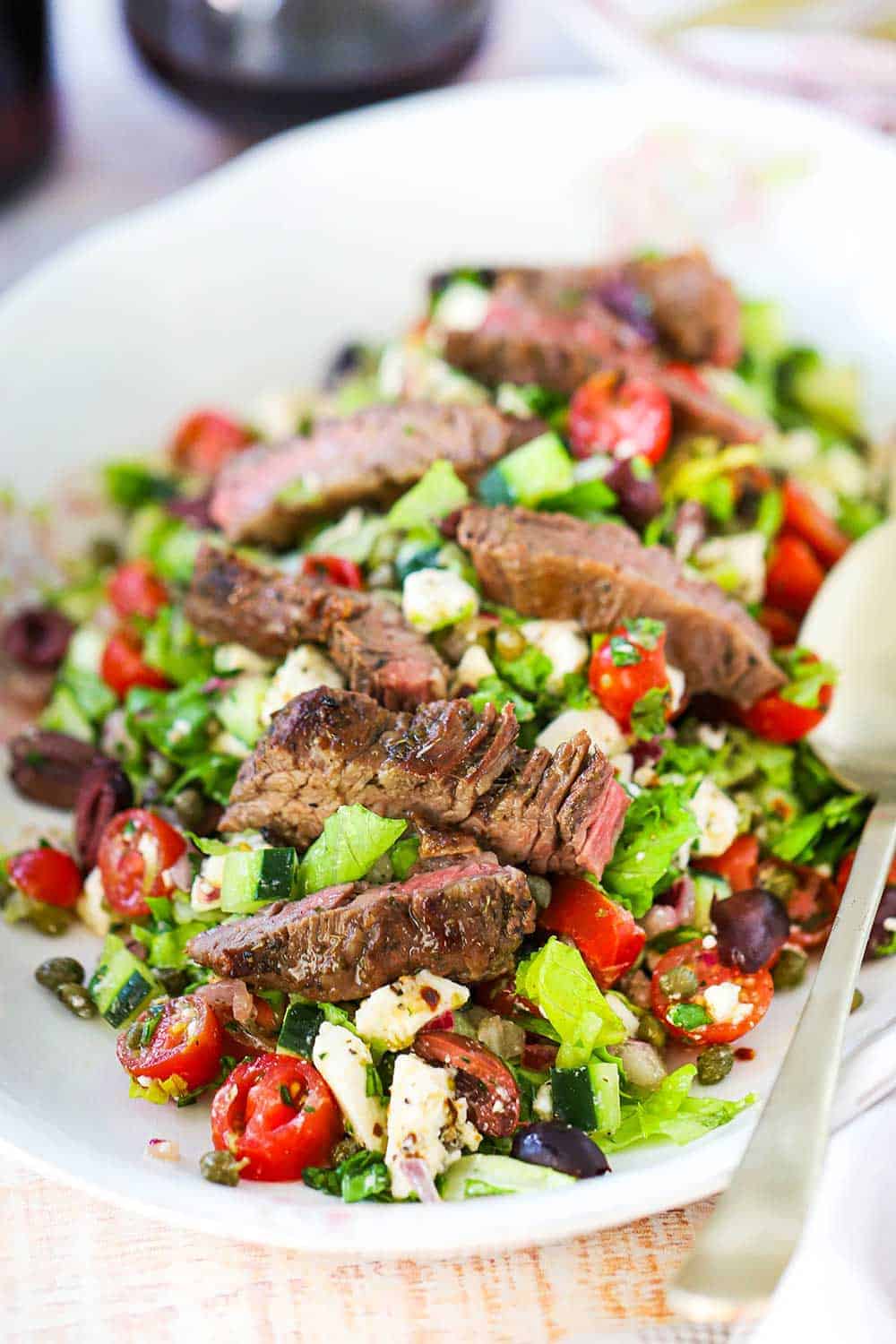 This recipe for Greek Salad with Yogurt Dressing (aka: Shredded Romaine and Cucumber Salad with Yogurt Dressing) comes from one of our favorite Boston chefs, Ana Sortun, owner and executive chef of Oleana in Cambridge, MA.   We just love this salad.  The fresh herbs really bring the flavors to life.  And the Greek yogurt dressing is so delicious, but not heavy.   It's great, because it's okay to be liberal when dressing the salad…it suits the flavors of the salad perfectly.  The toasted walnuts and hint of red pepper make this a true home run.   A real Loon favorite.   Thanks, Chef Sortun!
Watch Kris & Wesley make Greek Salad with Yogurt Dressing!
Greek Salad with Yogurt Dressing
This Greek salad with yogurt dressing by Chef Ana Sortun is just wonderful. The fresh herbs and tangy Greek yogurt really make this special salad sing. The Loon raves about this salad. Thanks, Chef Sortun!
Author: Ana Sortun
Recipe type: Salad
Cuisine: Mediterranean
Serves: 4
Ingredients
FOR THE DRESSING:
2 tablespoons fresh lemon juice
1 tablespoon Champagne vinegar (can use white wine vinegar, too)
1½ teaspoon sugar
1 teaspoon (2 cloves) garlic, minced
½ cup plain whole-milk Greek yogurt
¼ cup plus 1 tablespoon extra virgin olive oil
Kosher salt and pepper
FOR THE SALAD:
1 large head romaine lettuce
1 English cucumber
1 cup baby arugula
¾ cup lightly toasted walnut halves, plus 3 tablespoons for garnish
2 tablespoons fresh dill, chopped
1 tablespoon fresh mint, chopped
1 tablespoon fresh parsley, chopped
Salt and pepper (a good pinch of each)
¼ teaspoon red pepper flakes
Instructions
MAKE THE DRESSING:
In a small bowl, combine the lemon juice, vinegar, sugar and garlic. Let stand for at least 10 minutes to allow the garlic to mellow.
Whisk in the yogurt.
Slowly drizzle in the oil, whisking constantly to combine.
Season with a pinch of salt and pepper.
Refrigerate until ready to use (up to 3 days)
MAKE THE SALAD:
Wash and dry the romaine leaves
Slice the leaves crosswise, ¼ inch thick and transfer to a large bowl.
Peel, halve, seed, and grate the cucumber with the large holes of a box grater (not the side with the 3 large wholes...see image for reference).
Squeeze out excess water with hands and add to the lettuce.
Crumble all (except the reserved 3 tablespoons) walnuts into the salad (I give them a few pulses in my food processor)
Coarsely chop the arugula and add to the bowl along with the dill, mint, and parsley.
Keep cold until ready to serve.
Toss the salad with dressing to coat generously (I don't use all of the prepared dressing, about ⅔ of it).
Season with a pinch of salt and pepper.
Sprinkle the pepper flakes and reserved walnuts on top.
Serve and enjoy!