This is such a deeply satisfying seafood dish and is as beautiful as it is delicious.
These scallops are exploding with flavor, and they're also nice and healthy. This is easy to make on a busy weeknight, too. It all comes together in about 30 minutes. Delicious, healthy, and easy to make!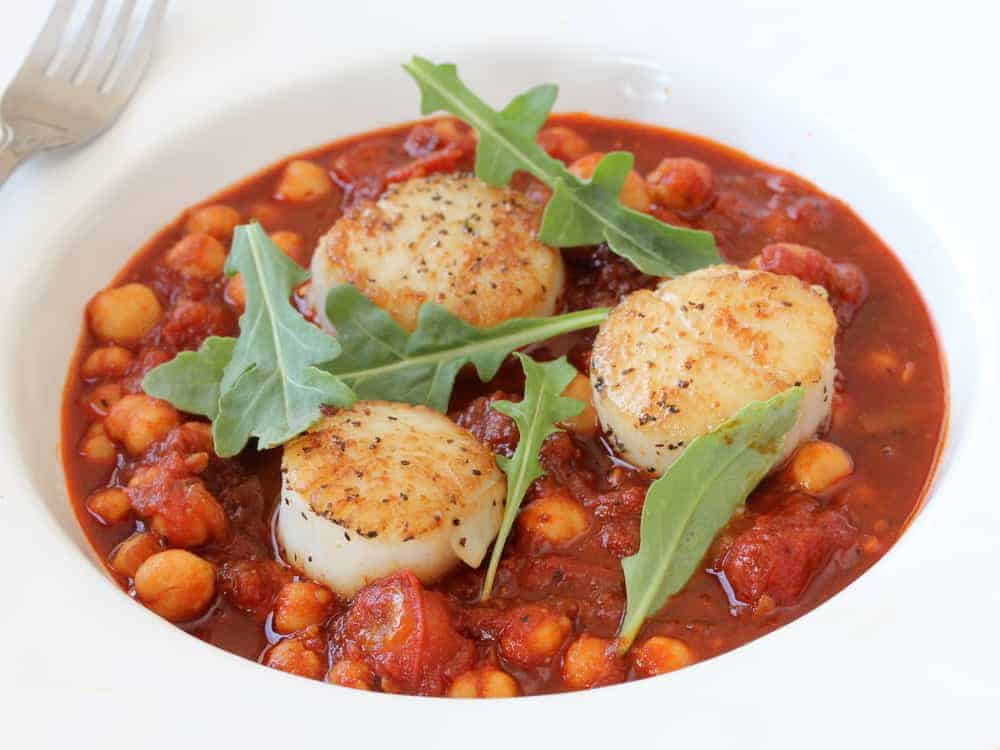 HOW TO MAKE SCALLOPS WITH STEWED TOMATOES AND CHICKPEAS
Of course, it all starts with beautiful scallops. We recommend always going with fresh, as opposed to frozen, whenever possible.
Bay scallops are nice, but for this dish, we think good ole sea scallops are perfect.
A quick sear on each side is all it takes to bring these to scallop perfections. About 4 minutes per side.
It all comes together quickly and easily in a nice hot skillet and starts with sauteing onions and then deepening the flavor with a touch a tomato paste.
CHICKPEAS ADD TEXTURE AND TASTE
We love chickpeas so much! NOTE: Chickpeas are also called Garbanzo Beans and can be found in the section of the market where the canned beans are.
Chickpeas (or garbanzo beans) are loaded with high nutritional value. A double win. Delicious and good for you. Yes!
Learn more about their fantastic health attributes here!
Simmered with tomatoes and white wine.
The perfect combination of flavors with this Scallops with Stew Tomatoes and Chickpeas.
So deeply flavorful.
We just love all the components of the amazing dish…from the "like butter" sea scallops, to the white wine, to the stewed tomatoes and chickpeas. Enjoy!
By the way, if you think this dish looks amazing, you should try our Seared Scallops with Asparagus!
Seared Scallops with Stewed Tomatoes and Chickpeas
These Seared Scallops with Stewed Tomatoes and Chickpeas have a distinct Latin American flare that just can't be beat. The taste is amazing, it's also healthy, and best of all - easy to make...about 30 minutes! This dish is wonderful served with bread to sop up the awesome stew. Enjoy!
Print
Pin
Rate
Servings: 4
Ingredients
3 tablespoons olive oil 1 tablespoon for onions/seasoning, then 2 for sauteing the scallops
1 medium onion chopped
1 tablespoon hot paprika
1 tablespoon tomato paste
1 garlic clove minced
1/2 cup dry white wine
1 15 oz can chickpeas drained
1 15 oz can whole peeled tomatoes crushed by hand
1/2 tsp salt and pepper
12 sea scallops
1/2 cup arugula
Instructions
In a medium saucepan heat 1 tablespoon of olive oil over medium heat.

Add the onion and cook, stirring, until lightly caramelized, about 12 minutes.

Add the paprika, tomato paste, and garlic and cook, stirring for another 2 minutes.

Add the wine and cook, stirring, until almost all evaporated, 8 - 10 minutes.

Stir in the chickpeas, tomatoes, and 1/2 cup water and bring to a boil.

Reduce the heat to medium and cook, stirring, until slightly thickened, about 10 minutes.

Transfer the chickpeas to a bowl, and taste...add more salt, if needed.

Meanwhile, in a large skillet, heat the remaining 2 tablespoons olive oil over high heat until the skillet begins to smoke.

Season the scallops with salt and pepper, and then add to the skillet and cook, turning once, until just cooked through, about 3 minutes.

Transfer the scallops to a plate and serve alongside the stewed tomatoes and chickpeas (or, ladle into bowls, and place 3 - 4 scallops on top).

Garnish with arugula.

Best when served with bread.