This Roasted Lemon Chicken with Vegetables recipe is just so completely satisfying.  We love the combination of lemon and herbs slow cooked with chicken.   Ask your butcher to cut your whole organic chicken in half for you.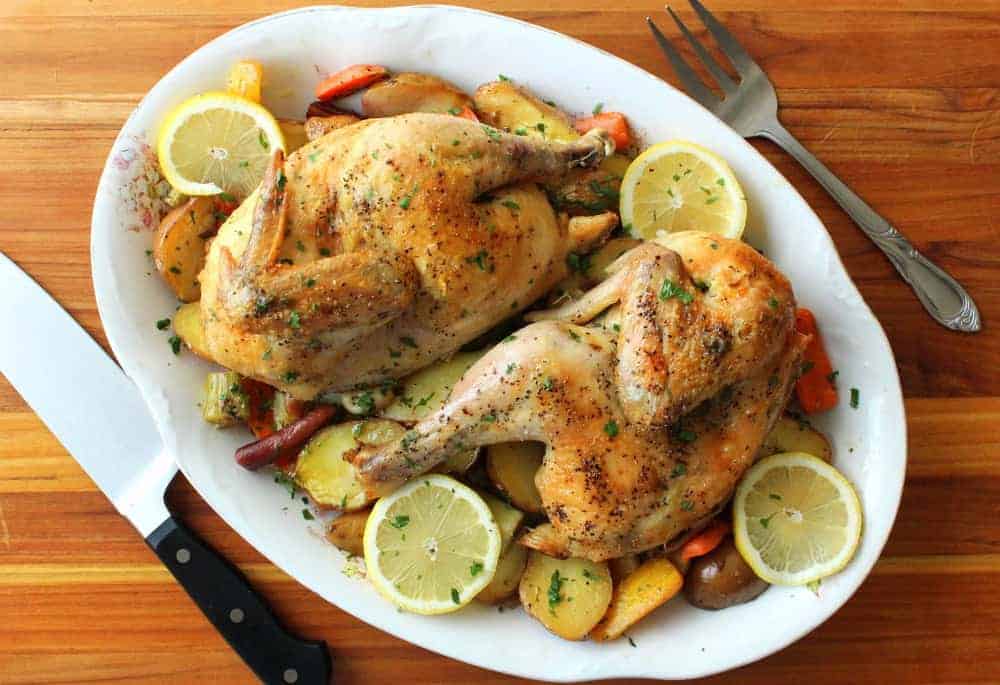 Save the giblets for making stock!  And we just love the color and flavor of the rainbow carrots.   You can find lemon-infused olive oil in most supermarkets, and certainly at gourmet, or specialty food markets (ie, Whole Foods).   120% Loon Approved!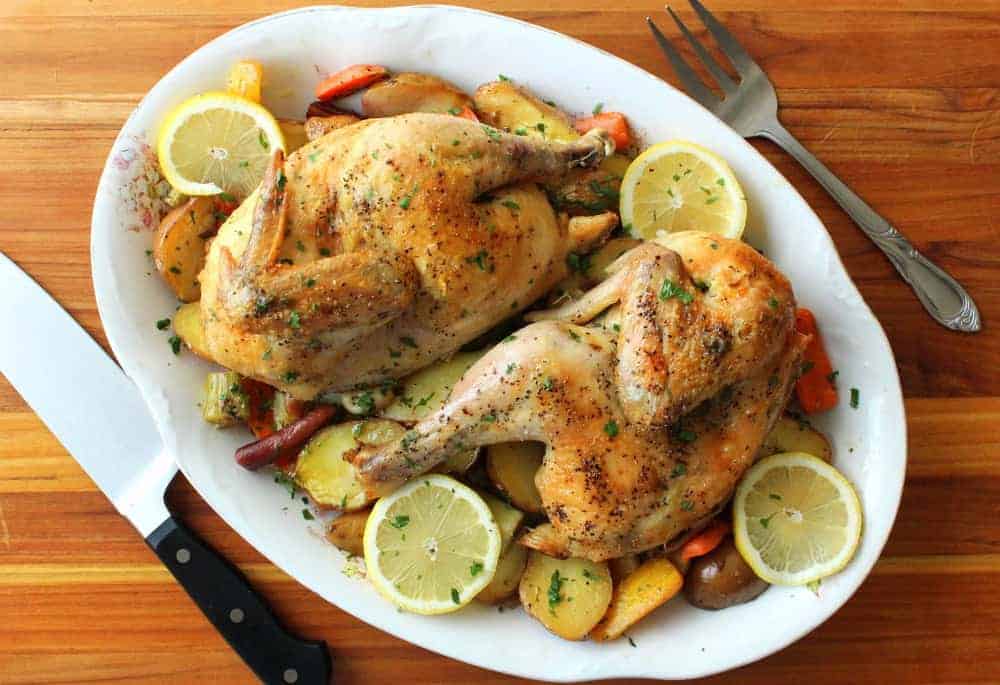 Roasted Lemon Chicken with Vegetables
Roasted Lemon Chicken with Vegetables is so comforting and will make your home smell like a French bistro. The lemon and herbs are the perfect compliment to the chicken. Slow roasting brings out the flavors. So good!
Print
Pin
Rate
Prep Time: 15 minutes
Cook Time: 1 hour 30 minutes
Total Time: 1 hour 45 minutes
Servings: 6 people
Calories: 286kcal
Ingredients
FOR THE LEMON HERB VINAIGRETTE
1/2 cup extra-virgin olive oil
1/4 cup white wine vinegar
1 tbsp lemon zest
2 tbsp fresh lemon juice
1 tbsp fresh tarragon chopped
1 tbsp fresh dill chopped
1/4 tsp Kosher salt
1/8 tsp ground black pepper
FOR THE CHICKEN AND VEGETABLES
1 1/2 lbs fingerling potatoes cut in half lengthwise
1 7 oz package baby rainbow carrots, cut in half lengthwise
1 fennel bulb stalks cut into 1-inch pieces
6 whole garlic cloves
3 bay leaves
Lemon Vinaigrette see recipe
3 tsp Kosher salt 1 for the vegetables and 2 for the chicken
2 tsp ground black pepper 1 for the vegetables and 1 for the chicken
1/4 cup lemon-infused olive oil
1 4 lb whole chicken, cut in half (giblets removed)
Instructions
MAKE THE LEMON AND HERB VINAIGRETTE:

In a small-medium bowl, whisk together the olive oil, vinegar, lemon zest and lemon juice.

Add tarragon, dill, salt, and pepper, whisking to combine. Set aside.

MAKE THE CHICKEN AND VEGETABLES:

Pre-heat the oven to 400 F.

In a large bowl, combine the potatoes, carrots, fennel, garlic, and bay leaves.

Pour the lemon vinaigrette over the vegetables, and add 1 teaspoon salt and 1 teaspoon pepper, stir to combine.

Place the vegetables in a large Dutch oven (or oven-ready roasting pan or dish).

Rub the chicken with the lemon-infused olive oil.

Sprinkle both sides evenly with the remaining 2 teaspoons of salt and 1 teaspoon of pepper.

Place chicken on top of vegetables.

Bake until a meat thermometer inserted in the thickest part of the thigh reads 165 F, about 1 to 1 1/2 hours.

Remove from the oven.

Transfer the chicken to serving platter.

Stir vegetables to coat with pan juice. (Discard bay leaves before serving). Place the vegetables around the chicken, or in a separate vessel.
Nutrition
Calories: 286kcal