I'm a bit of a queso fanatic, and this Queso with Chorizo recipe is one of my all-time favorite dips.  I just love a good creamy, cheesy queso, especially if it has a bit of a kick to it! And man, oh man, does this fit the queso bill!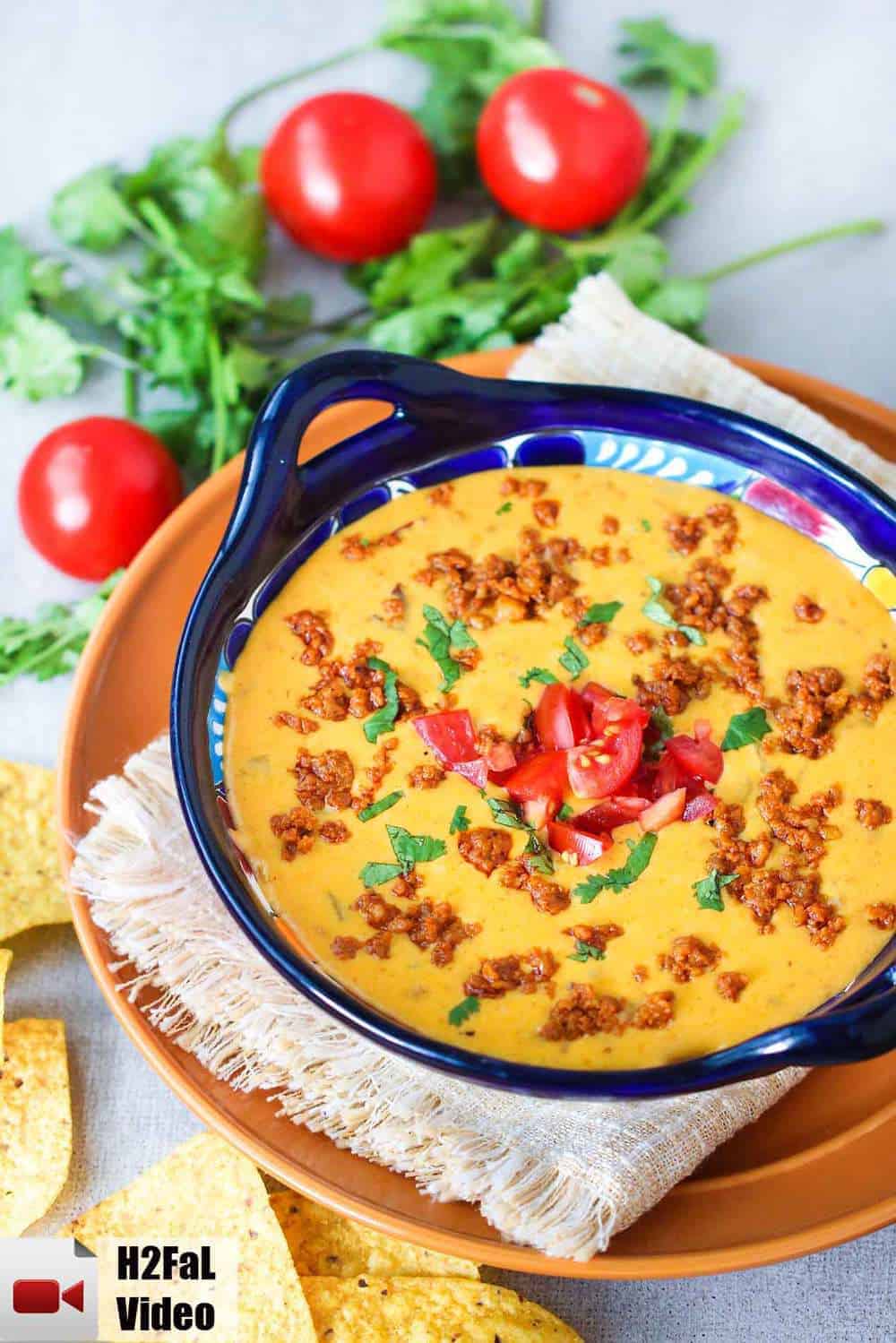 I grew up eating the classic Velveeta and Ro-tel dip…I mean I ate it constantly.  Although, back in the day, when I was very young, my mom had to make it in a double-boiler, which was a bit of a pain.  And then came along one of mankind's greatest inventions:  the microwave!  It made melting the velvety Velveeta so easy.
Well, this Queso with Chorizo still holds onto some of that traditional dip that I grew up on, but it's a little more grown up.   We just love the simple ingredients that make this queso sing with beautiful flavor!
The flavors meld together beautifully, and it's perfect for a party or a kick-off to a fun taco dinner!  It's easy, and super delicious!
Queso with Chorizo
This Queso with Chorizo is so delicious and really easy to make. You can make in your slow cooker, too. You can also make this ahead, and then re-heat, just before serving. So muy bien!
Print
Pin
Rate
Prep Time: 10 minutes
Cook Time: 12 minutes
Total Time: 22 minutes
Servings: 8 people
Calories: 378kcal
Ingredients
1 tbsp olive oil
1 lb fresh chorizo sausage* casings removed, roughly crumbled
3 cups half-and-half
8 oz Velveeta cubed
6 oz sharp cheddar cheese shredded
6 oz Monterrey Jack cheese shredded
8 oz can of green chilies** chopped
2 chipotle chilies from a can in Adobo sauce** chopped, plus 2 tablespoon of the adobo sauce
1 1/2 tsp Kosher salt
1 tsp Ancho chili powder** or regular chili powder
1 to mato chopped, for garnish
2 tbsp fresh cilantro chopped, for garnish
Warm corn tortilla chips
*Available in the meat section of most super markets or Mexican markets (don't use smoked chorizo)
**Available in the Mexican section of most super markets or Mexican markets
Instructions
Heat the oil in a large skillet and then cook the sausage until browned and crisp. Drain and reserve the sausage.

In the same skillet, add the cream and heat over medium heat.

Add the Velveeta and stir until melted, about 4 minutes.

Add the cheddar and Jack cheeses, stir until melted and smooth, about 3 minutes.

Add the green chilies, chipotle chilies, adobo sauce (from the can of chipotles), salt, chili powder and stir to fully incorporate.

Stir in about half of the cooked chorizo.

Add the remaining chorizo and tomato and cilantro on top, as garnish.

Serve with warmed tortilla chips.
Nutrition
Calories: 378kcal