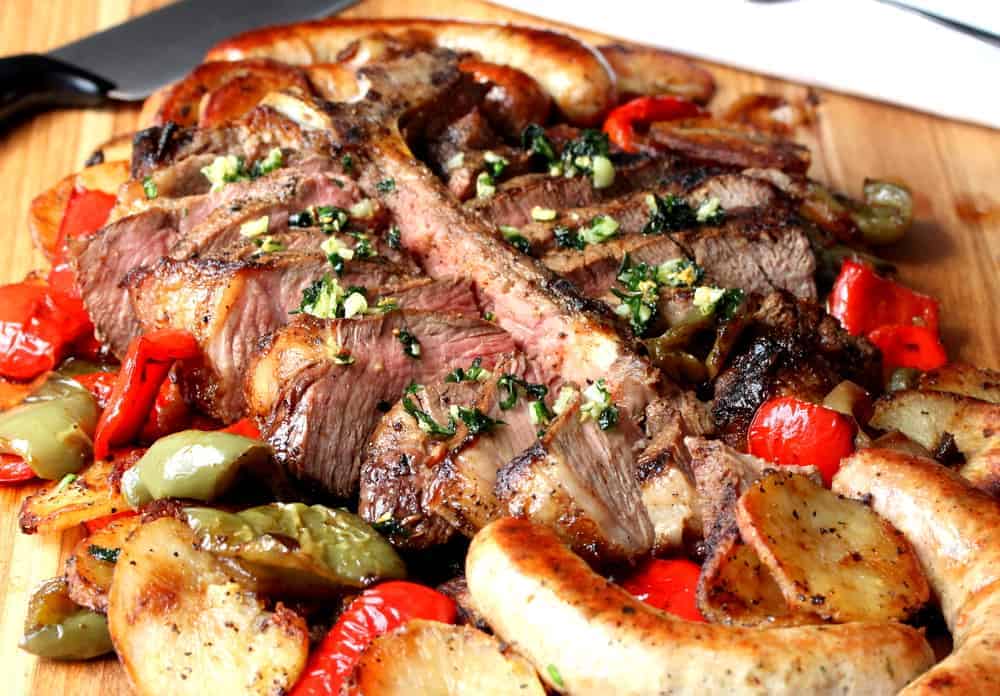 Ready to impress?  Ready to eat like a carnivore?  Ready to eat like the Romans do?   Well, look no further.  Porterhouse Steak with Peppers, Sausage & Potatoes is one of those dishes that is so over-the-top good, you and you're guests will flip for this one-of-a-kind feast.  This recipe is comes from one of our favorite Italian restaurants in NYC: Carmines.  Just amazing.  Ask your butcher to cut you a 38 ounce Porterhouse steak approximately 2 inches think  Yep…you're just going to have to go for it.   Trust me…it's all worth it.   Amazing.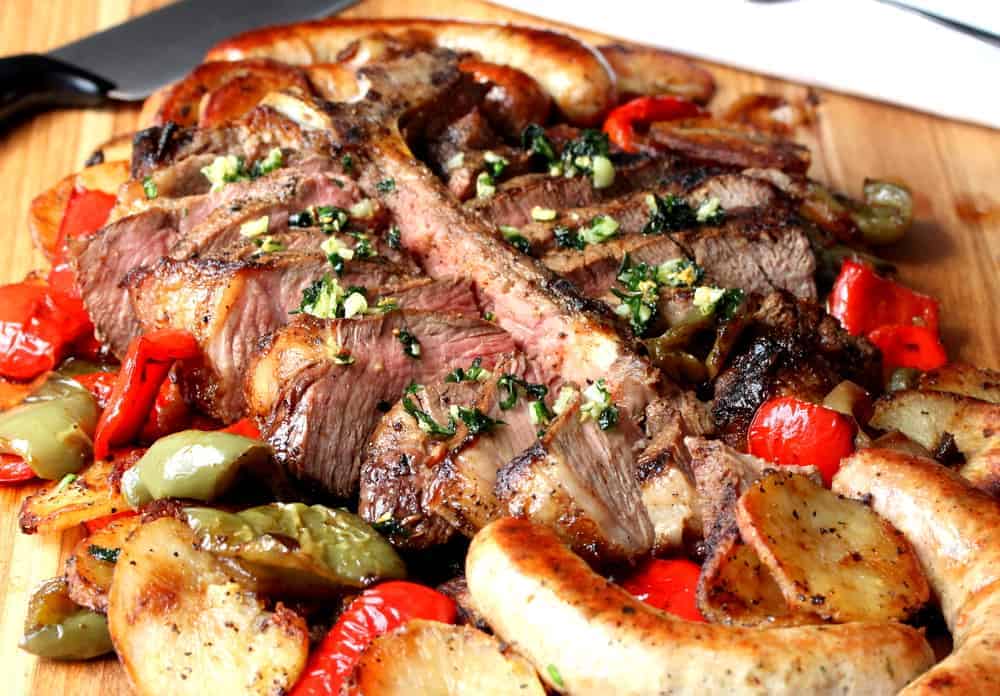 Porterhouse Steak with Peppers, Sausage & Potatoes
This Porterhouse Steak with Peppers, Sausage and Potatoes is an over-the-top meal. The flavors are incredible and this is a carnivore's dream meal! So good!
Print
Pin
Rate
Prep Time: 15 minutes
Cook Time: 1 hour
Total Time: 1 hour 15 minutes
Servings: 4 people
Calories: 328kcal
Ingredients
4 sweet Italian sausage links
3 tbsp plus 1 teaspoon good olive oil
2 large russet potatoes peeled and sliced into 1/4-inch slices, patted dry
Salt and ground black pepper
15 garlic cloves peeled and left whole, plus 2 cloves, peeled and minced
2 large onions each peeled and cut into thick slices
2 red bell peppers seeded, cored, and cut into 6 pieces
2 green bell peppers seeded, cored, and cut into 6 pieces
36 - 38 oz Porterhouse steak about 2 inches thick, room temperature
2 tsp garlic powder
1 tsp dried oregano
1/4 cup sweet pepper vinegar from a jar of sweet red peppers, or white wine vinegar
8 fresh basil leaves chopped
2 tbsp flat-leaf parsley chopped
Instructions
Pre-heat oven to 400 F.

Rub 1 teaspoon of the olive oil over the sausage line and place them in a roasting pan.

Roast the sausage for 17 minutes, or until they are cooked through. Flip them once about halfway through.

Remove the sausages from the oven and set aside. Leave the oven on.

In the same roasting pan, place the potatoes in the pan and coat them in the grease from the cooked sausage.

Sprinkle the potatoes with 1/2 teaspoon of salt and 1/2 teaspoon of pepper.

Bake the potatoes for 30 minutes until they are tender and browned. Flip a couple times during the cooking. Set aside once done.

In a large skillet, heat 2 tablespoons of the olive oil over medium heat.

Add the garlic cloves and slowly brown them for 5 - 6 minutes, making sure the oil does not get too hot...the garlic should cook slowly.

Add the onion slices and pepper to the skillet with the garlic. Season with salt and pepper.

Cook over medium heat for 25 to 30 minutes, stirring often, until they are lightly browned and tender. Set aside.

Prepare your grill to medium hot.

Season both sides of the steak with the garlic power and salt and pepper, gently rubbing the seasonings into the meat.

Grill the steak, covered, for 12 minutes.

Turn the steak and grill for about 12 minutes longer for medium rare (a instant-read thermometer should read about 135 F.

Let the cooked meat rest for about 5 minutes.

Meanwhile, spread the sausages, peppers, and potatoes in a shallow baking pan and sprinkle them with the oregano. Roast them for 15 minutes to re-heat.

Heat 1 tablespoon olive over medium heat, then add the garlic, basil and parsley...cook for 2 minutes. Set aside.

Using the bone in the porterhouse as a guide, cut out the fillet and the sirloin from the bone, and then slice into 1/4 to 1/2-inch slices.

Spread the peppers, onions, and potatoes on a large platter. Place the porterhouse bone in the center of the platter (for presentation). Add the sliced steak.

Slowly pour the vinegar over the meat and the veggies.

Top with sauteed garlic, basil and parsley mixture.
Nutrition
Calories: 328kcal