Nothing spells the holidays more than a beautifully roast turkey on the table.
There are a few simple, but effective, tricks for making the most flavorful and juicy turkey. Get started a couple of days before serving and you and your loved ones will be thrilled with the results. Serve with turkey gravy, dressing, mashed potatoes, and gourmet green bean casserole. Talk about a feast to remember!
How To Make The Perfect Roast Turkey
We've tested all kinds of turkeys over the years, and we can honestly say this method yields the most delicious and succulent bird ever.
As mentioned, you'll need to get started a couple of days in advance, but it's well worth it.
Choosing the Right Turkey
We love going with a fresh young turkey, however, you can still have great success with a frozen turkey if you follow this recipe. Just be sure to safely thaw before proceeding. See tips for thawing in the NOTES section of the recipe. If course, if you're looking for a smaller bird, consider our amazing Roast Turkey Breast with Herbs. It's amazing!
Now…to brine, or not to brine? That is the question. There is a lot of discussion about this, and we've tried both ways. We always feel brining makes the meat even more moist and flavorful.
EXPERT TIP: In addition to brining, we highly recommend air-chilling the turkey. After allowing the bird to soak in the brine for no more than 18 hours, drain the brine, and then pat the bird dry with paper towels. Place in the fridge for another 24 hours. You honestly will not believe the results of this process.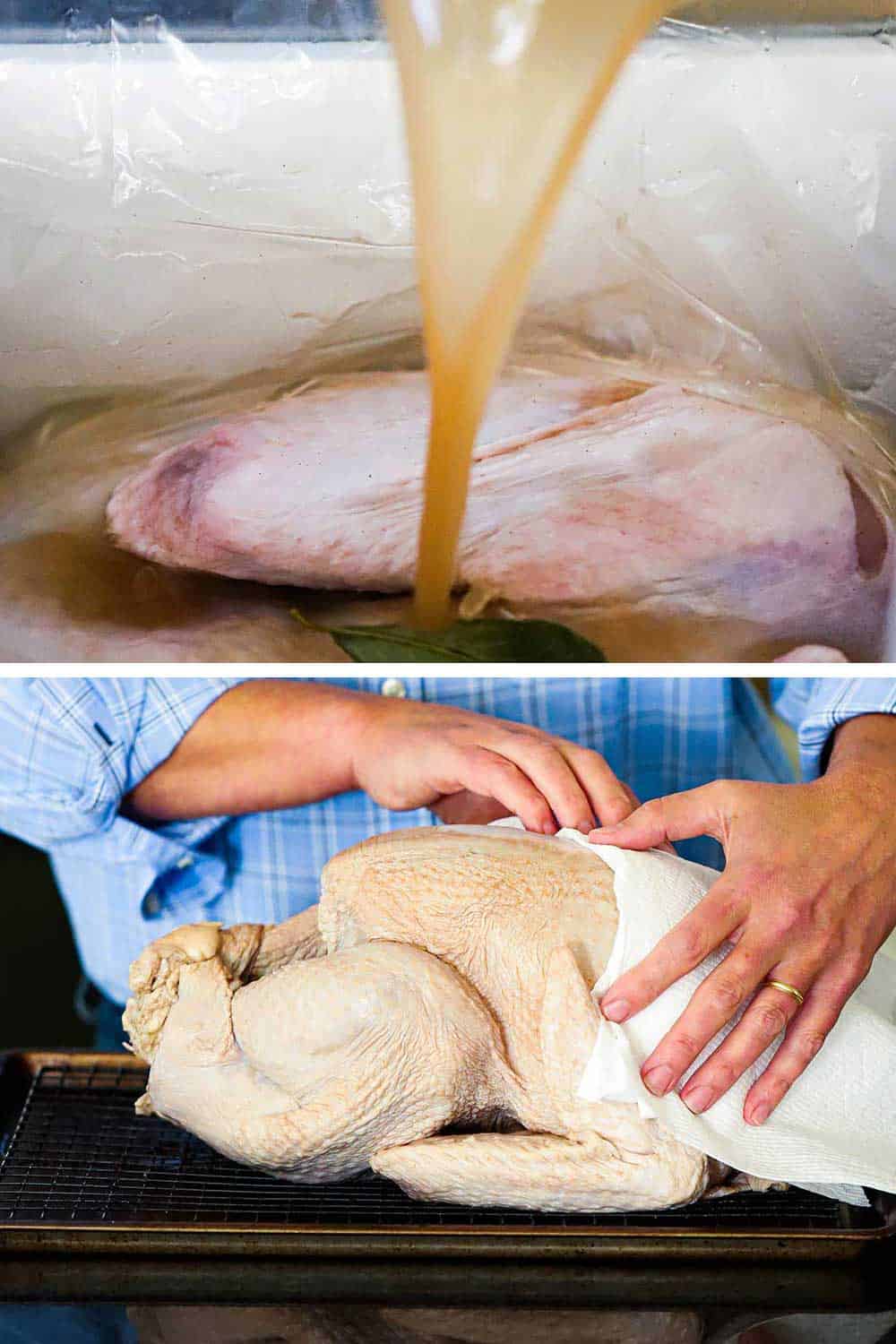 Once the bird has enjoyed a nice long nap in the brine, and then a good air chill in the fridge, it's time to prep the turkey for roasting.
Simply rub canola oil all over the bird. Add a dash of salt and then a good dose of black pepper. NOTE: Don't over salt, remember, there was a lot of salt in the brine.
Finally, fill the cavity with quartered lemons, onions, and herbs.
You're going to want to serve an amazing turkey gravy with your perfect roast turkey.
You'll get wonderful pan drippings as the bird roasts, but the addition of a couple of cups of chicken broth makes sure you'll have enough liquid to make the best gravy ever.
EXPERT TIP: Be sure to use a roasting pan that has a rack that you can place your turkey on. Then simply pour the chicken broth directly into the base of the pan.
Tips for Crispy Skin and Juicy Meat
First, let's lock in the crispy, golden skin. Start off with a nice hot oven preheated to 450°F and roast the turkey for 30 minutes.
Meanwhile, cut a piece of aluminum foil to an approximate square that is 12″ x 12." Fold in half to form a triangle.
EXPERT TIP: After the initial high-heat roasting, turn the oven down to 350°F, open the door, and carefully place the foil over the breast of the bird. If the legs are starting to turn a dark brown, you'll need to add a piece of foil over them, too. Most importantly…get an instant-read thermometer that you can insert into the turkey and watch the temperature without having to open your oven. Stick the thermometer into the thickest part of the bird. Roast until 161° to 163° F is reached, usually about another 2¼ hours for a 14 lb. turkey.
How To Serve the Perfect Roast Turkey
There is nothing much more stunning than bringing this gorgeous roast turkey to your Thanksgiving table.
We love placing the turkey on a large platter surround by fresh herbs, sliced apples, and cranberries.
EXPERT TIP: Be sure to allow the turkey to rest for at least 15 minutes before serving. Cover the bird in a large piece of foil and it will stay warm for quite some time. We often let the bird sit for an hour, while we finalize the fabulous side dishes.
The holidays are such a special time for so many families.
This turkey is a fitting centerpiece for such a time-honored tradition.
And the next day, our Day-After Thanksgiving Panini is to die for.
But for now…feast on this!
Ready to make the best turkey this side of Plymouth Rock? Go for it!
And when you do, be sure to take a photo of it, post it on Instagram, and tag @HowToFeedaLoon and hashtag @HowToFeedaLoon!
The Perfect Roast Turkey
This Perfect Roast Turkey recipe is fool-proof. The key here is brining and then air chilling. An instant-read thermometer ensures juicy and tender meat. Just get started a couple of days before you want to serve...and you'll be golden...just like this turkey. Your guests will flip.
Print
Pin
Rate
Servings: 10 people
Calories: 243kcal
Equipment
Brine bag, roasting pan with rack
Ingredients
FOR THE BRINE
1 gallon apple cider divided
1½ cups Kosher salt
¼ cup allspice ground
8 bay leaves fresh
1 gallon water
FOR THE TURKEY
1 14 lb turkey fresh, or if frozen, see NOTES
¼ cup canola oil or unsalted butter
1 large onion cut into wedges
1 large lemon quartered
3 sprigs thyme fresh
3 sprigs rosemary fresh
3 sprigs sage fresh, or 12 leaves
2 cups chicken broth
turkey gravy on the side
Instructions
Brining and Air Chilling the Turkey
In a large stock pan, simmer 4 cups of the apple cider, Kosher salt, allspice, and bay leaves. Simmer for about 15 minutes, stirring often. Remove from heat and let cool.

Add the remaining 3 quarts of cider and another gallon (4 quarts) of water. Stir making sure salt and allspice have mostly dissolved.

Place a brining bag into a large roasting pan or an ice cooler. Place the turkey in it. Carefully pour the cooled brine into the bag. Seal the bag and then refrigerate for 8 to 18 hours.

Place the turkey in the brining bag into your sink. Carefully remove the turkey from the brine and let it drain in the sink for a few minutes, holding it up so the excess liquid will fall from the cavity. Place on a baking sheet with a rack. Use paper towels to pat dry the turkey all over. Place back in the refrigerator for 12 to 24 hours.

Either place in the fridge or cover the brine bag in the cooler with ice...and let rest for 24 hours.
Roast the Turkey
Preheat the oven to 450°F.

Tie the turkey legs together with kitchen twine. Rub canola oil (or butter) all over the turkey, about ¼ cup.

Lightly salt and pepper the skin (not too much salt...it's already soaked in some salt from the brine). Stuff the cavity with onions, lemons, and fresh herbs. Place on a roasting rack in a large roasting pan, breast side up.

Add the chicken stock to the pan (use the drippings for gravy, later).

Place in the oven and bake for 30 minutes.

After the 30 minutes, place a piece of aluminum foil that has been folded into a large triangle over the breast. Cover any other areas that are turning a dark brown. Insert the instant-read thermometer into the thickest part of the breast. Lower the oven temperature to 350°F.

Roast until the internal temp reaches 162°F...about 2¼ hours for a 13 to 15 lb. bird.

Remove from oven, cover with a large piece of foil, and let rest for at least 15 minutes. The turkey will stay warm for at least an hour. Place on a platter, carve, and serve with turkey gravy!
Notes
Air chilling isn't 100% necessary, but we find it truly does make a difference in the end. If you don't have the time, just skip this step. You'll still have a very tasty turkey. Resist opening the oven up while the turkey is roasting. However, you will want to keep an eye on the bird. If any parts of the skin are turning too dark, simply (but carefully) cover the spot with a piece of foil. Brushing a little oil on the underside of the foil will help it adhere to the turkey. We don't add stuffing to our turkey because there is some risk for bacteria. If you do add stuffing, you'll need to cook the turkey for an additional 30 minutes. See below for cooking times based on the weight of the turkey. We love using a fresh turkey that we purchase from our local butcher several days before serving. However, a good-quality frozen turkey will still yield an extremely delicious bird. Follow these tips for thawing: Refrigerator (Easiest and Safest): This method takes some time, so allow one day for each 4 - 5 pounds of weight. If your turkey weighs 16 pounds, it will take about four days to thaw. Once thawed, the turkey is safe for another two days, so you can start thawing it six days before thanksgiving (the Friday before Thanksgiving). Cold Water: For the cold water method, leave the turkey in its original wrapping and submerge it in a sink (or container) full of cold water. It is important that the water be cold so that the turkey stays at a safe temperature. You should change the water every 30 minutes. Empty out the water and replace it with fresh cold water. With this method, allow 30 minutes of defrosting time per pound, so a 16-pound turkey will take 8 hours to thaw using this method (so you might need to start around 4 a.m. if you want to eat in the afternoon!). Once the turkey has thawed, cook it immediately Microwave (Only in a Pinch): Before you commit to thawing your turkey in the microwave, check your owner's manual for the size turkey that will fit in your microwave oven, the minutes per pound, and the power level to use when thawing a turkey. Remove all outside wrapping and place the turkey on a microwave-safe dish to catch any juices that may leak. Use the defrost function based on weight. As a general rule, allow 6 minutes per pound when thawing a turkey in the microwave. Be sure to rotate it several times, and even flip it, during the thawing process. If the turkey starts to actually cook instead of just defrost, let it rest for 5 minutes or so before you resume thawing. Partway through thawing, you may wish to cover the tips of the wings and drumsticks with a small piece of foil to shield them from the microwaves and keep them from cooking. Once the turkey has thawed you should cook it immediately. Cook Times by Turkey Weight (Without Stuffing) Turkey Weight Servings Total Roasting Time (450° then lowered to 350°) 12 to 18 lbs. 10 or less 2 hours 45 minutes 18 to 22 lbs. 11 to 15 3 to 3 1/2 hour 22 - 24 lbs. 16 to 20 4 hours We recommend going with smaller turkeys. The larger turkeys can be more of a challenge to cook evenly. If feeding a large crowd, we recommend roasting a couple of smaller turkeys, if that's possible.
Nutrition
Calories: 243kcal | Carbohydrates: 48g | Protein: 1g | Fat: 7g | Saturated Fat: 1g | Cholesterol: 1mg | Sodium: 185mg | Potassium: 485mg | Fiber: 2g | Sugar: 37g | Vitamin A: 29IU | Vitamin C: 15mg | Calcium: 81mg | Iron: 1mg
POST UPDATE: This recipe was originally published in November 2018, but was updated with improved tweaks to the recipe, new tips and photography, and a fabulous new video in November 2020!