Pasta with White Clam Sauce is an all-time favorite at the Loonwell house.   Go with the smaller clams, such a Littleneck, and you'll love the flavor.  The Loon is always very concerned about 'sand in the clams' (that's almost a Sondheim song), but I get them from Whole Foods, where the clams are cultivated.   Very, very little sand.  And run under cold water for about 10 minutes, and you'll be a-okay.   Pasta with White Clam Sauce is so good!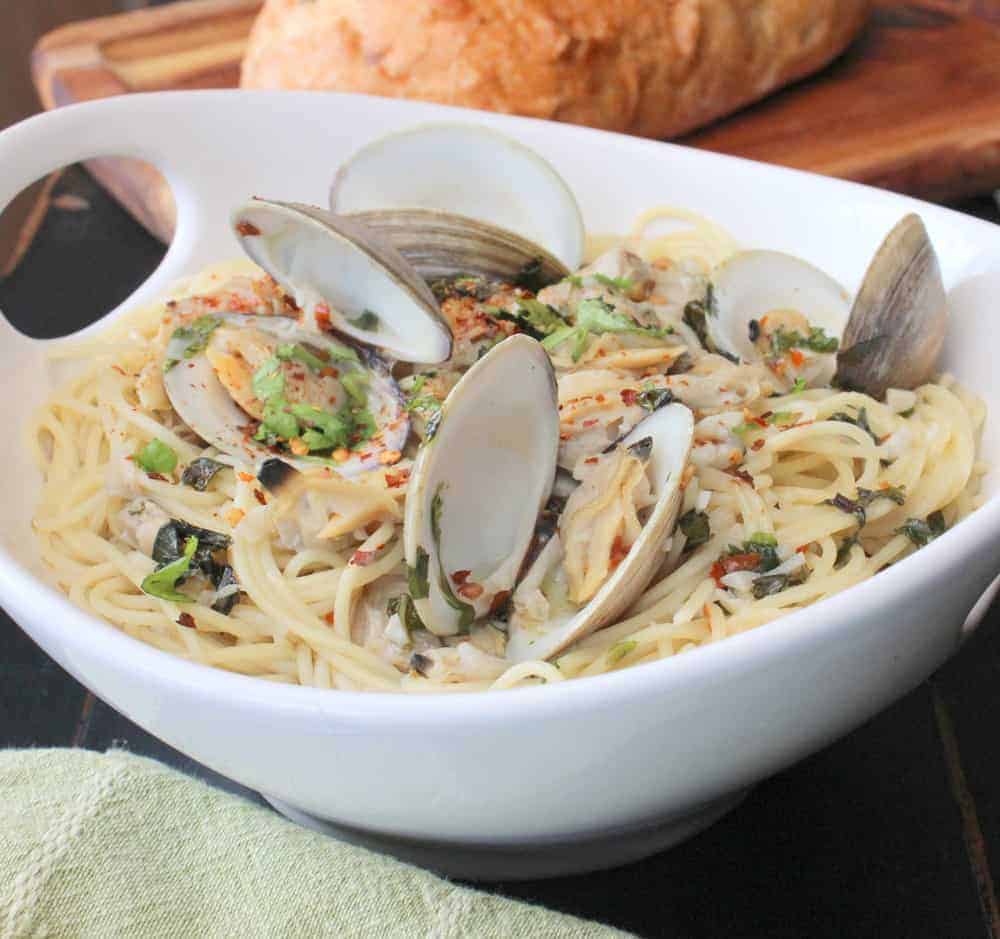 Pasta with White Clam Sauce
Pasta with White Clam Sauce is an all-time favorite in our house. Cook the clams until they open (remove the stubborn fellas) and then add into the amazing sauce.
Homemade pasta
is awesome, but of course, dried works well, too.
Print
Pin
Rate
Servings: 6
Ingredients
1/4 cup of good quality olive oil
2 tablespoons coarsely chopped garlic
24 Littleneck clams rinsed and scrubbed
8 fresh basil leaves chopped
2 tablespoons of flat-leaf parsley chopped
Pinch of red pepper flakes
1/4 cup of dry white wine
2 1/4 cups of clam juice
Fresh linguine or 12 ounces of dried linguine
Salt and freshly ground black pepper
Instructions
In a large saute pan, heat the olive oil over medium-high heat.

When the oil is hot, add the garlic, and cook it, stirring for about 1 minute or until is lightly golden. Don't burn the garlic!

Add the clams, basil, parsley, and red pepper flakes.

Raise the heat to high and cook the mixture, stirring for about 1 minute, or until the ingredients are well combined.

Reduce the heat to medium and cover the pan.

Cook the sauce, shaking the pan occasionally for 3 to 4 minutes.

Remove the cover and add the wine.

Cook the sauce uncovered for 1 minutes.

Add the clam juice and simmer the sauce, covered for 3 to 4 minutes, or until all of the clams have opened.

With a small knife, pry open any that don't open, unless they are firmly closed, in which case discard them. Remove the clams from all the shells, except about 6 or 7 of them.

Meanwhile, in a large pot filled with boiling salt water, cook the pasta (fresh for 3 minutes, dried for 12 minutes - until al dente.). Reserve 1 cup of the pasta cooking water.

Drain the pasta and transfer to a shallow bowl or platter.

Bring the sauce to a boil and season it to taste with salt and pepper.

Immediately ladle the sauce over the pasta and mix in 1/4 cup of the reserved water.

Mix in the clams and place the clams in the shells on top.

Add more water, if desired.

Serve at once!