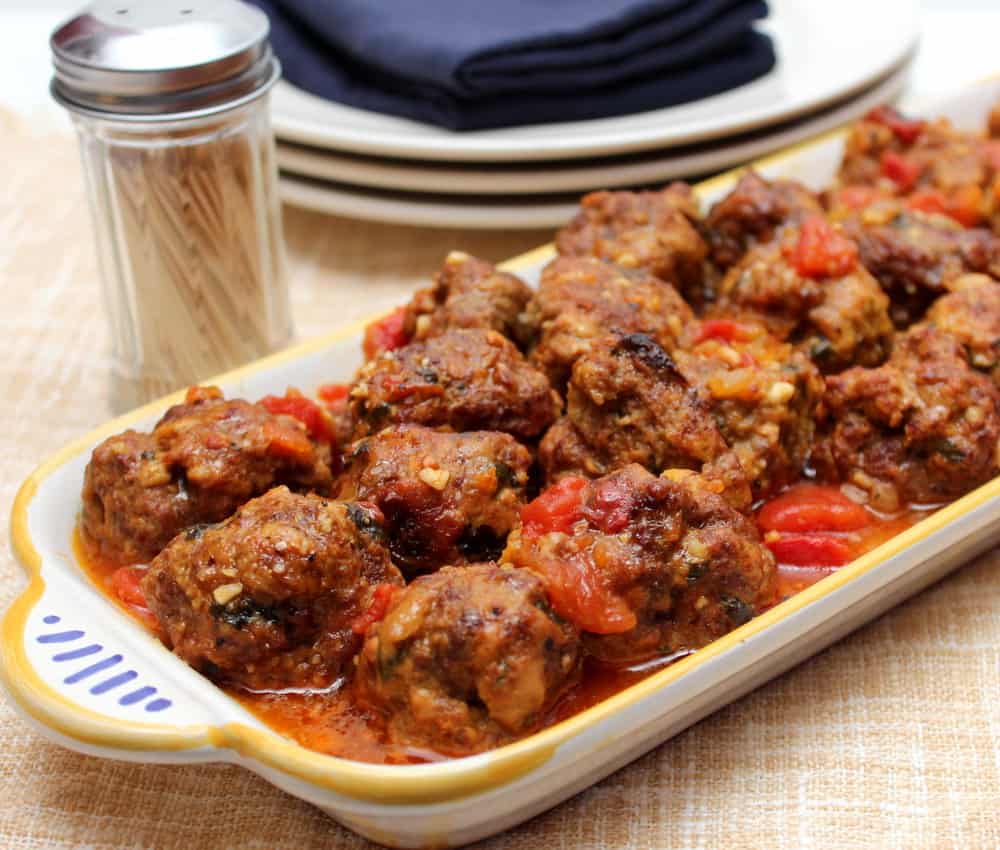 I spend countless hours scouring cookbooks, magazines, my mom's recipe files, and the internet for inspiring new dishes that I'd like to try out on the Loon. I came across this one recently from America's Test Kitchen…For what ever reason, most recipes don't make the cut, but both the Loon and I agreed that these Party Spanish Meatballs were extra delicious. Make in your slow cooker for about 6 hours…and you, and your party-going friends will really feel like saying…"Boy, oh boy! Fork me over another one of those Party Spanish Meatballs.

Party Spanish Meatballs
These Party Spanish Meatballs have an amazing flavor to them and are perfect for your next party! Prepping the onions with the garlic, oil and smoked paprika is so easy...and actually works really well. Make this in your slow cooker (for about 6 hours on high)...serve on a platter with fancy toothpicks. Really, really yummy.
Author: Kris Longwell adapted from America's Test Kitchen
Recipe type: Appetizer
Cuisine: Appetizer
Serves: 10
Ingredients
4 slices of white bread, torn into a bite-sized pieces
1 cup of whole milk
2 pounds of 85% lean ground beef
½ cup of grated Parm cheese
2 large egg yolks
¼ cup parsley, minced
6 cloves of garlic, minced
Salt and pepper
2 onions, chopped
2 tablespoons of extra-virgin olive oil
1 teaspoon of sweet smoked paprika
¼ teaspoon of saffron threads, chopped
2 cups of chicken stock, or vegetable stock
1 14.5 can diced tomatoes, diced
¼ cup dry white wine
2 tablespoons of Minute tapioca
2 bay leaves
2 tablespoons of almonds, toasted and then chopped fine
2 teaspoons of fresh lemon juice
Instructions
Turn oven to 475 F, put rack in the middle position.
Mash the bread and milk into a paste in a large bowl using a fork.
Mix in the ground beef, Parmesan cheese, egg yolks, ¼ cup of chopped parsley, 2 chopped garlic cloves, 1 teaspoon of salt, and ½ teaspoon of pepper.
Mix well with your hands.
Pinch off and roll mixture into tablespoon-size meatballs (about 50 to 60 total).
Arrange on a baking sheet lined with parchment paper.
Place in oven and bake until lightly browned, about 15 minutes.
In a medium-sized bowl add the the onions, remaining 4 chopped garlic cloves, oil, paprika and saffron.
Cook the onion mixture in the microwave for 4 minutes. Transfer to slow cooker.
Stir in stock, tomatoes, wine, tapioca, and bay leaves into the slow cooker.
Transfer the meatballs to the slow cooker, discarding the rendered fat.
Cover and cook until the meatballs are super tender, 6 hours on low.
Let meatballs and sauce settle for 5 minutes, then remove the fat from surface.
Discard bay leaves.
Gently stir in the almonds, the remaining 2 tablespoons of parsley, and lemon juice.
Season with salt and pepper.
Place meatballs on serving platter and pour sauce over the top.
Serve and enjoy!