Parmesan and Garlic Chicken Wings…let me count the ways of how we love you!
It's no secret that Wesley and I are crazy about chicken wings. In fact, I don't think I've ever met a well-prepared chicken wing that I didn't immediately begin a meaningful relationship with.
But, let me tell you, this Parmesan and Garlic Chicken Wings recipe wins the blue ribbon in the best-ever chicken wings contest.
HOW TO MAKE PARMESAN AND GARLIC CHICKEN WINGS
But, of course, if you're going to claim to have the blue-ribbon winning best-ever chicken wings, you better make sure you're using superior ingredients.
We are in love with Signature Farms™ Chicken Wings that we get from ACME Markets here in the Northeast, U.S.
The wings are perfect for this recipe because they are the first and second sections and they are extra juicy and superior in taste.
We also love using Signature SELECT™ Pure Olive Oil for this recipe. Throw in fresh herbs, lemon, garlic, and top-notch Parmesan cheese, and you've got the makings for the best wings you'll ever have.
You can find these incredible Signature brand products exclusively at the Albertsons Companies family of stores, including Albertsons, ACME Markets, Safeway, Jewel-Osco, Vons, Pavilions, Randalls, Tom Thumb, Shaw's, Star Market, and Carrs/Safeway.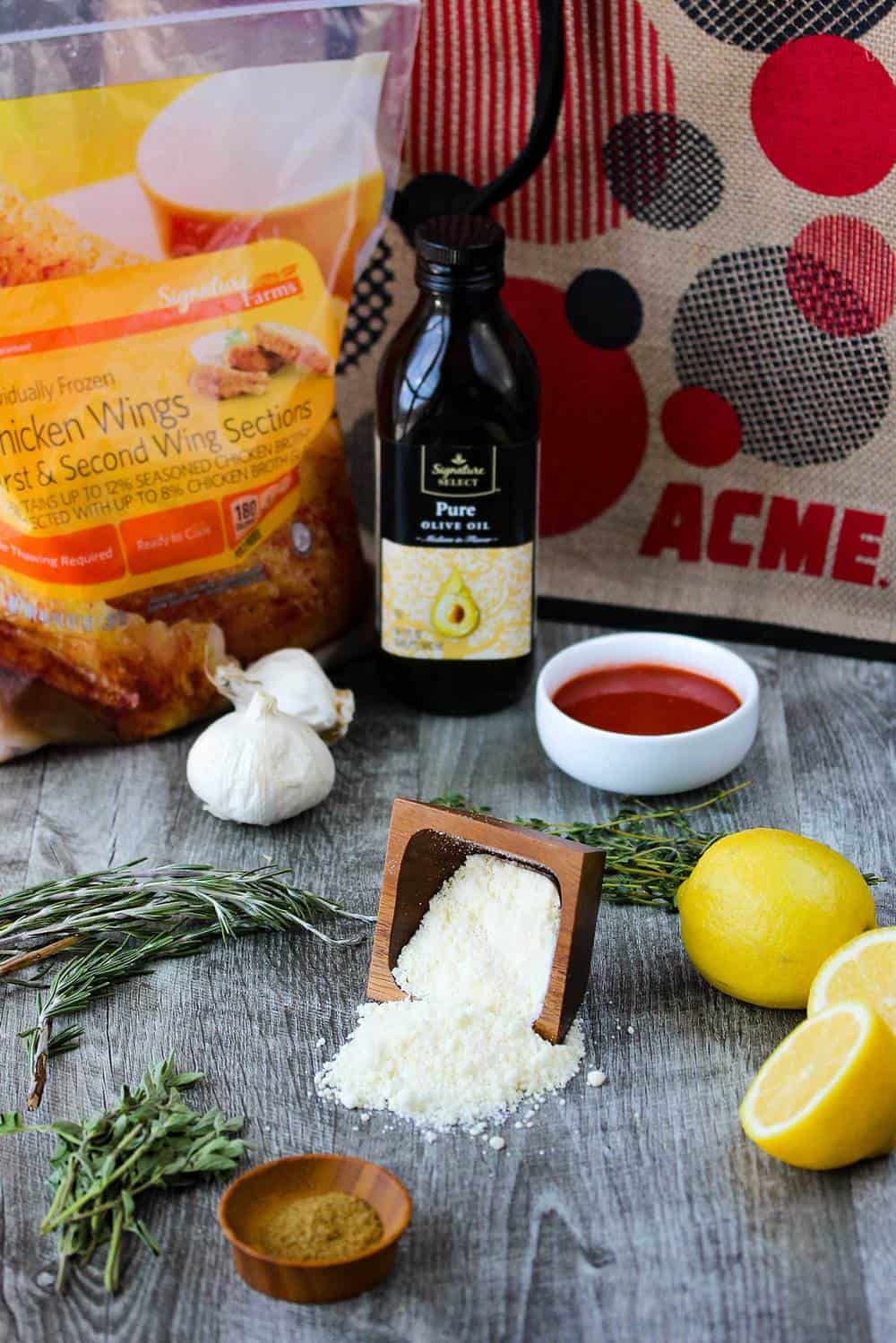 PERFECT FOR ENTERTAINING
And these incredible wings are not hard to prepare, either.
Watch how easy it is to make these delicious Parmesan and Garlic Chicken Wings!
We just can't rave enough about these wings. After the Signature Farms Chicken Wings have marinated several hours in lemon juice, Signature Select Pure Olive Oil, cumin, and fresh herbs, they go into the oven and bake to perfection.
The smell alone is enough to write home about. But, we're not done yet!
The sauce has just enough heat to bring these wings to life! Butter, garlic, and hot sauce.
Now that's a sauce you're going to want to get to know.
Wow, these are so good.
I just can't stress enough how important it is to use the best ingredients and products to produce the best wings in the world.
Signature Farms Chicken Wings are our go-to wings when we really want to make this recipe special. Their quality and value are another reason we love Signature Farms Chicken Wings!
I mean, just look at these wings.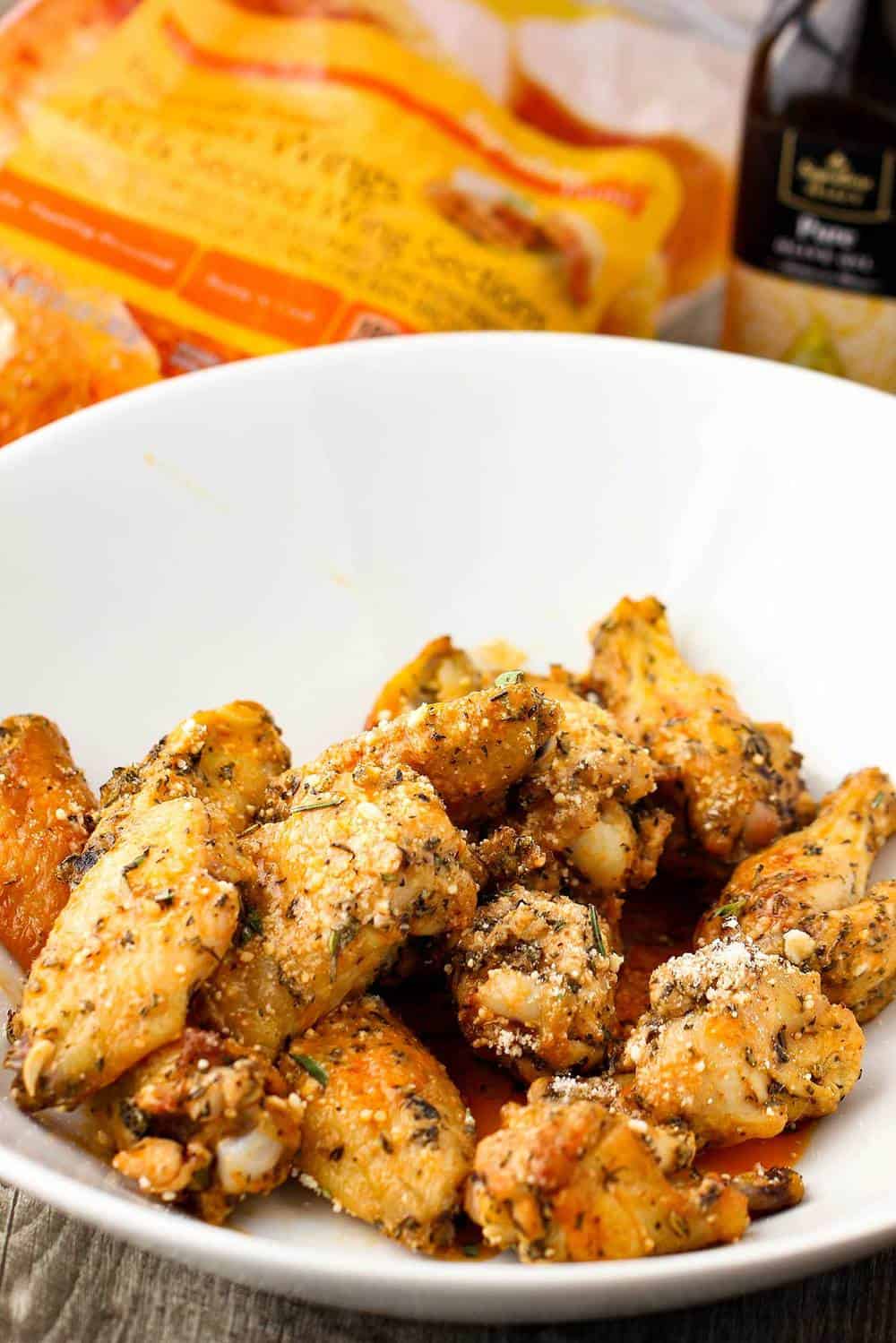 This Parmesan and Garlic Chicken Wings recipe is a real winner.
These are always the first to go when we serve them for a gathering of friends.
The recipe can easily be doubled when serving a crowd.
Now, run…don't walk to your nearest ACME Markets and pick up the ingredients to make this incredible Parmesan and Garlic Chicken Wings recipe.
You will not be disappointed!
Parmesan and Garlic Chicken Wings
This Parmesan and Garlic Chicken Wings recipe is about as good as they come. Be sure to use the best ingredients, and you will not be disappointed in these wings. Out-of-this-world delicious.
Print
Pin
Rate
Servings: 6 people
Ingredients
3 lbs Signature Farms Chicken Wings thawed
2 tbsp Signature Select Pure Olive Oil
3 tbsp freshly squeezed lemon juice
1 tbsp fresh oregano chopped (plus extra for garnish)
1 tbsp fresh rosemary chopped (plus extra for garnish)
1 tbsp fresh thyme chopped (plus extra for garnish)
1 tsp ground cumin
1 tsp Kosher salt
1/2 tsp black pepper
FOR THE WINGS
4 tbsp unsalted butter 1/2 a stick
2 cloves garlic, mince
2 tbsp hot sauce
1/4 cup chicken stock
1 tsp onion powder
1 tsp garlic powder
1/2 tsp Kosher salt
1/2 tsp fresh black pepper
1/4 cup grated Parmesan cheese
Instructions
Pat wings dry with a paper towel and place in a large bowl.

In a medium bowl, whisk together the oil, lemon juice, oregano, rosemary, thyme, cumin, salt, and pepper. Pour over the wings.

Mix until completely coated. Cover with plastic wrap, or place in a large freezer baggie and place in the refrigerator for 1 hour or overnight.

Pre-heat oven to 425 degrees F.

Using tongs, place the chicken pieces on a baking pan.

Place the chicken into the pre-heated oven. Bake for 45 to 50 minutes, until skin is golden and crisp, and the meat is fully cooked. (Juices run clear when pricked with a knife).

Meanwhile, in a medium pan over medium-high heat, add the butter, garlic, hot sauce, chicken stock, onion and garlic powders, salt and pepper. Simmer for about 15 minutes until slightly reduced.

Remove the chicken from the oven and place in a clean large bowl.

Pour the sauce over the wings and then add the parmesan cheese.

Toss well until all wings are coated.

Place on serving dish and sprinkle on a little more parmesan cheese and the remaining herbs.

Serve at once.