th Street, NW Washington, DC 2005 202.347.4800 www.ebbit.com The Old Ebbit Grill is Washington's oldest saloon, founded in 1856. It's much more than a saloon now days, and is known far and wide as a wonderful place to dine when visiting D.C. I was a little hesitant to plan on doing an expose on the restaurant, since it is such a favorite place for patrons coming in from out of town…I tend to veer toward the lesser known joints, those that are favorites amongst the locals. But I heard such wonderful things about Old Ebbit Girl…I figured…let's go for it. First of all, you can feel the history as soon as you walk in. Now though this is not the original site from 1856 (it actually moved several locations until it found its final resting place in 1983), you can still feel a history here. The décor is fun, eclectic and has many different dining rooms, 3 different bars, 2 different oyster bars and a beautiful patio.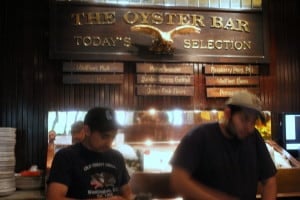 The service was fun and extremely attentive. We had reservations (a must) for lunch and were quickly seated in a beautiful section of the restaurant. They have a wide variety of dishes, but I would say their specialty is locally caught seafood, including fresh oysters. The food was outstanding. Fresh and very flavorful. The Loon and I had a nice mixed selection of fresh oysters and they were excellent.
The other lunch dishes that we tried were fantastic, too. (We really enjoyed 'Walter's Favorite' which consisted of hot pastrami and muenster cheese on homemade pumpernickel.
And then the dessert we had was a true knock-out, suggested by our fantastic waiter, whose name was Sargent…it was a warm blond brownie with melting chocolate morsels, nestled in a warm caramel sauce, and then topped with vanilla bean ice cream and loads of whipped cream. Amazing.
Again, this place might be considered a bit more touristy than I'd usually go for…but I guess there's a reason it's so very popular, and has been for decades. It's just that good. Remember…reservations are a must. Open for breakfast, lunch, dinner and late night (usually until 1am). Old Ebbit Grill 675 15th Street, NW Washington, DC 2005 202.347.4800 www.ebbit.com

Old Ebbit Grill 675 15