Well, it doesn't take a lot of deep thinking to figure out what the menu headliner is at Jamie Mammano's Boston Restaurant: Mooo…. You guessed it, steak. But let me tell you, after recently dining at this gorgeous, modern steakhouse, located in Boston's historic Beacon Hill, adjacent to the gloriously luxurious XV Beacon Hotel…The Loon and I agree that steak is definitely the knock-out superstar, without a doubt …but there are so many other shining gems with this place, we only have one thing (well, two things) to say: If you've never been…first…schedule a trip to Boston, and second…call and make reservations at Mooo….immediately, if not sooner.
The Flawless Service
Let's start with the service. 'Impeccable' can hardly describe it.
Upon entering, we were promptly and graciously greeted by the Dining Room Manager, Chris. Chris immediately ushered us through the modern and exquisite dining room to our table. We were seated in lush, yet highly comfortable chairs. Our beautiful, large wooden table would soon be filled with some of the most amazing steakhouse fare we've ever encountered (and we've encountered a fair amount of that kind of fare…just to be fair).
Throughout the evening, we witnessed Chris and the incredibly attentive (but not-obtrusive) staff, maintain a level of service that is hard to find in many of today's restaurants. Soon after being seated, our server, Jeffrey, came to our table. Both Chris and Jeffrey were the embodiment of the Mooo style: Sophisticated, stylish, classy…but most of all – spirited and fun.
The Awesome Ambiance
Architect Pat Sharkey and Heath Properties Interior Design follow through with this stylish, but fun, approach in the interior of the restaurant. Again, playful, but super elegant.
The wine cellar downstairs has a deep and resplendent wine collection, but is also home to a stunning private dining area aptly called "The Wine Cellar." The room itself is steeped in history.
The Food and Drink
Okay, it's time to get down to business. After we looked over the menu, Wesley and I quickly realized that deciding on what we were going to order was a task we weren't prepared to take on by ourselves. That's when Jeffrey, our most awesome-of-awesome servers stepped right in. He asked if we would like him to bring us the house favorites – certain dishes he just knew we would flip for. Both Wesley and I quickly raised our glasses and cheered: "Yes!!"
And thus it began. Just as the menus were cleared from our sturdy and sizable table, the freshest, most fluffy, most flavorful, warm bread was brought to us. Billowy clouds of deliciousness, topped with sea salt, and accompanied with freshly churned butter and deeply flavorful olive oil. Oh my goodness.
Then came the first dish: Sushi Grade Tuna Tartar. Wow, oh wow…what a start to what was going to be a gastronomical showstopper of a night. The succulent sushi grade tuna was dressed in a lovely soy/sesame/citrus/scallion sauce. This dish was amazing. Light, fresh, and didn't overwhelm the palate. Divine. We were primed and ready for the next surprise.
Before our next culinary delight arrived, we finished off our obligatory "kick-the-evening-off" Kettle One martinis – dry, straight up (shaken, not stirred) with olives. As if on cue, Jeffrey then brought us a wonderful bottle of 2011 Barmare Malbec. It was outstanding. Upon tasting, it started out peppery, with a nice dark boysenberry stone fruit, and finished perfectly balanced, not-overly tannic. In other words, it was damn yummy. And the perfect pairing for what was still yet to come.
Next: Chris brought over huge Alaskan King Crab Legs with drawn clarified butter. After those were devoured, Jeffrey brought out a plate of Japanese Wagyu Beef Dumplings. Things were quickly getting serious…seriously delicious. These dumplings were filled with trimmings from Mooo's A5 Wagyu Ribeye that had been blended with caramelized onions, herbs and butter. Served with a soy/black bean/ginger citrus sauce, topped with scallions and cilantro. Absolutely melt-in-your mouth amazing. And such a deep flavor profile!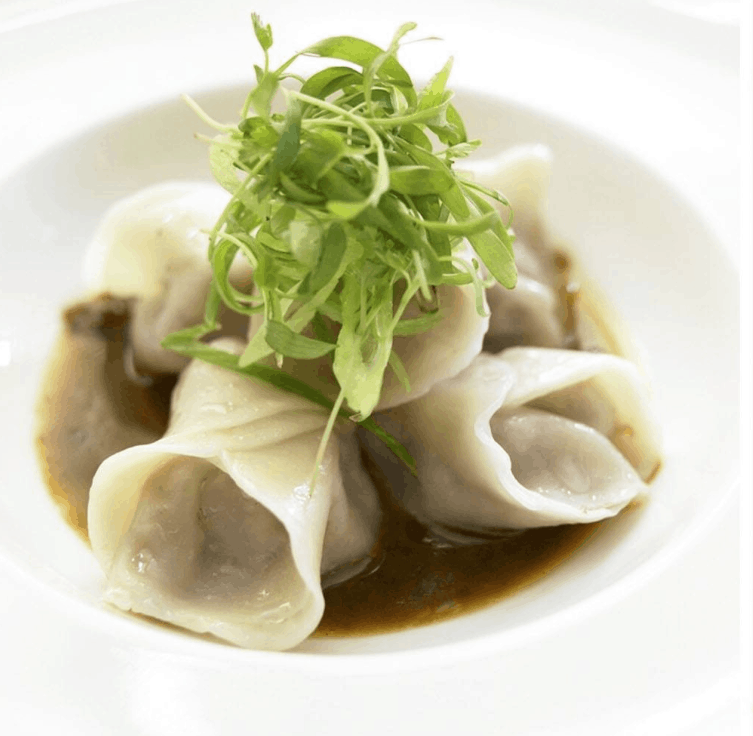 Okay, we were heading into the epicenter of this gastronomical thrill ride. Before we could blink, our plates were cleared, new ones ushered in, and then, as if magically, sitting on the table in front of us was the most succulent Tenderloin Beef Wellington we've ever seen (or eaten). It was artfully constructed with incredibly tender and flavorful beef tenderloin, house-made foi gras, sauteed spinach and duxelle (finely chopped mushrooms, shallots, herbs and butter – reduced to perfection) – encased in a super flaky puff pastry shell, and then baked. The Loon took one bite and proclaimed: "Oh My Stars and Garters" Translation: "That is amazing!!"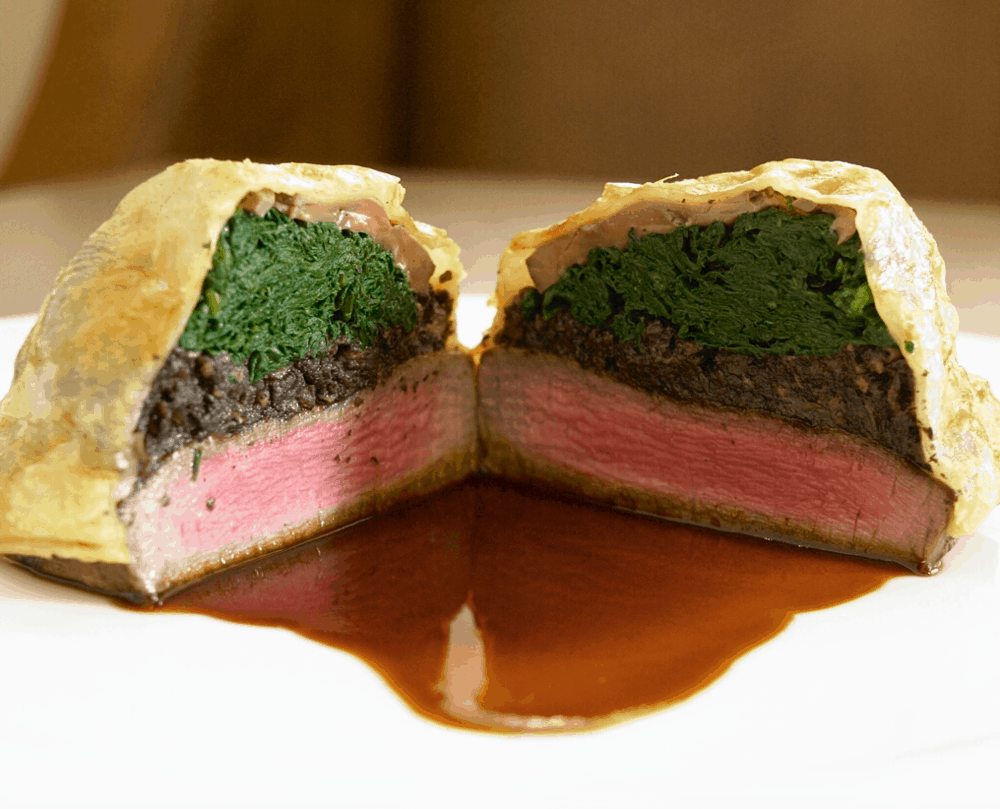 Sitting right next to this incredible meat sensation was another superstar…a 16 ounce Prime Dry Aged Rib Eye steak cooked to a perfect medium rare. Next to the beautiful steak was an actual bone filled with a roasted garlic and bone marrow butter. To smear on this decadent butter, you used a brush made from fresh thyme stems with leaves, strung together. Yep, you heard me right. Just take a look:
As if this wasn't enough, we were also brought the legendary Mooo …. Side Flight…which was a beautiful board holding 4 crocks of: Whipped Yukon Gold Potatoes, Creamed Spinach, Truffled Parmesan Fries and Sauteed Exotic Mushrooms. We had just gone into gastro overload. All of this amazingly prepared food, sitting before us. Every bite was an experience. Just incredible.
We indulged, indeed. It was euphoric. It also filled me to the gills. I seriously thought I was going to need to be sky-lifted from the place. But Jeffrey talked us through it. The plates were swiftly removed, the table was quickly cleared of any drips or drops, and we were sitting pleasantly with the remainder of our wine. Chris made a point to check on us throughout the evening. We talked, and laughed, and waited for things to settle down a bit, at least from a digestive perspective.
Finally, Jeffrey convinced us that we couldn't leave without trying a couple of Mooo's signature desserts. I mean, who were we to disagree. We ordered a lovely cup of coffee, and within a few moments, the following two plates of heaven emerged from the kitchen and found their way to our table.
First, let's start with the incredible layered carrot and caramel cake with buttermilk cream, pecans, and coconut shavings. The cake was so moist and bursting with flavor. Carrot and caramel cake, are you kidding me? OMG.
Now, onto the brilliant bananas foster with house-made vanilla ice cream, which was sitting on top of house-made short bread. This was accompanied with bruleed banana halves, and finished with a warm, caramel rum sauce. Holy Mother of Caramel Rum.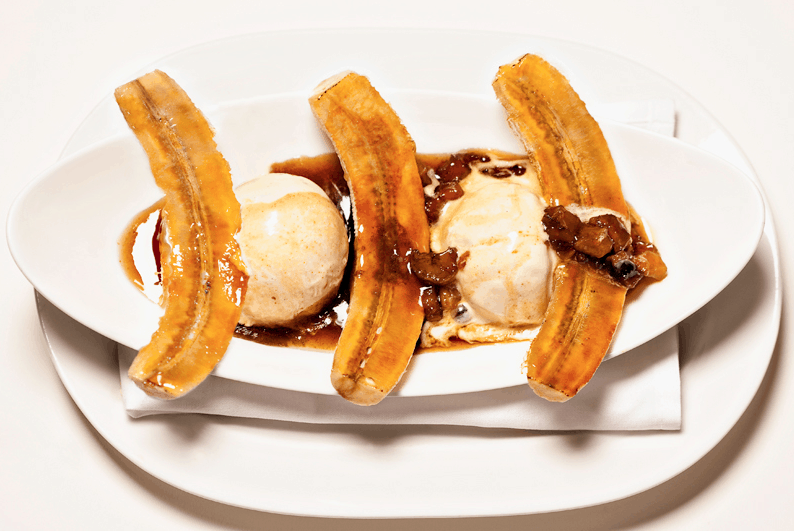 Our dining experience at Mooo… was epic. The service was impeccable. The atmosphere was so refreshing…sophisticated, but first and foremost…fun. And the food (and wine)…was (is) an absolute one-of-a-kind dining experience. Every taste told a story. And that story is: Next time you are in Boston…you better "Moooo…ve" yourself over to Mooo…and have one of the best dining experiences you'll ever have, and won't soon forget.
Thanks to all who made our evening so special. From Chef/Owner Jamie Mammano, to Executive Chef David Hutton, to the awesome Dining Room Manager, Chris Marcin, and especially to one of the best servers working in the business today: Jeffrey Bagnell.
Mooo… 15 Beacon Street, Boston, MA 02108 Phone: 617-670-2515 Website: http://mooorestaurant.com/ Hours: Open 7 days a week for breakfast, lunch and dinner. Breakfast: 7am – 10:30am – Mon – Fri 8am – 10:30 – Sat Acoustic Brunch, 10am – 2pm – Sundays Lunch: 11:30 – 2:30, Mon – Sat Dinner: 5:30 – 10:00pm – Sun – Thurs 5:30 – 10:30pm – Fri – Sat Bar/Lounge 11:30am – 12:30am Valet Parking available Dress code: Elegant/business casual. $$$$ Learn more about dining in Boston here.