If you're looking for the hottest restaurant in Philadelphia, the "City of Brotherly Love," look no further than Chef Nicholas Elmi's incredible 'Laurel,' located in the ultra-cool Passyunk Square neighborhood in South Philly. I had been reading the endless accolades for Chef Elmi's American-French BYO bistro.  I read about how small the place was (only 19 tables!)…with a kitchen that's only 10′ x 15.5′, and barely holds him, his sous-chef, and a culinary student.  We, of course, became big fans after watching him win Season 11 on Bravo's hit Top Chef competition series.  But nothing, I mean nothing, prepared us for the nearly nirvana meal we experienced that lovely evening in July at 'Laurel' on Passyunk.
It's funny…watch us here before we head in.  We knew we were in for a treat…but had no idea how incredible the next hour and half was going to be.  Then read the full review below.  Amazing!!
Okay, here we go.   So, as we entered, as mentioned, we noticed the place was indeed quite small.  But somehow, still wonderfully inviting and completely comfortable.
We were warmly greeted and immediately seated.
Let me start by saying, the service was beyond impeccable.  Even Chef Elmi himself served several of the courses of the 9-course tasting menu.   And speaking of the tasting menu, it's the only option you are given at Laurel.  And we (or you) wouldn't want it any other way.  This is the kind of place you just need to sit back and let this master chef artfully prepare food like you've never had, and bring it to you in breathtaking presentations.  Simple. Elegant. And Divine.
The Food:
I don't want to waste any more time here, let's get to the food.
After our wine was immediately opened and poured (Laurel is BYO), we were swiftly brought our 1st Course:
Marinated Smoked Trout Roe, with a Shiso Pesto, Horseradish and Green Tomatoes.
Served cold in a super frigid and beautiful vessel.  As our wonderful server (and beyond), Alice, placed it in front of us, we commented how interesting and different it looked.  But then, as we took our first bite, we both looked at each other with wide eyes, smiled…and simply said "Oh, wow."  This was the start to a gastronomical journey like few we've ever experienced.
2nd Course:
Cocoa Cured Foie Gras, with Black Walnut Granola, Champaign Grapes and a Grape Gelée.
Again, served chilled.  Subtle, but perfectly matched flavors.  Absolutely sublime.
3rd Course:
Ragout of Wild Burgundy Snails, Shiitake Mushrooms and Roasted Spring Onion…Topped with a Potato Espuma, Potato Crisp, and Onion Ash.
Served with House-Made Pain au Lait with Shiitake Brown Butter.
By this point, we honestly felt as though we had stepped into Foodie Heaven.  There are hardly words to describe what was being presented to us, and how it tasted.  But we had just gotten started.  Looks what's coming up:
4th Course: 
Seared Sea Scallop, with an Herb Puree…Topped with Heart of Palm, Young Ginger…Finished with Crispy Chicken Skin
Both Wesley and I agreed, this dish was one of the best plates of food we had ever experienced in our entire lives.  And we've had some pretty amazing dishes during our H2FaL years.  Simply divine.
5th Course: 
Fresh Ricotta Gnocchi, Prepared in Truffle Butter and Topped with Black Australian Winter Truffles.   
This picture doesn't do this dish service.  You would be hard-pressed to ever find such incredible, billowy pillows of flavor.  Chef Elmi shaved the Australian Black Truffles over the gnocchi at our table.  We had said the last dish was about the best we had ever had.  It just got beat. It's beyond description.
6th Course: 
Roasted Monkfish with White Peach Puree and Fava Beans…Topped with Dehydrated Black Olive Crumble…Finished with Seaweed Butter.
Things were really getting serious now.   As our unbelievable culinary journey continued, it was nearly impossible to not share in our taste delights with the guests sitting next to us. We were all on a different course numbers, so as each of us received a new gastro-masterpiece, we all shared in the glory of the dish.  It was truly a magical experience.  Now…onto the next course:
7th & 8th Course (These are considered the main entree dishes…Wesley got the Duck and I got the Kobe…but we shared):
Seared Peking Dusk Breast with Foie Gras Creamed Corn over Jostaberries, Blueberry Miso…Topped with Coffee Cocoa Crumble.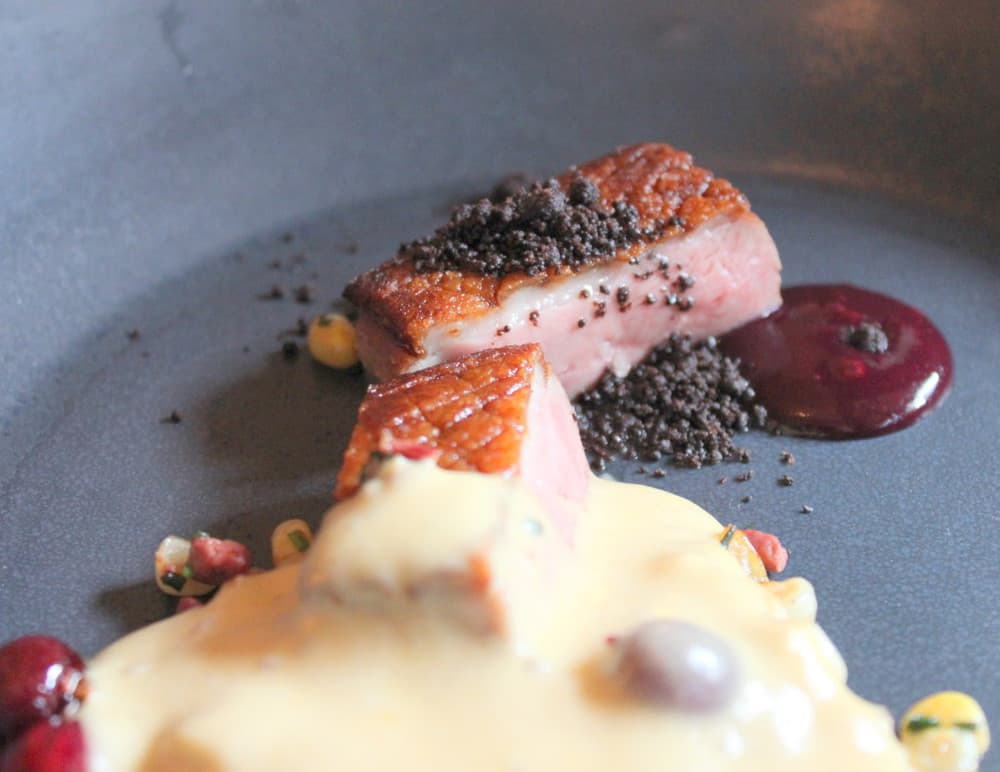 We were reaching a climax.  Once again, this Peking Duck was one of the most amazingly delicious creations we had ever eaten.  True perfection.  Look at the next plate:
Perfectly Grilled Kobe With Fermented Turnips, Bluefoot Mushrooms and a Riesling Gelèe
"Melt in your mouth" is just the start of this dish.  Once again, Chef Elmi brings together ingredients and technique that make this dish so incredibly unique with unmatched flavor.  Once again, I can't find the adequate words to describe the taste and experience.
9th Course (Dessert): 
Caramelized White Chocolate Pudding with Almond Streusel, Puffed Wild Rice and Cherry Puree with Freeze-Dried Elderberries.  
We were nearing what we refer to as 'the wall'…when our tummies are about (no, not about…at) capacity.  But somehow, this incredible dessert helped us find room.  So refreshing and so over-the-top delicious.  How does he do it?  Just amazing.
FEW AND FAR BETWEEN:
The Loon and I have dined at many amazing restaurants around the world over the years, and we can safely say, without doubt, Chef Nicholas Elmi's 'Laurel' is right near the top of the 'best of the best' list. It's the kind of food that when you taste it, it awakens your senses in ways you never knew possible.  The mix of ingredients, combined with masterful technique, presented in gorgeous and thoughtful presentations will help you to understand why 'Laurel' is universally named one of the very best restaurants in North America.
Make your reservations now and then plan a trip to Philly.   You'll have about two months to plan, because that's about how far in advance you'll have to wait to secure a table…it's that good.
Thanks to Chef Nicholas Elmi for a dining experience we will talk about for the rest of our lives.  We can hardly wait to return.
And thanks to the rest of the staff at Laurel.  You can feel from the entire team an honest sense of pride to be a part of such an amazing place.
And of course thanks to Alice, who took impeccable care of us.
LAUREL

1617 East Passyunk Ave. Philadelphia, PA  19148   Phone: (215) 271-8299   Website: http://www.restaurantlaurel.com   Hours: Tuesday – Sunday, 5:30pm – 10:00pm (Closed Sundays and Mondays)   Dress Code:  Spiffy Casual   Parking:  Lot across the street, or street parking   Reservations Required:  They take reservations…but for 2 months in advance (on a rare occasion, you might get in on a crazy cancellation)   Note:  BYO (Bring your own bottle…no alcohol served)   $$$$   Another amazing restaurant in Philly is Bourbon and Bank at the Loew's Hotel!  Also, Philly is also only about 40 minutes from beautiful Princeton, NJ…learn more here.