Javier's Gourmet Mexicano in Dallas, Texas is a true institution in Big D. For over 35 years, this has been a mainstay for residents in the Dallas/Fort Worth metropolitan area. And there is good reason…the food and ambiance is superb. Javier proudly explains…"if you're looking for Tex-Mex tacos and enchiladas…this isn't your'place." But, if you want a taste of top-notch Mexico City dining, in a warm, festive, elegantly whimsical setting…with a cheerful and highly attentive staff…Javier's is your place.
Javier explains that the menu presents a wonderful mixture of the long Mexican heritage that dates back to the Aztecs with a strong European influence from the days of Cortez to Maximilian. The decor consists of pieces that Javier brought back from historic Mexico City himself. Folks also really enjoy a cocktail before and/or after dinner in the infamous Javier's Cigar Room.
Next time your in Big D – be sure to visit Javier's Gourmet Mexicano – Dallas. When you do, you'll immediately understand why Texans, and those beyond, hold this place so dear to their hearts.
Now, let's get down to the food. We've never had a dish a Javier's that we didn't absolutely love, but here are a few of our all-time favorites:
Right after you are seated, usually around the time you're ordering one of Javier's signature cocktails, you are brought fresh, lightly salted corn tortilla chips with freshly-made red salsa and warm salsa verde. The best you'll ever have.
To get the party going, we started with Cheese Panela – Grilled Monterey cheese and Chorizo with warm flour tortillas – prepared specially right at your table…incredible.
Now…on to the main course: Javier's menu includes incredible Mexico City-inspired dishes of beef tenderloin, red snapper, chicken and shrimp. Sublime.
I had the Filete Cantinflas…tenderloin beef filet thinly sliced, stuffed with Chihuahua cheese and seasoned butter, topped with a mild chile mulatto sauce and sliced avacado. Served with Mexican rice and slow cooked black beans. Um…yes.
The Loon went for the Filete Durango…Charboiled tenderloin filet stuffed with Monterey cheese and chillaca peppers. Served with Mexican rice, slow-cooked black beans and fresh avocado salad. So flavorful, tender…and incredible flavor with every bite.
My father went for the Filete Con Championes, an incredibly tender beef tenderloin filet that is topped with mushrooms gently sauteed in a flavorful brandy sauce, served with fresh vegetables of the day. Absolutely amazing.
Another house specialty is the Barra De Navidad: Jumbo shrimp sauteed in a special diablo sauce, which consists of a fine blend of coffee, orange juice, tomato sauce, and other fine spices.
Ready for some dessert? Oh…it is so good!
Cajeta Crepes: Topped with a mixture of caramel sauce, sliced almonds, and vanilla ice cream. So good!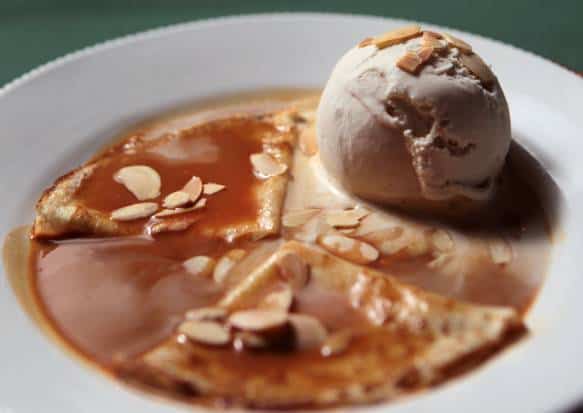 Or how about: Tres Leches Cake: Traditional Mexican Cream Cake with Rum. Rum Yum!
After dinner, we enjoyed a Cafe Pierre: A fun, festive, flaming cocktail prepared table-side. Awesome!
You just can't do much better then Javier's Gourmet Mexicano. Mexico City-inspired cuisine and atmosphere at its very best. Fantástico!
Javier's Gourmet Mexicano
4912 Cole Avenue
Dallas, Texas 75205
(214) 521-4211
Website:
http://javiers.net/
Hours (dinner only)
Sunday – Wednesday: 5:30 – 10pm CT
Thursday – Saturday, 5:30 – 11pm CT
Reservations strongly recommended
Valet Parking Available
$$$$