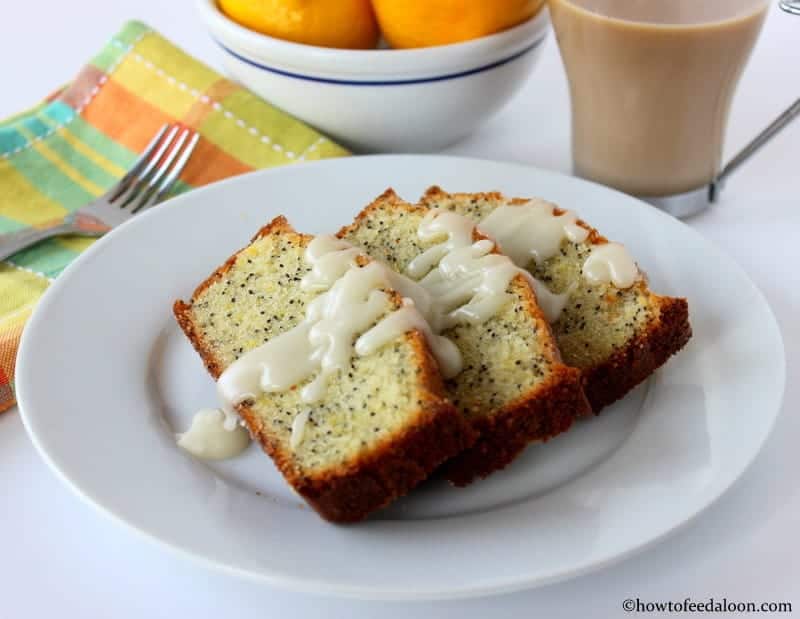 This incredible lemon poppy seed pound cake is really one of mine and the Loon's all-time favorites. So lemony…so moist…and so good. It's not hard to make…make this and you and your guests will be very happy.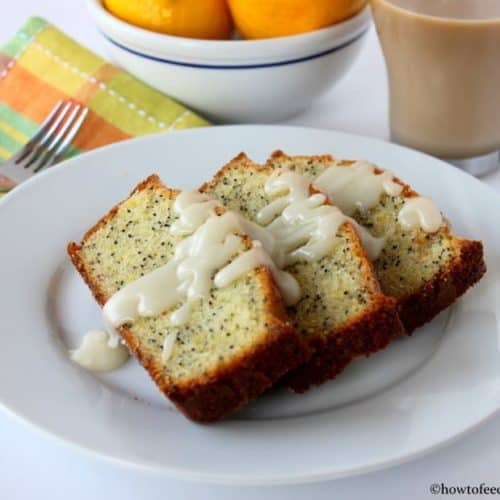 Incredible Lemon Poppy seed Pound Cake
This incredible lemon poppy seed pound cake is wonderful. Serve it at brunch with coffee and other delicious brunchy dishes...and you'll be a star. Celebrunch!
Print
Pin
Rate
Servings: 8 people
Calories: 246kcal
Ingredients
3 tbsp milk
3 large eggs
1 1/2 tsp vanilla extract
1 1/2 cups sifted bleached cake flour sifted into the cup, then leveled off
3/4 cup superfine sugar
3/4 tsp baking powder
1/4 tsp salt
1 tbsp lemon zest
3 tbsp poppy-seeds
13 tbsp unsalted butter softened
FOR THE LEMON SYRUP
1/4 cup, plus 2 tbsp sugar
1/4 cup lemon juice freshly squeezed
FOR THE GLAZE
1/4 cup powdered sugar
1 tbsp fresh lemon juice
1/8 tsp vanilla extract
Instructions
Grease and flour a 8 x 4 loaf pan. Line bottom with parchments paper and spray with vegetable spray and flour again.

Pre-heat oven to 350 F

In a medium bowl, lightly combine the milk, eggs and vanilla.

In a large mixing bowl (if you can, use a whisk beater), combine the flour, sugar, baking powder, salt, lemon zest and poppy seeds.

Mix on low, to blend.

Now, put on your mixing attachment...add the butter, and half of the egg mixture.

Mix on low until dry ingredients are moistened.

Increase to medium speed, and beat for 1 minute.

Scrape down the sides of the bowl.

Gradually add the remaining egg mixture in 2 batches, beating to incorporate.

Scrape the batter into the prepared pan, smooth the top with a spatula.

Bake for 55 minutes, covering with foil after 30 minutes.

Insert a toothpick...when removed, it should come out clean. If still we batter clinging, cook for another 10 minutes.

Quickly make the lemon syrup...dissolve the sugar in the lemon juice in a small pan over low heat.

Remove from oven and rest on rack for 10 minutes.

Pock the top of the bread with a toothpick all over.

Pour half of the lemon syrup over the top of the pound cake.

Run a sharp knife around the edges, to loosen the cake from the pan.

Invert the cake.

Poke more holes into the bottom of the cake, and then pour the remainder of the lemon syrup over the bottom of the cake.

Turn the cake back upright.

Heat the powdered sugar, lemon juice and vanilla in a small pan over low hear. Stir until completely dissolved.

Slice the pound cake.

Drizzle the glaze over the sliced pound cake slices.
Nutrition
Calories: 246kcal