Grilled Salmon with Roasted Poblano Butter is a beautiful dish, and so flavorful.  The simplicity of the grilled salmon is so wonderful, and then elevated to amazing heights with a roasted poblano and lime butter compound. Serve over a bed of sauteed spinach, and you'll have one of the best salmon dishes you've ever served.   And this dish pairs beautifully with a lovely Pinot Grigio.   Divine.  135% Loon Approved.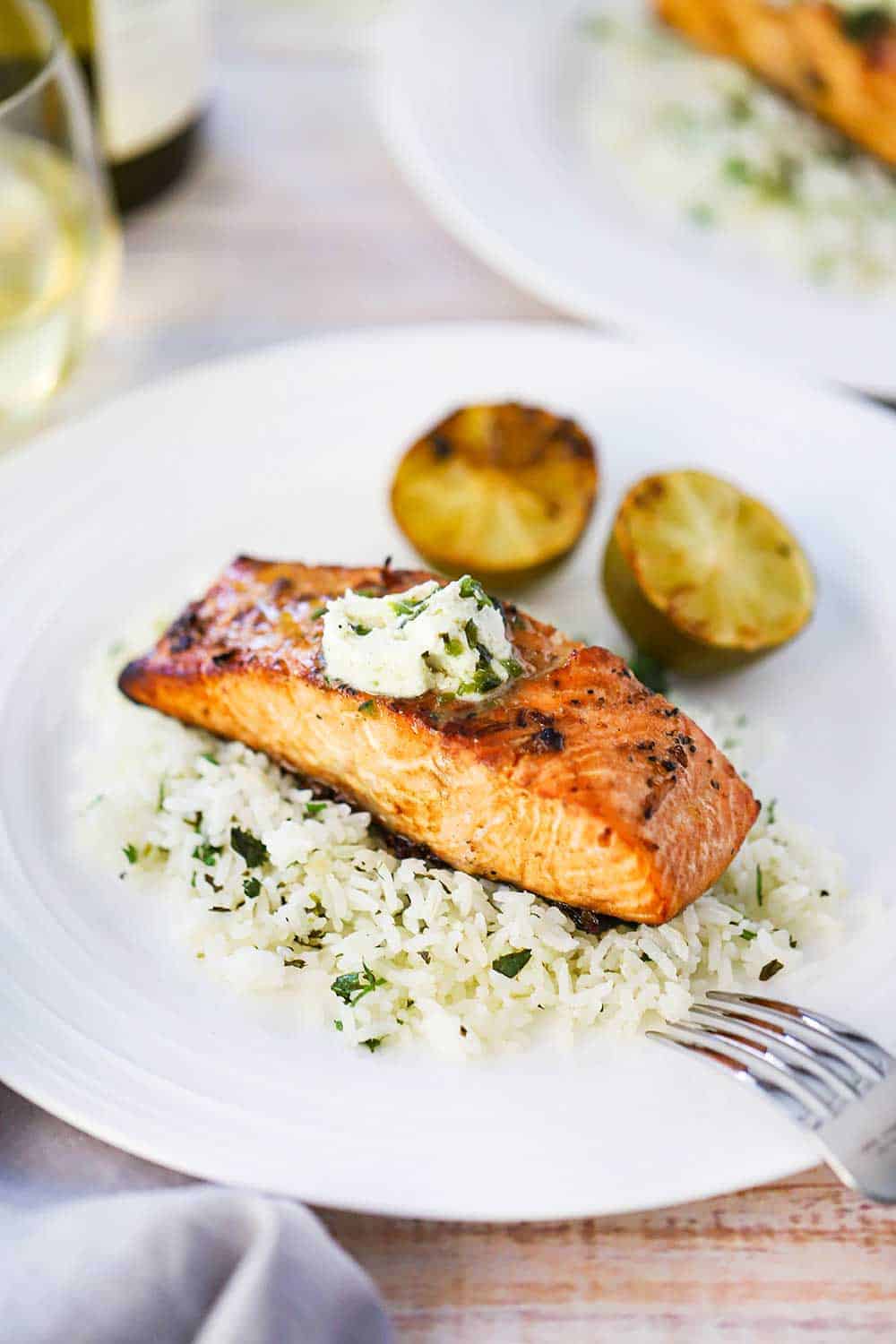 Grilled Salmon with Roasted Poblano Butter
Grilled Salmon with Roasted Poblano Butter is divine. Make the compound butter ahead of time, and you won't believe how quickly this superstar dish comes together. Serve over a bed of greens, and you'll have an amazing dish on your hands. Awesome!
Print
Pin
Rate
Prep Time: 15 minutes
Cook Time: 10 minutes
Total Time: 25 minutes
Servings: 4 people
Calories: 224kcal
Ingredients
4 fresh salmon fillets about 2 to 2 1/2 lbs
2 1/2 tsp fish sauce* or soy sauce
1 tsp Worcestershire sauce
1 tsp white balsamic vinegar
1 tsp fresh lime juice (plus another 2 teaspoons)
1 1/2 tsp sesame oil
1 poblano chile**
4 tbsp unsalted butter, softened slightly 1/2 stick
1 tbsp chives finely chopped
*Available in the Asian section of most supermarkets or at Asian markets
**Available in the produce section of most supermarkets or specialty markets like Whole Food
Instructions
PREPARE THE SALMON
Place the salmon fillets skin side down in a large glass dish.

In a small bowl, mix together the fish sauce, Worcestershire sauce, vinegar, 1 tablespoon lime juice, and sesame oil.

Pour the sauce over the salmon, cover, and refrigerate for 2 hours, turning once.
MAKE THE COMPOUND BUTTER
Pre-heat the oven to 375 F.

Put chile on a baking pan and and roast in the oven for 45 minutes, turning once.

Place roasted chile in a large bowl and cover with plastic wrap for 15 minutes.

Take the pepper out of the bowl and peel off the skin and remove the seeds. Mince the roasted pepper.

In a food processor, or blender, place the butter, 2 teaspoons lime juice, chives, and 2 tablespoons of the minced pepper (save the rest of the pepper for another use). Process for 20 to 30 seconds until the mixture is well combined.

Gently form mixed butter into a cylinder on wax paper. Using your hands, push ends together to form a log. Refrigerate for at least 30 minutes before using.
FINISH THE DISH
Create a hot grill.

Place salmon, skin side down (if skin is still on), and grill for 5 minutes. (half way through, move fillets 45 degrees on the grill, to make perfect cross grill marks).

Turn the fillets over and grill for an additional 5 minutes, or until salmon is cooked through.

Place a slice of the butter on top of each salmon fillet just prior to removing from the grill so that it melts slightly.
Nutrition
Calories: 224kcal