This dish works wonderfully as an entree salad, a side salad, or for serving buffet-style.
We just love a good Greek salad. And we just love grilled skirt steak. Put them together, and you've got a perfect culinary marriage! Serve with warm crusty garlic bread, and you've got an entree salad that will delight your guests, no doubt!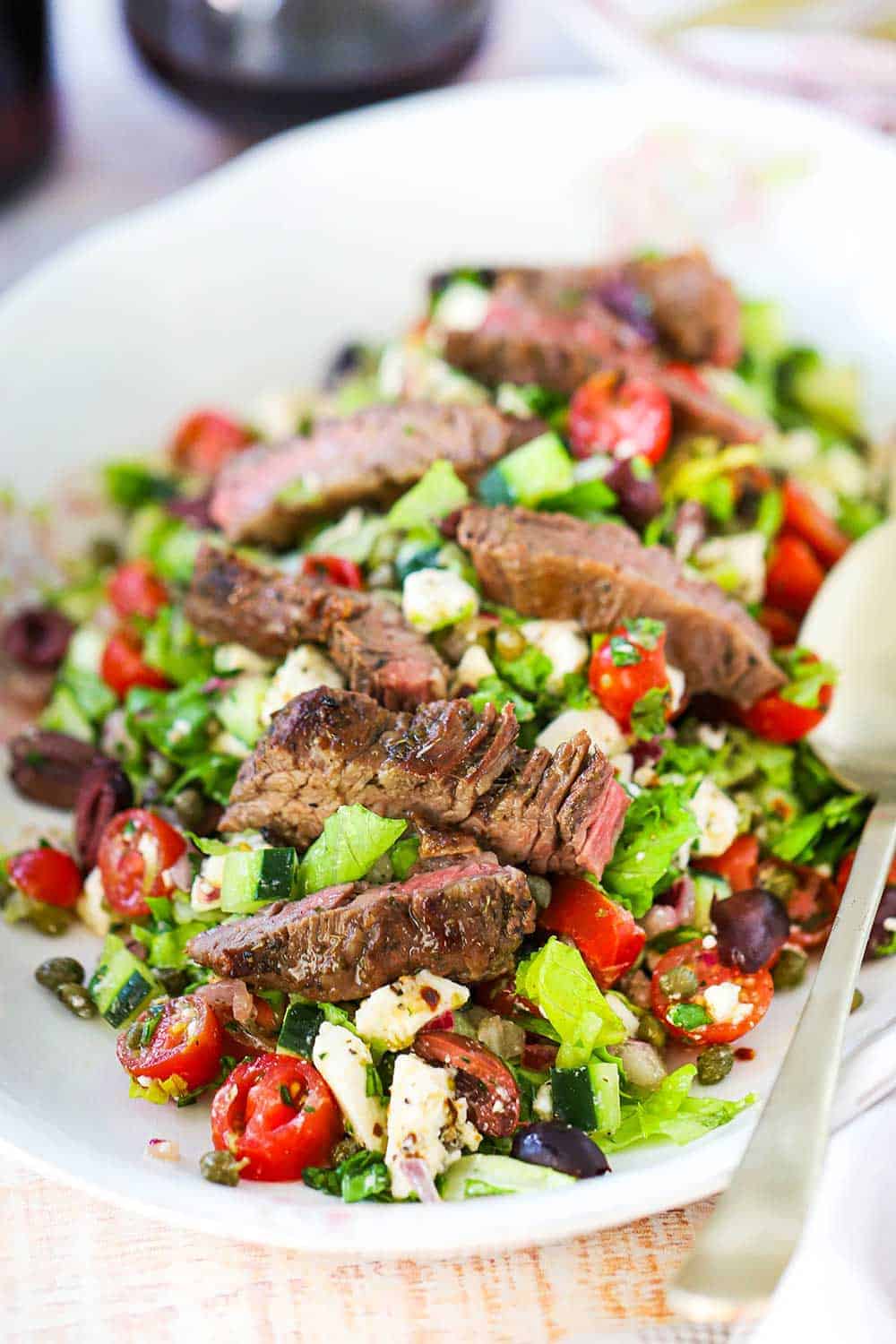 How To Make Greek Salad with Grilled Steak
Putting together this classic salad is actually not difficult at all.
Much of the salad can be prepped and even assembled well in advance of serving.
Allowing the meat to marinate overnight is even better, which makes putting it all together just before serving so easy!
Choosing the Perfect Greek Steak
You really can't go wrong with choosing a good steak for this salad.
Our cut of choice is skirt steak because it is highly marbled. The Greek steak marinade consists of classic Greek flavors and makes the meat extremely tender and melt-in-your-mouth delicious once grilled.
EXPERT TIP: After mixing together the marinade ingredients, we place the steak in a large zipper bag and then pour the marinade over the meat. Massage it a bit with your hands, and press the air out of the baggie before closing. Keep in the fridge for at least 4 hours, or even better, overnight. Another cut of steak that is great is a flap-steak, ribeye, or strip steak.
Once you're ready to grill, it only takes about a total of 10 minutes. You'll want to make sure you reach an internal temperature of 145°F for medium.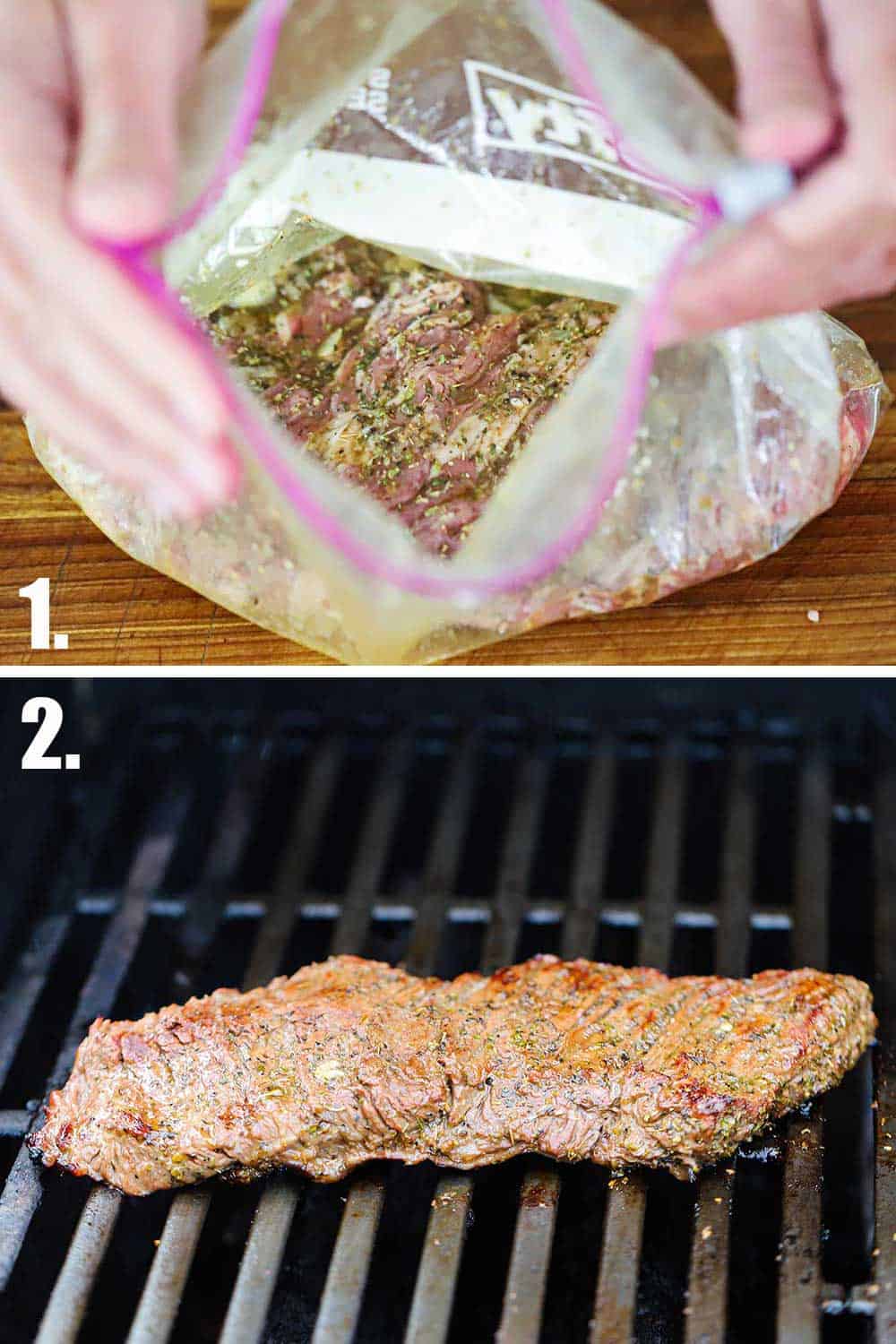 The Ingredients You Will Need
Feta cheese is classically Greek and is the perfect choice for this salad.
While the meat is getting all tender and flavorful in the fridge, it's time to marinate it with our classic Greek salad dressing recipe.
EXPERT TIP: Feta cheese has a distinct taste that we just love. We recommend going with 8 oz. of cheese, which delivers a bold (but not too much!) feta taste. If you want more of the salad and less cheese, then go with 6 oz. of cheese. Allowing the cheese and marinade to chill in the fridge for an hour or two just deepens the flavor profile. However, in a pinch, the cheese is good as is right after you mix in the marinade.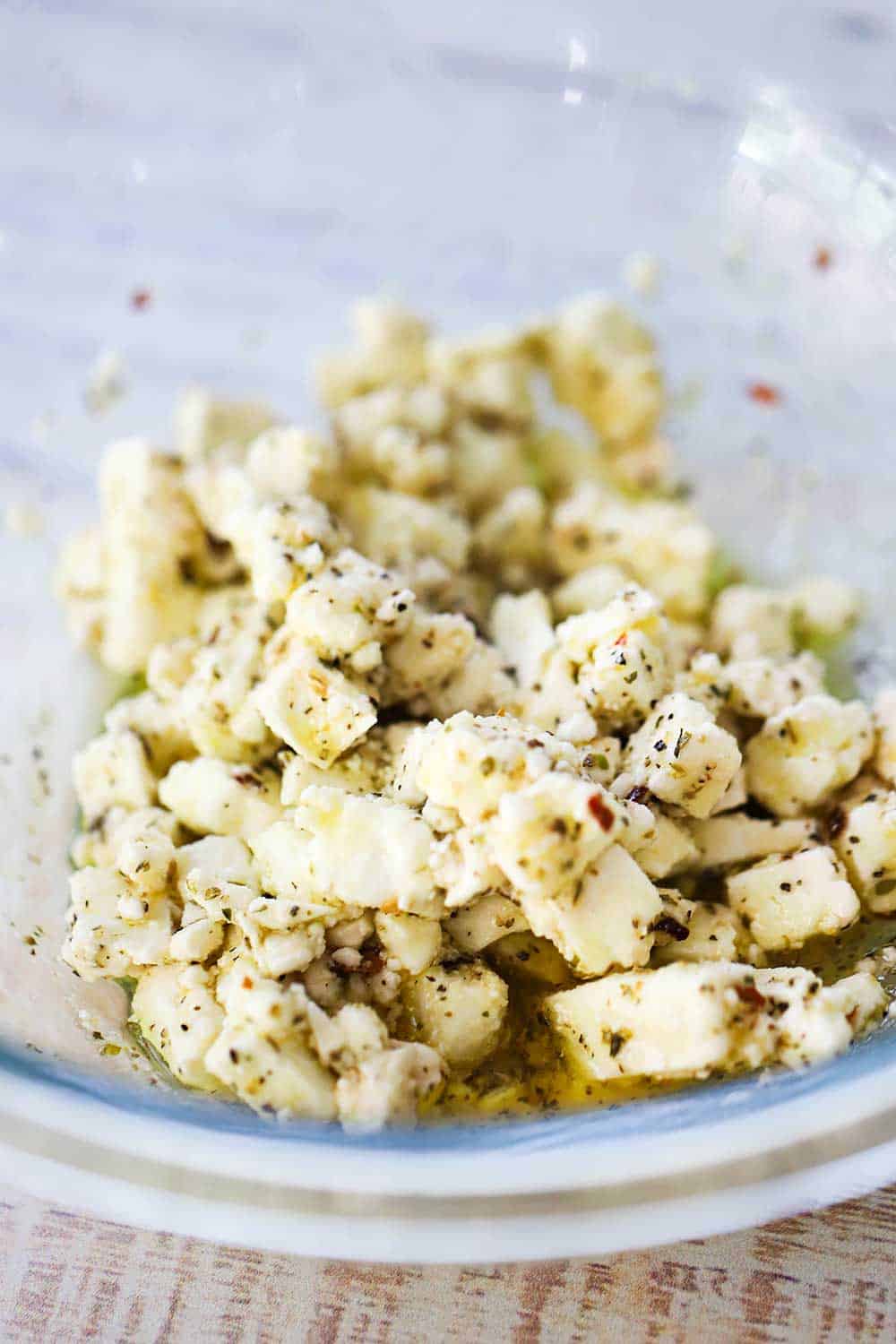 A classic Greek salad recipe consists of chopped cucumbers, tomatoes, parsley, olives, and usually a little red onion.
We love the addition of capers to the mix because it adds a wonderful slightly salty, briny taste that matches perfectly against the cheese and grilled steak.
This mixture by itself is delicious and makes a wonderful side salad.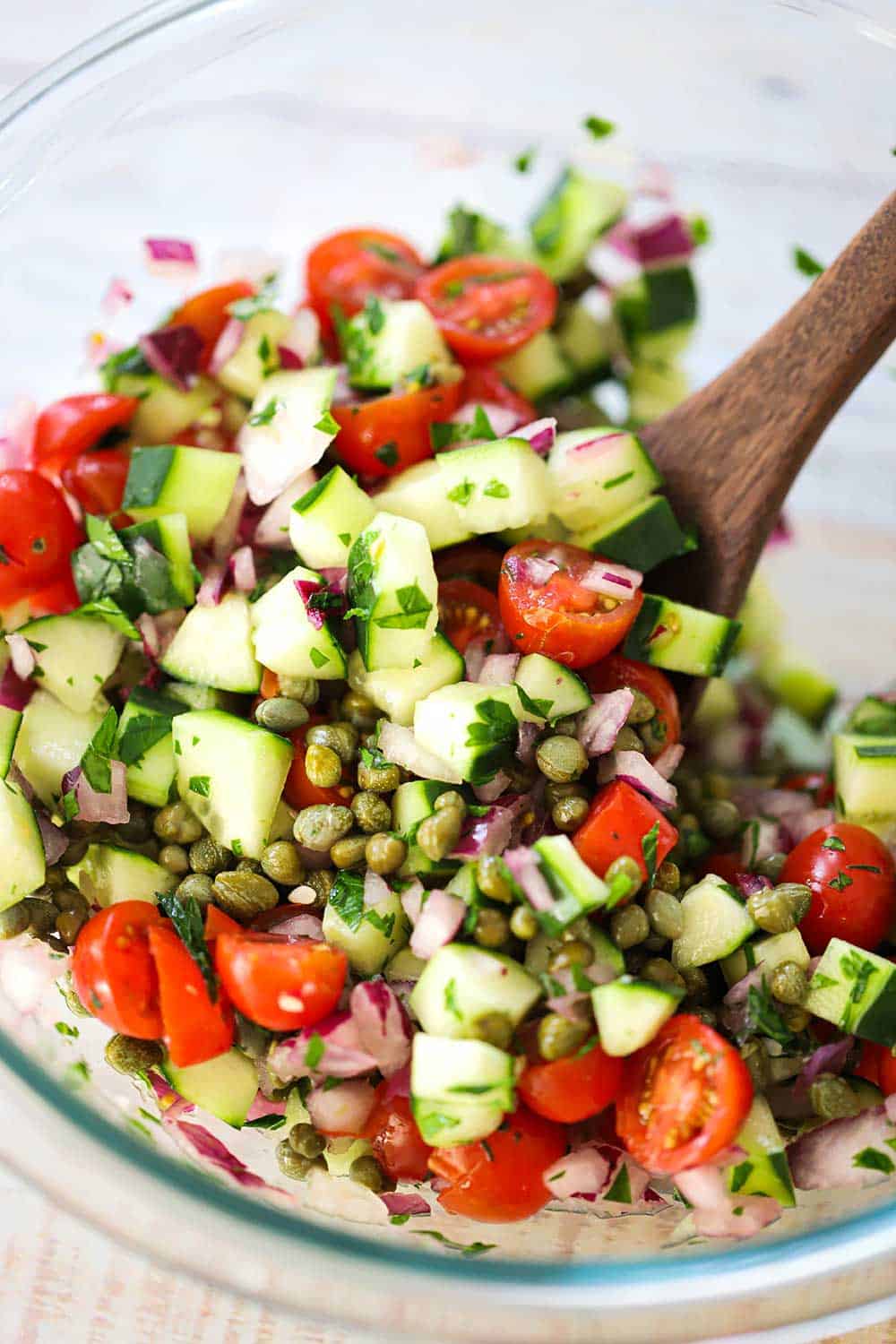 How To Slice Skirt Steak
Once you have finished grilling the steak, you'll want it to rest for about 10 minutes to allow the juices to redistribute.
Cover with foil to keep warm.
EXPERT TIP: To ensure every bite is as tender as possible, you'll want to slice the meat against the grain. Simply place the steak on a cutting board. Look for the parallel lines running throughout the cut of meat. This is called the 'grain.' Cut the steak into two or three pieces, cutting the same direction as the grain. Then, turn the pieces to a 90° angle and cut bite-size strips against the grain.
We love to add chopped romaine lettuce when are mixing together the salad just before preparing. We recommend going with 2 cups.
The addition of chopped lettuce is a popular addition in diners across the United States, but if you prefer, you can leave it out, and serve it the way they do in Greece!
It's almost time to serve!
When to Serve Greek Salad
We think this salad is off-the-charts delicious served when the steak is still warm and extra-juicy.
However, it is really wonderful served warm OR at room temperature. You can serve this for a small gathering of family or friends, but it also makes a wonderful addition to a full spread of dishes, buffet-style.
We serve this entree salad at any time of the year, and always get rave reviews! It pairs wonderfully with a robust red wine, such as a Cabernet, or a dry white wine like Pinot Grigio.
EXPERT TIP: As mentioned, this salad is spectacular even without a protein on top. However, other excellent protein options are grilled chicken, shrimp, or even tofu!
We just can't rave about this salad enough. It truly is a taste sensation.
EXPERT TIP: You can make all of the components of the salad ahead of time. Don't mix it all together until just before serving. If mixed too far in advance, the chopped Romaine will become limp and a bit soggy.
It is such a beautiful serving not just on the large platter, but also as individual servings.
Ready to make the best Greek Steak Salad this side of Athens? Go for it!
And when you do, be sure to take a photo, post it on Instagram, and tag @HowToFeedaLoon and hashtag #HowToFeedaLoon!
Greek Salad with Grilled Steak
This Greek Salad with Grilled Steak brings together two of our favorites things in the world...a Greek salad and beautifully grilled skirt steak. Marinate the steak first for about 4 hours (or overnight), then marinate the feta cheese, then assemble this amazing entree salad. Incredible!
Print
Pin
Rate
Servings: 6 people
Calories: 376kcal
Equipment
Gas, charcoal, or electric grill - outdoor or indoor.
Ingredients
For Marinating the Steak
3 tbsp extra-virgin olive oil
3 cloves garlic roughly chopped
1 tbsp dried oregano
2 tbsp red wine vinegar
1 tbsp Worcestershire sauce
¾ tsp Kosher salt
½ tsp black pepper freshly ground
1 lb skirt steak or flap, or ribeye
For Marinating the Cheese
8 oz feta cheese crumbled
3 tbsp extra-virgin olive oil
2 tbsp red wine vinegar
1 tbsp oregano dried
¼ tsp crushed red pepper flakes
½ tsp Kosher salt
¼ tsp black pepper freshly ground
For the Salad
2 tbsp fresh flat-leaf parsley chopped
1 medium cucumber halved, seeds removed and roughly chopped
1 cup cherry tomatoes halved
1 2.75 oz capers drained, about ½ cup
½ cup Kalamata olives pitted, halved
½ cup red onion chopped
2 cups Romaine lettuce chopped
Instructions
Marinate the Steak
In a medium bowl, whisk together 3 tablespoons of the oil with the garlic, oregano, vinegar, Worcestershire sauce, salt, and pepper. Place the steak in a large plastic baggie, or in a small baking dish. Pour the marinade over the steak and turn the meat until it is fully coated. Seal and place in the refrigerator for at least 4 hours and up to overnight.
Marinate the Cheese and Prepping the Salad
Place the cheese into a large bowl. Mix in the cheese marinade ingredients and chill in the fridge until ready to finish assembling the salad.

In a separate bowl, mix together the parsley, tomatoes, cucumbers, capers, olives, and red onion. Cover with plastic wrap and set aside.
Cook the Steak
Prepare a medium-high hot grill.

Remove the steaks from the marinade and grill for approx. 5 minutes per side, or until an internal temperature of 145°F (medium) is reached. Place on a cutting board and loosely tent with a piece of foil for about 10 minutes. Cutting with the grain, slice the steak into two or three pieces about 3 inches in length. Turn the pieces 90° and cut against the grain into bite-sized strips.
Assemble the Salad
Remove the large bowl with the marinated cheese from the refrigerator. Mix in the cucumber salad and the chopped romaine.

Transfer the salad to a large serving platter and use a spatula to place the sliced steak on top. Serve at once.
Notes
Any thin, well-marbled cut of meat will work. Flap steak is an excellent substitution. Both skirt and flap steaks will definitely need to sit in the marinade for at least 4 hours to allow the meat to break down and become tender once grilled. Ribeye or strip steak is also wonderful but they don't need to marinate as long, only about an hour. You can also cook the steak in a hot cast-iron skillet on your stove, too. Cook for about 3 to 5 minutes per side. The internal temperature should reach 145°F for medium. The various components of the salad can be made up to 1 day in advance. Don't mix the salad with the chopped romaine until just before serving. Other options for protein include grilled chicken or shrimp. Marinated and lightly sautéd tofu is great, too, if you're wanting 100% vegetarian. The salad is so flavorful, it's delicious without a protein on top. We like serving the salad soon after the meat has been sliced and is still warm. However, it's still really delicious even after the meat cools off. The salad is best consumed within a few hours of assembly. If you don't include the chopped Romaine, it will keep in the fridge for 3 to 4 days. We don't recommend freezing this salad.
Nutrition
Calories: 376kcal | Carbohydrates: 6g | Protein: 23g | Fat: 21g | Saturated Fat: 6g | Cholesterol: 81mg | Sodium: 1171mg | Potassium: 429mg | Fiber: 2g | Sugar: 3g | Vitamin A: 1835IU | Vitamin C: 10mg | Calcium: 230mg | Iron: 3mg
POST UPDATE: This recipe was originally published in July 2016, but was updated with improved tweaks to the recipe, with new tips and photography, and a fabulous new video in September 2020!