FoodShed Exchange: A Clear Mission
Through our many culinary journeys with H2FaL, Wesley and I have had the pleasure of meeting some truly inspirational and innovative people who are not only good at what they do, but have helped to transform the world of food as we know it.  Without doubt, one of those tireless innovators is Chef Jimmy Schmidt.  I could write an entire article (and plan to very soon) about all of Chef Schmidt's accomplishments, awards and contributions to our society.  For now, let's just say he's a 3-time James Beard award-winner, a highly successful restaurateur, an accomplished food scientist, and a true pioneer in America's culinary movement towards sustainable cooking and the farm-to-table dining movement.
Schmidt's latest triumph is the extraordinary FoodShed Exchange (FSX).  He, along with his exceedingly astute and savvy business partner, Ran Davis, have created a one-of-a-kind culinary resource that is revolutionizing the current 'broken' food system in the United States.
FSX was launched in 2013 and continues to build momentum.  In simplest terms, www.FoodShedExchange.com is an online marketplace connecting professional chefs and food enthusiasts to primary sources of locally grown, sustainable, and quality food products.  But, it's so much more than that.
A FOOD SYSTEM THAT NEEDS TO BE FIXED
Schmidt explains exactly how the current food system is broken:
"For example, each night, at the end of service in my restaurant, my chef's call up to 30 to 40 farmers to place orders for the following day.  Almost always, they are required to leave a recorded message.  In addition to this being extremely laborious, there is no confirmation that the order was received and/or understood, or even that delivery will be made.  Then, of course, a farmer often returns a call the following morning when none of the chefs are present. Even basic activities, such as invoicing and payment, become extremely challenging.  It's a completely disconnected system."
Schmidt says this problem plagues almost all chefs and farmers across the country.  Chef Michael Leviton of Lumiere in Boston said:  "60% of my time is spent sourcing ingredients and calling farmers, rather than cooking."   Clearly, this is not good.
But, this is only part of the issue, the second part of the problem, explains Schmidt, has to do with timing, and eventually waste.   Most farmers will pick their crops while they're still green, so they can get them to major markets before they become ripe. Once they've become even just a little too ripe, their shelf life is extremely short. This happens frequently, and when it does, all too often, the produce manager will simply toss out the delivery and the farmer wont't get paid. And even during season, when crops are plentiful, prices will plummet, and inevitably, there will be surpluses.  But, the farmers are too busy to call foodbanks to get the surplus out and re-distribute to those in need.  Again, the system is extremely inefficient, costly…and broken.
Enter FoodShed Exchange:  Through the internet and modern communication technologies, www.FoodShedExhange.com is a market intermediation model that connects all the key players and products, and removes the 'middle man.'   Chefs can visually see what they are in need of, easily place their order, get confirmation, make payment, and receive the shipment via a trusted and safe delivery service.  "At the end of the day, " Chef Jimmy says, "chefs have more time to do what they need to do at their restaurants, and farmers at their farms/ranches…and all have more time for their own lives."  And this isn't just for restaurant chefs…home cooks and food enthusiasts love it, too.
CLEAN IS GOOD, CLEAR IS BETTER
FSX is all about transparency, and Schmidt says this is a key piece of the current standard system that is not happening today.  Many of us are familiar with the trend 'clean food.'  Typically, this means food that is prepared using the simplest ingredients, and has not been touched by any kind of chemicals or antibiotics. Chef Jimmy says:  "That's good, and important.  But, it can't stop there."  "Regarding ground beef, for instance, you may be buying organic meat, but in most cases…ground beef can come from as many as 100 cows….and not just different parts of cows, but cows from multiple protein pools located across the country."  It may be organic, but you have no idea where it came from, and how many animals it came from.
FSX, on the other hand, has a completely transparent system that's able to track from herd management, to birth, to genetics, to every step of the way through the process. Currently, when a chef receives a box of four flat iron steaks from a protein provider, chances are very likely they did not come from the same animal. However, with FSX, when an animal is accepted into harvesting, an affidavit is created, testifying to its genetics and complete history. This information is kept in a large database, and over time, will help tremendously in research for future harvesting.  FSX is going after big data capture, ultimately enhancing the entire food system. And when a surplus comes in, it will be routed directly to the foodbanks, just like inventory. Chef Jimmy emphatically explains:  "It's this entire picture, this level of commitment to transparency, efficiency and inclusiveness for all, regardless of economic status, that is the FSX Mission.  You know with 100% certainty what you're getting with FSX.
Below is an example of the standard cattle processing, and then below is the FSX process: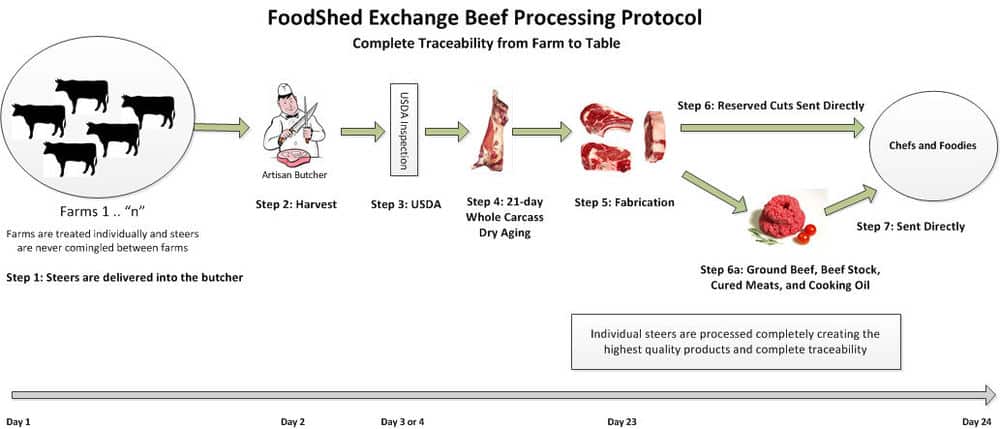 LAMB DELMONICO? HOW COME I'VE NEVER SEEN THAT BEFORE?
We asked Chef Schmidt why FSX was able to offer cuts of meat that we've never seen anywhere else.  Here's the somewhat abbreviated answer he provided:
"Cuts of meat were first designed by the National Association of Meat Producers, and eventually became USDA standard.  After WWII, the American family was shrinking, and a 5 lb roast was no longer viable for a standard family of four. Also, grilling outdoors became popular, and people changed the way they consumed beef.  In the 80s, ancillary cuts (meaning the NON-rib eye, sirloin, and tenderloin cuts) were greatly diminished because nobody was cooking them anymore.  Also, folks started to go more and more towards hamburger, and hamburger meals, and the value of those cuts even further decreased. Farmers weren't making much money for their cattle anymore. So, feedlots started to introduce hormones to facilitate early weight gain, meaning they could sell the cattle sooner.   Again, specialty cuts were not being pulled, and just thrown into the hamburger mix."
Chef Jimmy told us cattle that have been introduced to hormones could be brought into harvest at 18 months, the standard feedlot approach.   But at FSX, because no hormones are utilized, they are not brought in before 28 months…they have gained the weight naturally, in a healthy manner.  Now, FSX is pulling cuts that Schmidt says people before were just too 'lazy' to get…yet are some of the best tasting meat you'll ever have.  Such as the 'flap' Wagyu cut.  Or with lamb…the Delmonico.  Jimmy says practically no one pulls the Delmonico cut from beef anymore, so people really don't get why you would pull the tiny piece from lamb.  With one bite…they would immediately understand.
New York Food Critic, Bryan Miller, had dined at Jimmy's restaurant just a few months before this interview and had the Lamb Delmonico…he went on to say it was the best lamb he had ever had.   A compliment of that nature is rare for Mr. Miller.  Chef Schmidt is clearly onto something big here.
FSX also utilizes whole carcass aging (a process of managing the natural biochemical process inherent in the postmortem muscles to maximize the tenderness and flavor development of the meat).  This means that not just those amazing premium cuts of meat are aged to perfection, but so is the Wagyu bacon, pastrami, corned beef, burgers…and much more…simply AMAZING.
WHERE IS FSX HEADED?
We asked Chef Jimmy where he saw FSX in five years. He explained these first couple years, and even the next two, are all about education.  When you look at www.FoodShedExchange.com, you see their commitment to just that. There is a News Channel reporting on the latest in sustainable food stories and trends. There is the Journal with contributions from acclaimed industry food writers, such as Bryan Miller – this Journal gets pushed out to the 500,000-strong Beard Foundation members, which further educates people in the industry, as well as give FSX a growing and prominent name.  And then there's also the development of the FoodaPedia, dedicated solely to in-depth food research.
Chef Jimmy told us that many chefs and foodies often ask exactly what FSX has to offer:  They say: "What is it?  Why is it good for me?  Where did that product come from? How do I cook it?"  He says Wofgang Puck summed it up perfectly when he said: "Young chefs don't read cookbooks today, they don't read cooking magazines…instead they look to their phones."   Schmidt says it's the FSX promise to deliver the information these chefs and cooks need, in the format they use, and help them make the right decisions, and move on.  "We're there now, not as visible, but shortly, we will be a major source of great information for the entire world."
A CLEAR COMMITMENT TO MAKING THINGS BETTER
Wesley and I could not be more impressed with what Jimmy Schmidt and Ran Davis have built with FoodShed Exchange. Their commitment to not only providing the best tasting food products you'll ever find (and believe us…we've cooked with them – they are out of this world), but also their pledge to revolutionizing the food industry by educating, creating a clear and transparent food system, reducing waste, and feeding the hungry, is truly awe-inspiring.
Check them out. Read their materials. Sign up for their educational newsletters. And try some of the incredible products in their ever-growing Marketplace. We promise…you will not be disappointed!