These Crab and Spinach Dumplings are so light and are complimented perfectly with a white butter, or beurre blanc, sauce.  If you like crab, you are going to love these Crab and Spinach Dumplings
It all starts off with good-quality crab meat.  There are plenty of top-notch brands out there, just make sure you pick the meat over a couple times to remove any leftover shells.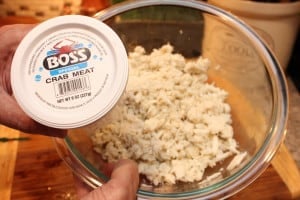 Spinach and crab really make a perfect combination.   You'll want to form the dumplings into the size of wine corks.  Just use the cork from the wine you open and enjoy while you're making this amazing dish.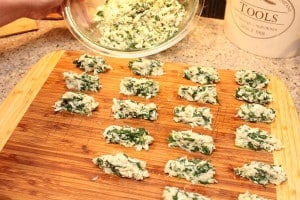 Now get them nicely browned in some melted butter in your non-stick skillet.  Be sure not to overcrowd the pan.  Do them in batches, and keep them in a low-heat oven until they are all finished and you've had time to whip up the Buerre Blanc sauce.
Now, make some amazing Crab and Spinach Dumplings!

Crab and Spinach Dumplings
These Crab and Spinach Dumplings are so tender and rich-tasting, and an absolute fantastic first course for a dinner party. The crab and spinach are a perfect combo, and the Buerre Blanc is the perfect sauce to top them off with. If you like crab and spinach, these gems are for you!
Print
Pin
Rate
Servings: 6 people
Calories: 315kcal
Ingredients
1 lb crab meat
Kosher salt
1 lb fresh spinach washed
1 large egg
2 tbsp all-purpose flour plus more for rolling
1/4 tsp cayenne
1/8 tsp ground nutmeg
1/8 tsp white pepper
Unsalted butter 2 to 3 tablespoons
FOR THE BEURRE BLANC
1 cup dry white wine
1/4 tsp Kosher salt
12 tbsp cold unsalted butter, cube 1 & 1/2 sticks
Squeeze of fresh lemon
1 tbsp fresh flat-leaf parsley finely chopped
Instructions
Pick the crab free of shells, a couple times.

Bring a large pot of salted water to a boil and have ready a medium bowl of ice water.

Add the spinach to the boiling water and cook until just tender and still bright green, about 1 minute.

Drain and transfer to the ice bath. When cool, drain again, using your hands to squeeze out excess water.

Chop the spinach, transfer to a bowl, and gently fold in the crab, egg, flour, cayenne, nutmeg, white pepper, and 1 1/2 teaspoons salt.

Using your hands, form the mixture into small, wine-cork-shaped dumplings.

Heat a non-stick skillet over medium-high heat.

Drop in a generous piece of butter, swirl the pan to coat, and allow to begin to foam.

Roll the dumplings in a small amount of flour, shaking off excess, and cook as many dumplings as will comfortably fit in your pan, being careful not to over-crowd them.

Cook until lightly browned, turning as needed, about 6 minutes.

Use a slotted spatula to transfer the dumplings to a platter (or hold them in a low-temp oven to keep them warm).

Finish the dumplings with a drizzle of beurre blanc and serve at once.

MAKE THE BEURRE BLANC

Simmer the wine and salt in a small heavy saucepan until about 2 tablespoons remain.

Slowly whisk in a few cubes of butter at a time, waiting to add the next until each is fully incorporated.

Add the lemon juice and parsley and serve immediately.
Nutrition
Calories: 315kcal