I don't know why I call this Cowboy Cornbread…it just sounds like the perfect name for this awesome cornbread.   This really is chock-full of big flavors…4 kinds of peppers, bacon, cheddar cheese, honey…and stone ground corn meal.   Serve this with chili, or country-style pork ribs, and you'll be hollering a good ole 'Yee Haw"!!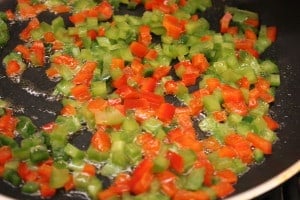 Cowboy Cornbread
This Cowboy Cornbread is chock-full of southern flavors. Made from scratch, but easy to make...and so very good! Serve with chili or country-style pork ribs
Author: Kris Longwell
Recipe type: Southern
Cuisine: Southern
Serves: 8
Ingredients
1 cup of buttermilk
1 large egg
¼ cup vegetable oil
1 tablespoon honey
3 strips of thick cut bacon, chopped
1 red pepper, cored, seeded, and finely chopped
1 green pepper, cored, seeded, and finely chopped
1 jalapeno, cored, seeded, and finely chopped
1 tablespoon of chopped green chilies (Old El Paso works)
1 cup of all-purpose white flour
½ cup of medium ground yellow corn meal
½ cup of fine ground yellow corn meal
3 teaspoons of baking powder
½ teaspoon of salt
½ teaspoon of baking soda
¾ cup of good quality sharp cheddar, shredded
Instructions
Pre-heat oven to 425 degrees.
Lightly oil an 8-inch circular baking pan (or a cast iron skillet)
In a medium-sized bowl, whisk together buttermilk, egg, oil and honey.
Heat a large skillet or medium-high heat. Add the bacon.
Cook until crisp. Remove and place on a paper towel.
Remove the bacon grease, except for about 2 tablespoons.
Add the skillet back to the heat.
Throw in the peppers and chilies into the hot grease and cook until tender, about 4 minutes.
Pour the cooked peppers into the buttermilk mixture and stir until just mixed.
In a large bowl, stir together the flour, cornmeal, baking powder, salt and baking soda.
Pour in the buttermilk mixture.
Fold in the cooked bacon and cheese. Mix until just combined.
Pour the batter into the prepared pan, spreading to the edges.
Bake for about 20 to 25 minutes, or until golden a toothpick insert in the center comes out clean.
Let cool on a wire rack for about 5 minutes, before cutting into triangles.
Serve with softened butter.
Yum!