This Christmas Chateaubriand recipe is the quintessential holiday roast.  Talk about an impressive presentation!  And the taste?
Well, it's pretty amazing, to say the least.
And how can you possibly go wrong with a center-cut beef tenderloin? You can't: It's a roast of filet mignon. Now this is how you make a spectacular dish for a special occasion!
A beautifully seasoned roast is wonderful. We just love the addition of smoked bacon to deepen the taste of the incredibly flavorful sauce. Mmmmmm.
I've been making this dish for many, many years and it is always something to behold every single time. Christmas is such a beautiful time of the year, and deserves a truly special meal. This Christmas Chateaubriand recipe fits the bill perfectly.
You can easily order Beef Demiglace right here and have it delivered to your doorstep in no time at all! You don't want to skip this ingredient. It really takes the sauce to incredible heights. And it takes endless hours to make a good demiglace at home.  I'd recommend ordering it.  A little goes and long way and stays just fine in your refrigerator for weeks.
This dish is worthy of a gorgeous Christmas table. You can double the recipe to serve up 8 to 10 people!
Merry Christmas!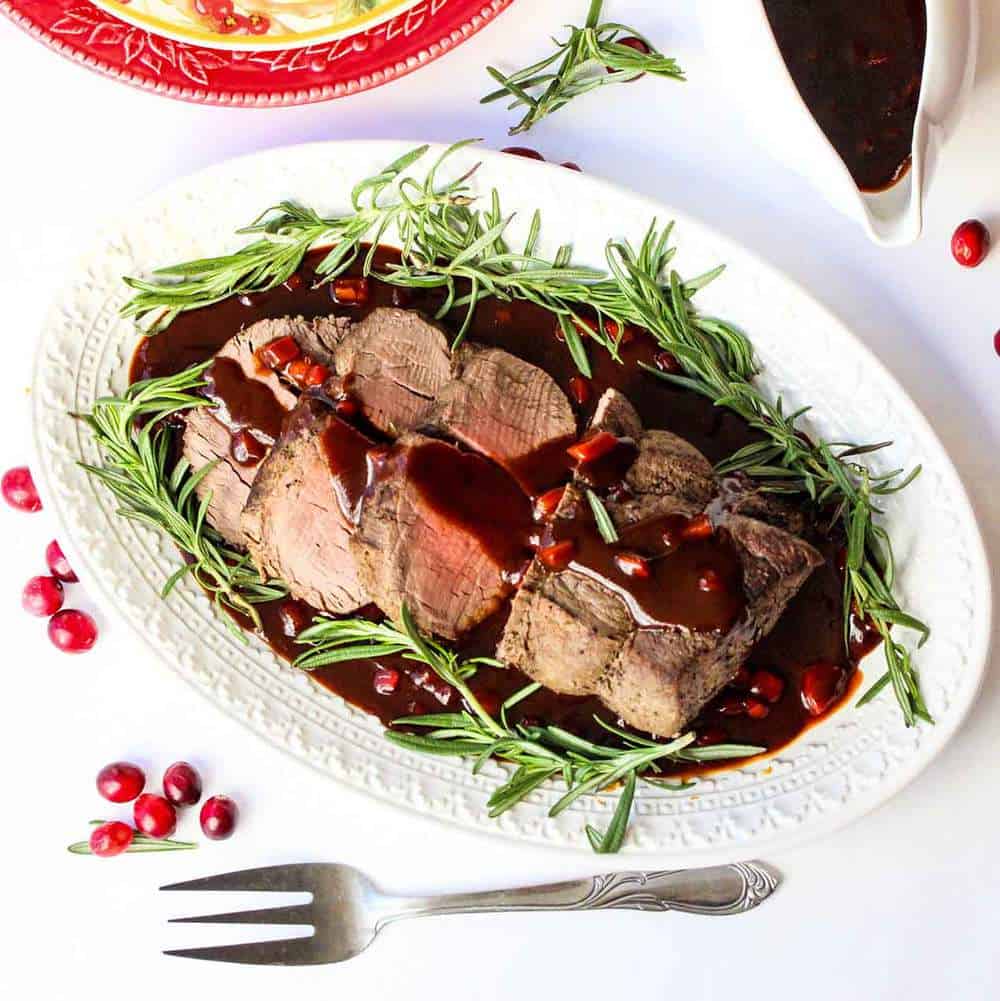 If you're looking for even more holiday inspiration, check out The Perfect Christmas Feast and 6 Holiday Roasts!
Now, in the meantime, go ahead and make this amazing Christmas Chateaubriand recipe!
Christmas Chateaubriand (Braised Beef Tenderloin)
This Christmas Chateaubriand recipe is the most delicious red wine-braised beef tenderloin with red pepper and rosemary. It is definitely a special occasion dish, but not hard to prepare and incredible in flavor. Easily order the demiglace by clicking
here
.
Print
Pin
Rate
Prep Time: 15 minutes
Cook Time: 45 minutes
Total Time: 1 hour
Servings: 6 people
Calories: 515kcal
Ingredients
1 3 lb center-cut beef tenderloin roast trimmed and tied
1 tbsp celery salt
1 tsp freshly ground black pepper
2 smoked bacon slices cut into 1 1/2-inch pieces
2/3 cup dry red wine
1 1/2 tsp fresh rosemary chopped
1 red bell pepper cored, seeded and cut into 1/4-inch dice
1 1/3 cup beef or veal demiglace
Rosemary sprigs for garnish
Instructions
Pat tenderloin dry with paper towels and rub all over with the celery salt and black pepper.

Heat a large pot that is just big enough to hold the roast (Dutch oven works well) over medium heat.

Cook the bacon, stirring occasionally, until crisp. Transfer to a paper towel-lined plate.

Increase heat to medium-high and brown the tenderloin on all sides, about 8 minutes.

Transfer the roast to another plate.

To the pot, add the wine, cooked bacon, and rosemary and bring to a boil.

After 2 minutes, return the tenderloin to the pot and cook at a low simmer, covered, turning occasionally, for 25 minutes, or until an instant-read thermometer inserted into the center of the roast registers 125° F for medium-rare.

Transfer to a cutting board and let stand for 10 minutes.

Meanwhile, discard bacon from the cooking liquid and add the bell pepper and demiglace and bring to a boil.

Cook until slightly thickened and has reduced to about 1 1/3 cups, about 5 minutes.

Cut tenderloin into 1/4-inch thick slices and arrange on a platter.

Spoon some of the sauce over the roast and garnish with rosemary sprigs.

Serve at once with remaining sauce on the side.
Nutrition
Calories: 515kcal