If you, or anyone you know, is a chocolate lover. You'll want to make these incredible treats.
They are so flavorful, and the addition of Dulce de Leche, along with an incredible shortbread base doesn't hurt either. Perfect to pack up for a picnic or even a road trip! And they can be made up to 3 days in advance!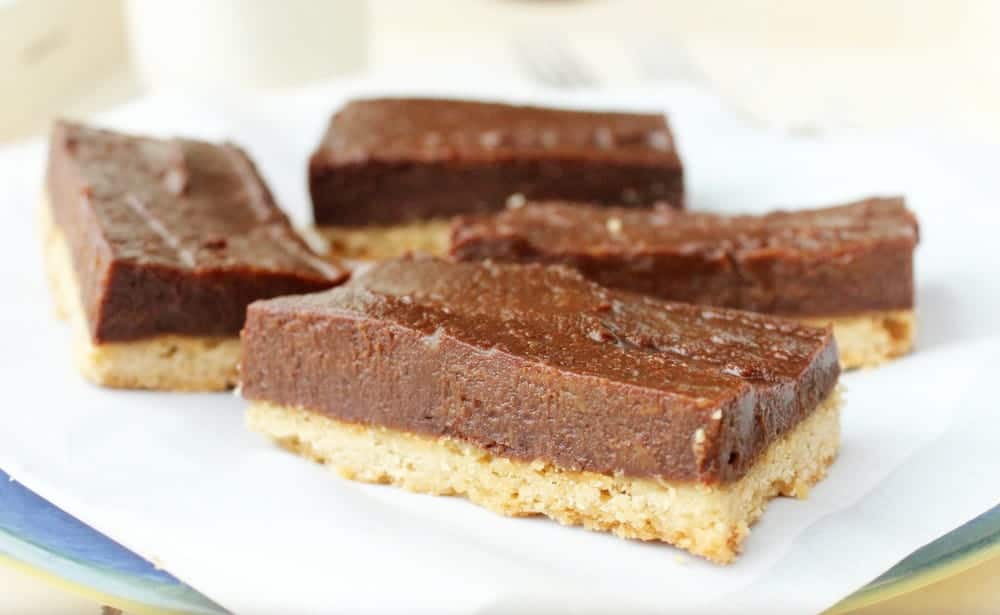 HOW TO MAKE CHOCOLATE CARAMEL SHORTBREAD BARS
These amazing sweet treats are not difficult to make, and can actually be made in stages.
It all starts with the amazing shortbread crust.
Simply use your fingers to press the batter into the bottom of the 8″x8″ pan.
EXPERT TIP: Placing a piece of lightly greased parchment paper in the bottom of the pan makes removing the finished chocolate bars super easy!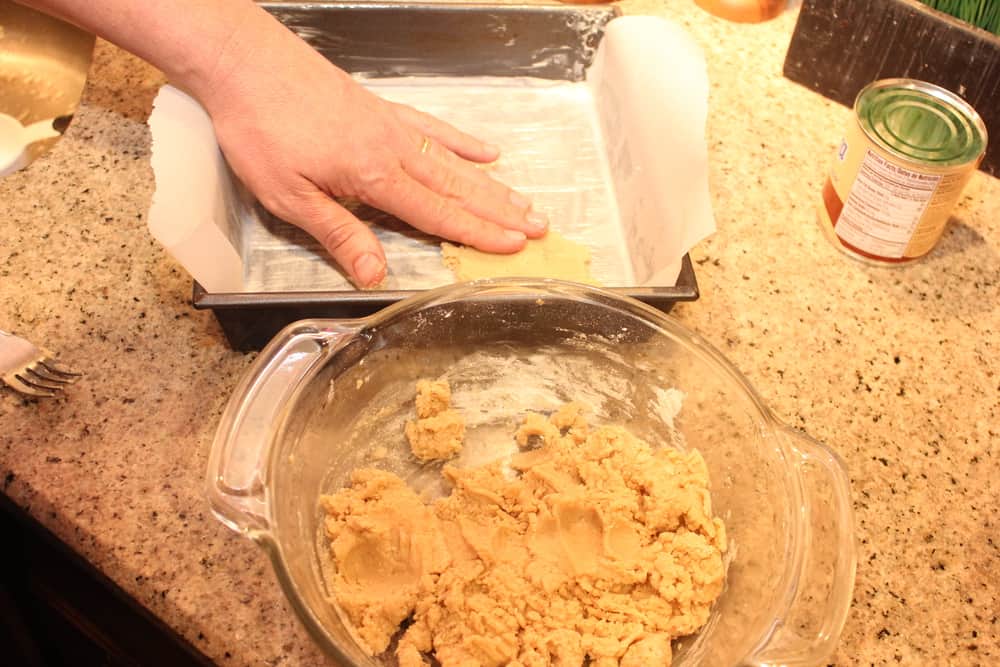 Bake for 30 minutes, until firm and nicely set.
So buttery and so delicious.
And the crust can be made up to 1 day in advance.
DULCE DE LECHE ADDS DEPTH OF FLAVOR
Dulce de Leche is so wonderful and adds a caramel flavor to the chocolate caramel shortbread bars that are just the best.
The can find cans of dulce de Leche in most well-stocked supermarkets.
After you've heated the Dulce de Leche, it's time to temper the eggs.
This process allows you to warm the eggs, without the danger of scrambling.
The smell is already amazing.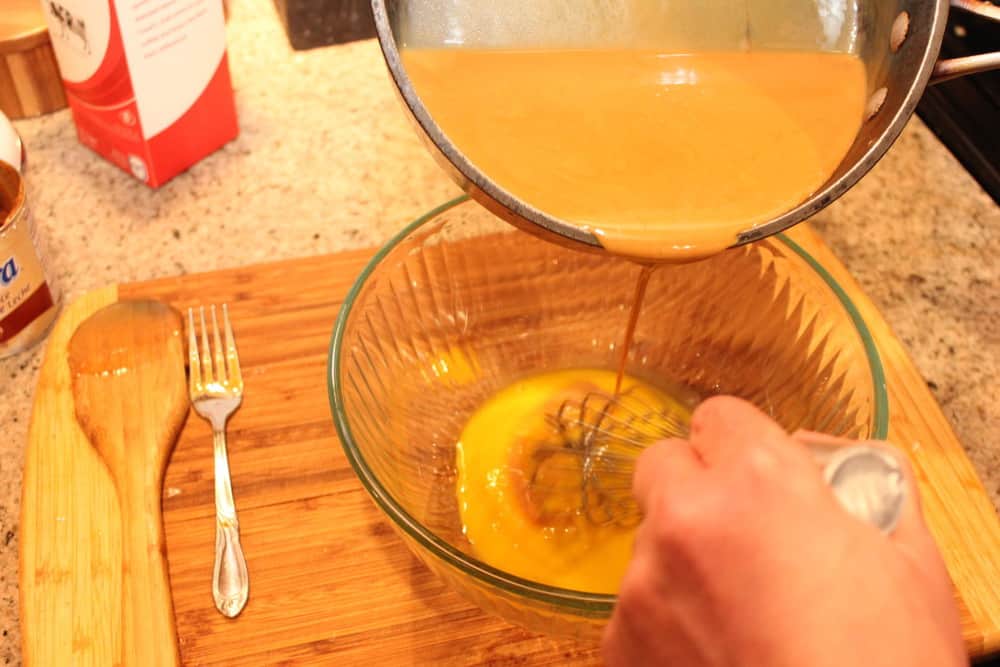 Next, it's time to spread in the amazing chocolate mixture.
The mixture will be thick, so you'll need the back of a wooden spoon, or spatula to evenly spread it across the prepared shortbread.
If you're looking for another chocolate lover's dream recipe, check out our Extreme Chocolate Layer Cake!
But in the meantime, let's make some Chocolate Caramel Shortbread Bars!
Ready to make the best chocolate bars in the world? Go for it!
And when you make them, be sure to take a picture, post if on Instagram, and tag @howtofeedaloon and hashtag #howtofeedaloon!
Chocolate Caramel Shortbread Bars
These Chocolate Caramel Shortbread Bars are rich in flavor with caramel and chocolate. Sitting on top of a delicious shortbread, these just can't be beat. They are always a favorite at our house.
Print
Pin
Rate
Servings: 12
Calories: 227kcal
Ingredients
8 tbsp unsalted butter softened, 1 stick
½ cup light brown sugar
½ tsp vanilla extract
½ tsp Kosher salt
1 cup all-purpose flour
1 cup heavy cream
1 cup dulce de leche
4 large egg yolks
5 oz 60%-cacao bittersweet chocolate finely chopped (preferably in a food processor)
Instructions
Pre-heat oven to 375°F.

Butter a shallow 9"x9" square baking pan (1" - 1 1/2" deep).

Line bottom and two sides with parchment paper, leaving an overhang. Butter parchment.

Blend together butter, brown sugar, vanilla, and salt in a bowl with a fork.

Sift in flour and blend with fork until a soft dough forms.

Spread dough in pan; prick all over with fork.

Bake until golden, 15 - 20 minutes, then cool completely in pan on a rack, about 30 minutes.

Bring cream and dulce de leche to a simmer in a small heavy saucepan, stirring with a wooden spoon until dulce de leche has dissolved.

Whisk together yolks in a bowl, then slowly whisk in hot cream mixture.

Return to pan and cook over medium heat, stirring constantly, until pan is visible in tracks of spoon and mixture registers 170° on a candy thermometer.

Remove from heat and whisk in chocolate until melted.

Pour chocolate mixture over cooled shortbread and chill, uncovered, until cold and set, about 2 hours.

Run a small knife around edges to loosen, then transfer to a cutting board using parchment.

cut with a hot clean knife (dip in hot water wipe clean between cuts) into 24 bars.

Chill until ready to serve.
Nutrition
Calories: 227kcal | Carbohydrates: 18g | Protein: 2g | Fat: 12g | Saturated Fat: 7g | Cholesterol: 109mg | Sodium: 111mg | Potassium: 44mg | Fiber: 1g | Sugar: 9g | Vitamin A: 607IU | Vitamin C: 1mg | Calcium: 32mg | Iron: 1mg