This is truly an amazing soup, especially when the temperature is really heating up outside!
The flavors are deeply satisfying, and the cool soup is perfect with the warms toast topped with creamy goat cheese and chives. And the soup comes together in less than an hour! Perfect for warm-weather entertaining!
HOW TO MAKE CHILLED CORN CHOWDER
This soup is surprisingly easy to prepare and can be made in advance.
In fact, it gets better after it has time to allow the flavors to meld together even further in the refrigerator for a day or two.
And what can we say about roasted garlic? It adds a depth of flavor that is just so delicious.
HOW TO RE-HYDRATE SUN-DRIED TOMATOES
You can, of course, go with bottled sun-dried tomatoes in oil. Those are delicious. In fact, check out our Sun-Dried Tomato and Artichoke Dip.
But, for this soup, we prefer dried sun-dried tomatoes.
Bring them back to life by soaking them in warm water for just 15 to 20 minutes!
Turmeric is a wonderful spice and helps to bring about a naturally beautiful yellow color to the chilled corn chowder.
The addition of sauteed onion and fresh tarragon is perfection.
This soup is coming together nicely. But just you wait!
STEEP THE CORN COBS FOR MORE FLAVOR
After you've removed the kernels from the fresh ears of corn, hold onto those cobs!
Simmering them in water brings out even more amazing corn taste.
We love summer corn so much!
Once the soup if ready to serve, it's time to add the amazing garnish.
Mixture together room-temperature goat cheese with finely chopped chives.
Smear it on freshly toasted bruschetta, and plunge into each soup serving. Amazing!
Ready to make the best chilled corn chowder in town? Go for it!
And when you make it, be sure to take a picture, post it on Instagram, and tag @howtofeedaloon and hashtag #howtofeedaloon!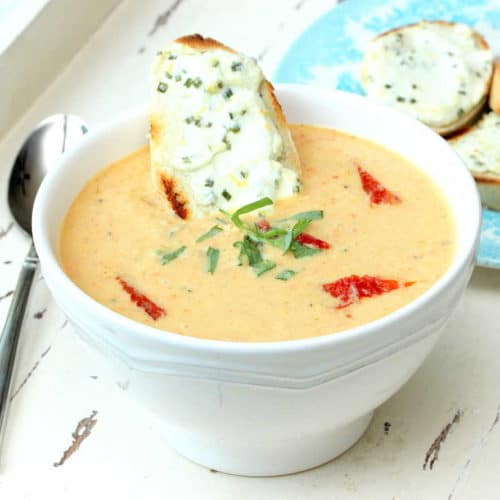 Chilled Corn Chowder with Sun-Dried Tomatoes
This Chilled Corn Chowder with Sun-Dried Tomatoes is just exploding with flavor. Make this ahead of time to really let the flavors meld. This chowder is very versatile and you can serve this soup hot or cold. We love it both ways.
Print
Pin
Rate
Servings: 8 people
Calories: 341kcal
Ingredients
FOR THE ROASTED GARLIC
1 whole head garlic
1 tbsp olive oil
Salt and pepper
FOR THE SOUP
4 ears corn husks removed
1½ tbsp olive oil
2 cups yellow onion chopped
1 tbsp fresh tarragon chopped, plus more for garnish
1 tsp ground cumin
1/4 tsp ground turmeric
1½ tsp lemon zest
4½ cups chicken stock
¾ cup white wine dry
1 tbsp roasted garlic
¾ tbsp fresh lemon juice
1 cup sour cream
1 cup sun-dried tomatoes re-hydrated in warm water and drained
Kosher salt and freshly ground black pepper
FOR THE GOAT CHEESE-CHIVE TOASTS
4 oz goat cheese
1 tbsp minced chives
1 baguette cut on the diagonal into 1/4-inch slices
Instructions
MAKE THE ROASTED GARLIC
Pre-heat the oven to 350 F.

Cut off just the very top of whole garlic head so that the cloves of garlic are just barely exposed.

Drizzle top with olive oil and sprinkle lightly with salt and pepper.

Cover in aluminum foil, leaving a small area open at the top.

Roast garlic for 45 to 50 minutes.

Remove from oven and let cool slightly, then squeeze the garlic cloves out of the head and discard the skin.
MAKE THE SOUP
Using a serrated knife, remove corn from cob by scraping down the cob (this will give you about 2 cups). Reserve the cobs.

In a large pot, heat olive oil over medium heat.

Add onions, tarragon, cumin, turmeric, and 1 teaspoon lemon zest and saute for 7 to 8 minutes.

Add corn, reserved corn cobs, stock, and wine and bring to a boil.

Reduce heat to a simmer and cook, covered, for 12 minutes. Remove cobs with tongs.

Carefully transfer soup mixture to a blender and add the roasted garlic, lemon juice and sour cream. Puree (you may need to do this in batches).

Add sun-dried tomatoes and give it a couple quick pulses.

Stir thoroughly and season to taste with salt and pepper.

Place in the refrigerator for 4 hours.
MAKE THE GOAT CHEESE-CHIVE TOASTS
Mix goat cheese, chives, and 1/2 teaspoon lemon zest together and refrigerate until ready to serve.

When ready to serve the soup, spread goat cheese-chive mixture on bread slices.

Place under broiler for about 5 to 6 minutes, until goat cheese starts to brown slightly.

Place 1 or 2 toasts in each bowl of soup and garnish with chopped tarragon.
Nutrition
Calories: 341kcal | Carbohydrates: 34g | Protein: 12g | Fat: 11g | Saturated Fat: 4g | Cholesterol: 26mg | Sodium: 498mg | Potassium: 793mg | Fiber: 3g | Sugar: 10g | Vitamin A: 482IU | Vitamin C: 10mg | Calcium: 120mg | Iron: 3mg