This Chiles Rellenos Stuffed with Mexican Queso recipe has been a favorite Mexican dish of mine since I was a young kid.   So flavorful, and not too spicy,  with a simple, yet deeply flavorful sauce.
This is Mexican comfort at its most satisfyingly delicious.

HOW TO MAKE AUTHENTIC CHILES RELLENOS
You can roast the chili in a variety ways, from broiling, to grilling, or, by the method I love, roasting over a gas flame!
Talk about building a flavor sensation.
And it's fun, too!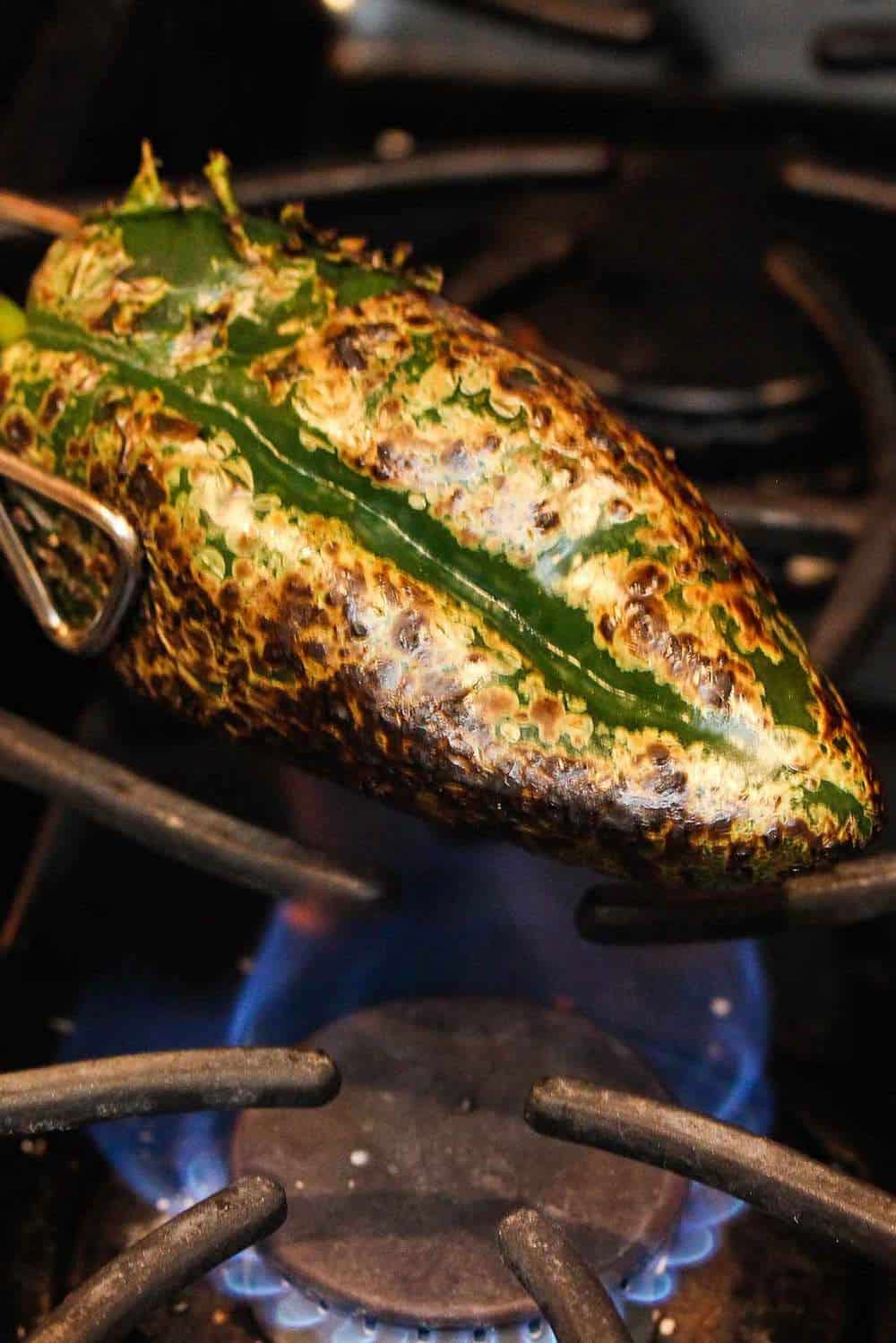 For the batter, bringing the eggs whites to stiff peaks ensures the batter is light and fluffy when quickly fried.
Let's hear it for stiff peaks!
You can use a stand mixer or hand-held mixer. Or, a good ole whisk with a lot of elbow grease!
A SIMPLE RED SAUCE IS PERFECT FOR CHILES RELLENOS
You can make the simple, yet super flavorful red sauce ahead of time.
It's not a thick sauce, yet compliments the stuffed chilis perfectly.
Oh, nothing better than a nice tomato-based sauce with some simple aromatics. Strain the sauce before cooking it down, slightly, produces a silky and smooth texture.  And so delicious!
Carefully cut a slit in the side of the roasted, skinned pepper.
You'll need to handle the pepper gently, because once the skin comes off, it is a little more fragile.
Ready to be stuffed!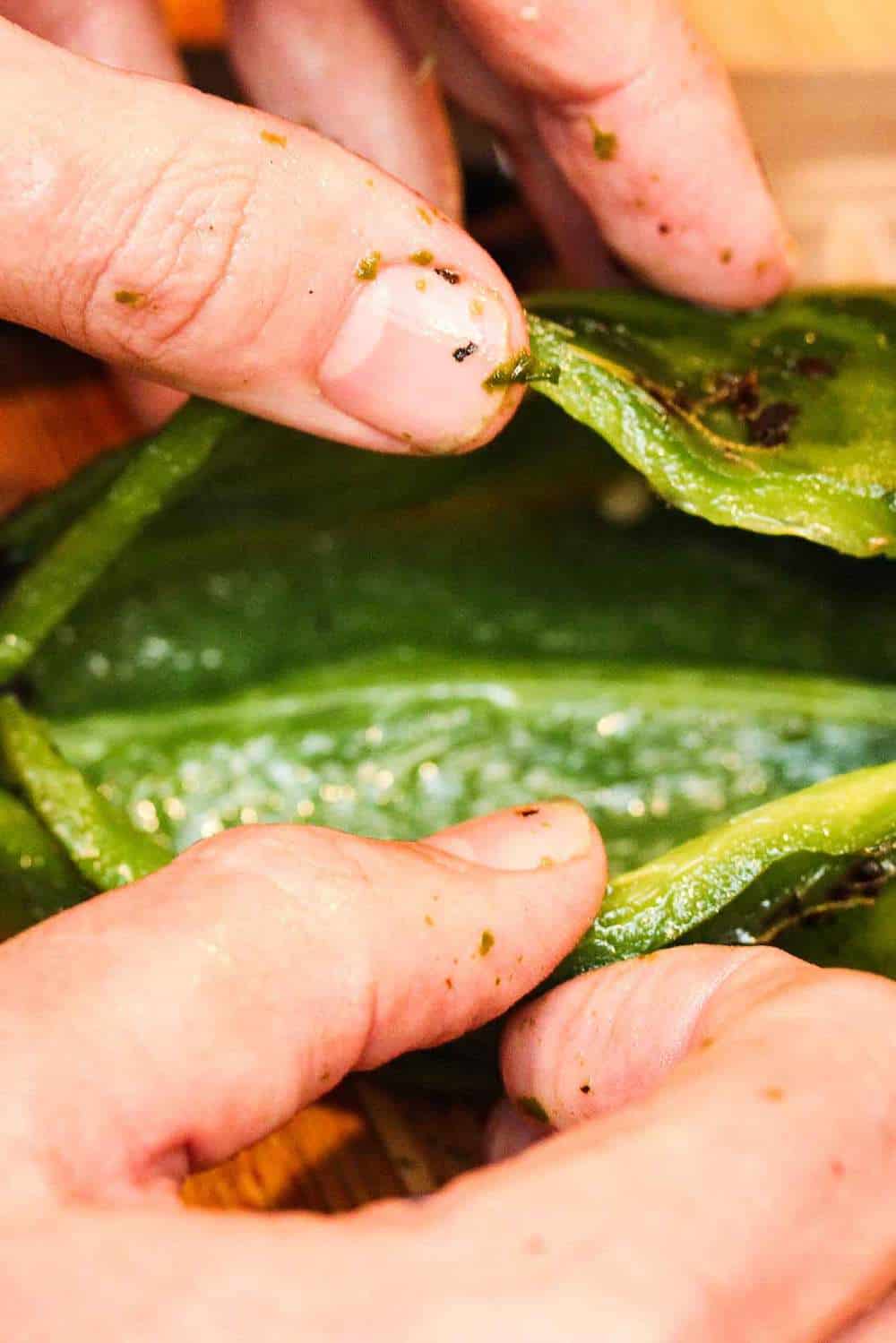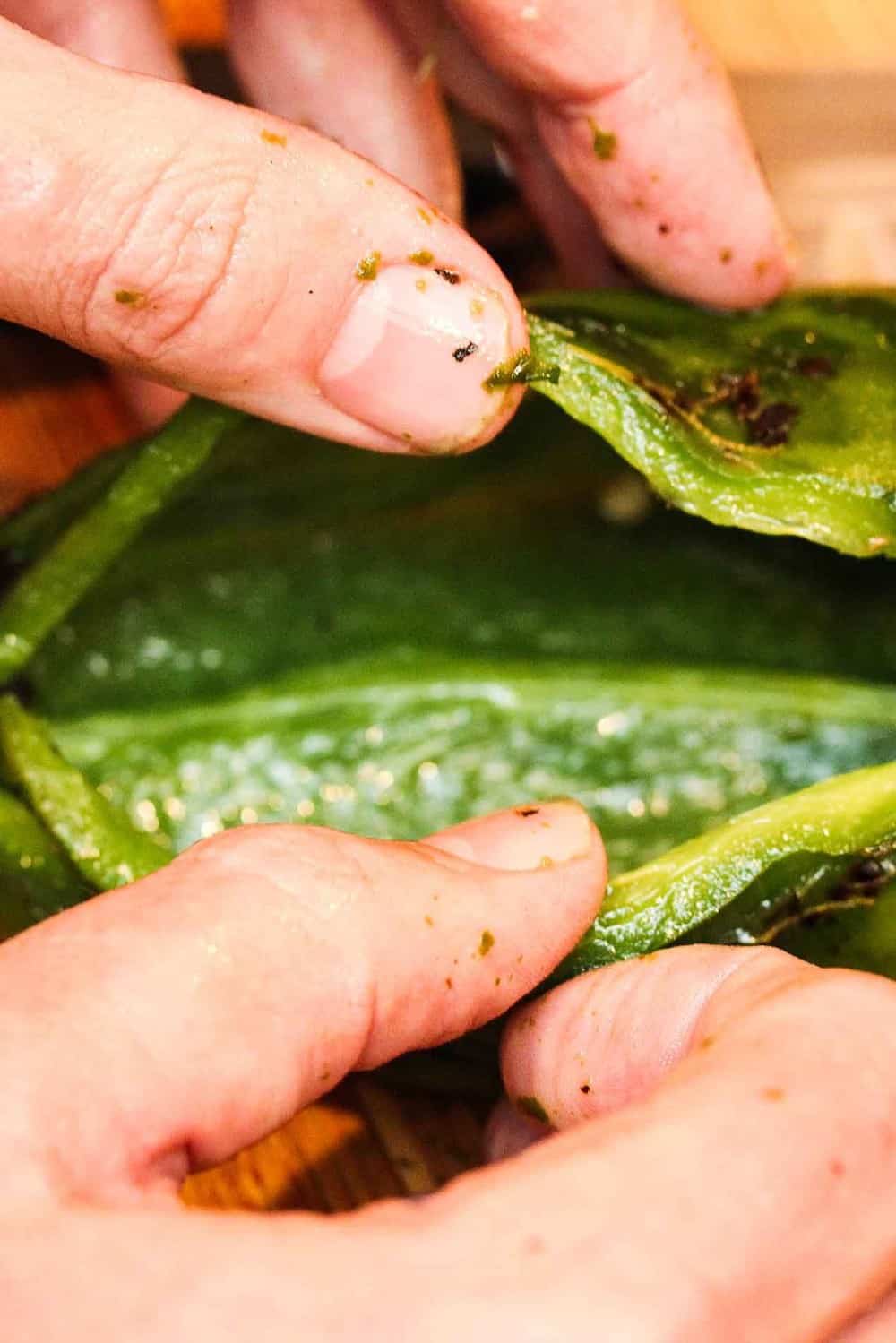 You'll want to go with a good melting cheese to stuff the chilis with.
We love using Asadero, or Chihuahua or Oaxaca, but if you can't find any of those, go you can use good ole Monterrey Jack, or even cheddar.
Mmmmmm….cheese, please.
THE BATTER FOR CHILES RELLENOS IS LIGHT AND AIRY
Once the batter is ready and the chilis have been stuffed, it's time to coat the peppers.
It may require a couple dips and rolls in the batter. And don't worry if the pepper isn't 100% covered in the batter. It will still fry up beautifully.
We're getting close now!!
To prevent any cheese spilling out of the chili into the hot oil, I carefully lower the coated peppers into the hot oil, and then spoon more hot oil over the area where the seam is.
This will firm up the batter and make a seal so the cheese doesn't come out. This isn't difficult, but may take you a couple tries to find the best technique that works for you.
Yum.
This dish is sure to please.  It never fails to impress at our house.
CHILES RELLENOS CAN GET STARTED THE DAY BEFORE
Prepare the chiles and sauce a day ahead, and then quickly make the batter and fry 'em up just before ready to serve!
Now, go and make this amazing Chiles Rellenos Stuffed with Mexican Queso Recipe!
You will be so very glad that you did!
Chiles Rellenos Stuffed with Mexican Queso
Chili Rellenos Stuffed with Mexican Queso is a Mexican classic. It is pure Mexican comfort food at its best. Stuff with a soft Mexican cheese such as Asadero or Chihuahua, or good ole Monterey Jack. The chili can be roasted and stuffed and chilled a day ahead, as well as the sauce. An instant-read thermometer helps to ensure the oil reaches 350 F perfectly...otherwise, test with a pinch of bread. Once sizzles quickly, it's ready. Enjoy!
Print
Ingredients
FOR THE SAUCE
1 1/2 lbs fresh ripe tomatoes chopped, or 1 28 oz. can of whole tomatoes, with juice
1 cup chicken stock or vegetable stock, or water
1/4 cup chopped white onion
2 large garlic cloves rough chop
1 tbsp distilled white vinegar
1 tsp sugar
1 tsp dried Mexican oregano*
1 1/4 tsp Kosher salt
2 tbsp corn oil
*available in most supermarkets specialty food stores, or Mexican markets. Regular oregano can be used in, too.
FOR THE CHILES
4 large fresh poblano chilis about 1 lb
1/2 lb Asadero Chihuahua or Monterey Jack cheese, coarsely grated
4 large eggs separated
1/2 cup all-purpose flour
2 to 3 cups corn oil or vegetable oil
Instructions
MAKE THE SAUCE
Puree all sauce ingredients except oil with 1 1/4 teaspoons salt in a blender until smooth, then strain through a mesh sieve into a bowl, pressing on solids, then discarding them.

Heat oil in a deep heavy large skillet over medium heat until it shimmers.

Carefully pour in sauce and simmer gently, stirring occasionally, for about 10 minutes. (Sauce will still be thin).

Taste, and season with pepper, and more salt, if desired.

Set aside, but keep warm over low heat.
ROAST, STUFF AND FRY THE CHILES
Roast chilis on their sides over a gas flame over medium-heat, turning with tongs, until skins are blistered and slightly charred, 4 - 6 minutes. (Or, broil on a rack about 2 inches from heat).

Transfer to a large bowl and cover with plastic wrap, let stand for 20 minutes. (This can be done ahead of time).

Carefully rub off skins from chilies, leaving stems attached.

Cut a slit lengthwise in each chile using kitchen shears or a sharp knife.

Carefully cut out ribs and the seedpod. Clean out all seeds with a wet paper towel, if necessary (Leaving the seeds will make the peppers more hot).

Stuff chilies with cheese and enclose filling by overlapping slit slightly, then transfer to a plate. (All this can be done the day before).

Heat 1/2-inch of oil in another large heavy skillet over medium heat until it registers 350 F on thermometer.

While oil heats, beat egg whites with 1/8 teaspoon salt, using an electric mixer until they just hold stiff peaks.

Whisk yolks with another 1/8 teaspoon salt in a large bowl, then gently fold in whites.

Generously dust chilies with flour, coating all sides.

When oil is ready, dip chilies, 1 at a time into egg batter, spooning it over chile to cover completely.

Fry the chilis, turning once, until golden on all sides (Lap oil over any lighter areas, 4 to 5 minutes).

Transfer chilies with a slotted spoon to paper towels to drain.

Meanwhile, re-heat sauce.

Ladle sauce onto plates and place a chili on top of sauce.