Cool in pans on rack for about an hour.  Turn cakes out onto racks, cool completely.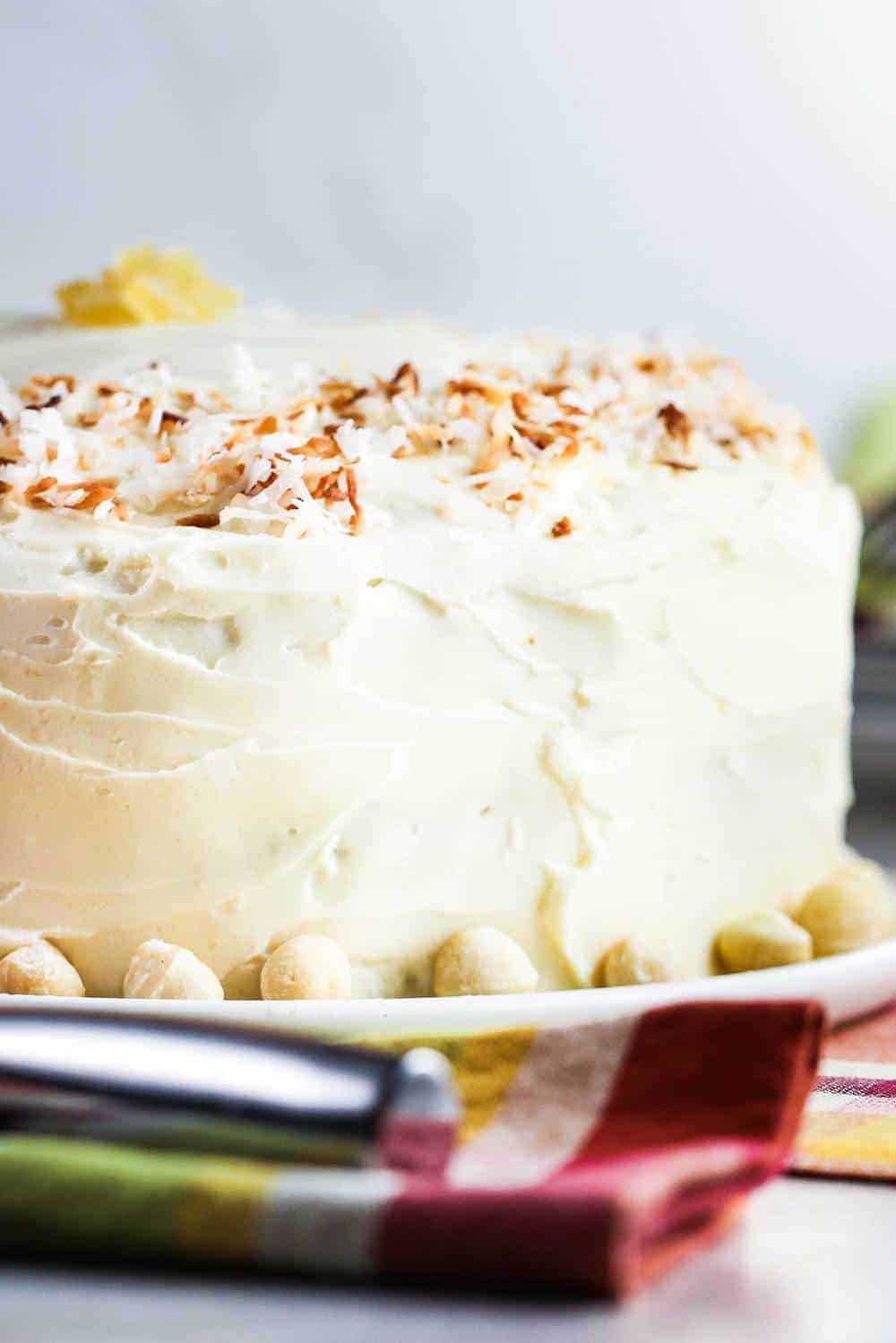 Carrot Cake with Macadamia Nuts and Crystallized Ginger
This carrot cake with Macadamia nuts and crystallized ginger is one of the Loon's all-time favorite cakes. The hint of coconut really sets is apart.
Print
Pin
Rate
Prep Time: 45 minutes
Cook Time: 35 minutes
Total Time: 1 hour 20 minutes
Servings: 12 people
Calories: 428kcal
Ingredients
FOR THE CAKE
2 & 1/2 cups all-purpose flour sifted, then measured
1 cup sweetened flake coconut
1 cup dry-roasted macadamia nuts
3/4 cup chopped crystallized ginger
3 1/2 tsp ground cinnamon
2 1/2 tsp baking powder
1 tsp salt
1/2 tsp baking soda
2 cups sugar
1 cup vegetable oil
4 large eggs
2 tsp vanilla extract
2 cups finely grated carrots
2 8 oz cans crushed pinapple undrained
FOR THE FROSTING
3 8-oz package cream cheese room temp
3/4 cup unsalted butter, room temp 1 1/2 sticks
2 cups powdered sugar
3/4 cup sweetened cream of coconut such as Coco Lopez
1 tsp vanilla extract
1/2 tsp coconut extract
14 whole dry-roasted macadamia nuts
1/2 cup chopped crystallized ginger
Instructions
FOR THE CAKE
Pre-heat of to 350 degree F

Butter three 9-inch cake pans with 1 1/2 inch high sides

Line bottom of pans with parchment paper

Combine 1/3 cup of flour and then next 3 ingredients in your food processor, process until nuts are finely chopped

Whisk remaining 2 cups flour, cinnamon, baking powder, salt, and baking soda in a separate bowl

Using an electric mixer, beat sugar and oil in a large bowl to blend.

Add eggs 1 at a time, beating well after each addition.

Beat in vanilla

Beat in spice mixture, then carrots and crushed pineapple (with juice)

Pour into prepared pans

Bake until toothpick inserted comes out clean, about 35 minutes

Cool in pans on rack for about an hour

Run knife around the edge of pans to loosend cakes

Turn cakes out onto racks, cool completely
FOR THE FROSTING
Beat cream cheese and butter in large bowl until smooth and creamy

Beat in powdered sugar, the cream of coconut, and both extracts

Chill until firm enough to spread...at least 30 minutes

Putting It All Together:

Place 1 cake layer, flat side up, on a nice looking cake platter

Spread about 1 cup of frosting over the top.

Top with next cake and repeat with another cup of icing

Top with third cake and press lightly to adhere, and go ahead a push the layers to make sure they are aligned evenly (you can even insert long wooden skewers throught the cakes at this point, to hold the cake in place, while you continue icing)

Chill the cake for another 30 minute, then ice the rest of the cake

Arrange slice ginger and whole nuts around the top edge of the cake

Cover with dome, and chill. Let stand for 1 hour at room temp before serving
Nutrition
Calories: 428kcal

   Let stand at room temp for 1 hour before serving.