Boy, oh boy, does Apple Brown Betty take us back.   This was one of the first desserts I ever made for the Loon back when we lived in the West Village in NYC in the early 90s.  This is part of the beginning of my love of cooking.   This dish is classic.  Simple in its ingredients.   Warm apples and raisins, cooked in butter and sugar and cinnamon, with a simple crumb crunch top.    Doesn't get much better than that.  Serve with a dollop of whipped cream, or vanilla ice cream.  Loon Approved!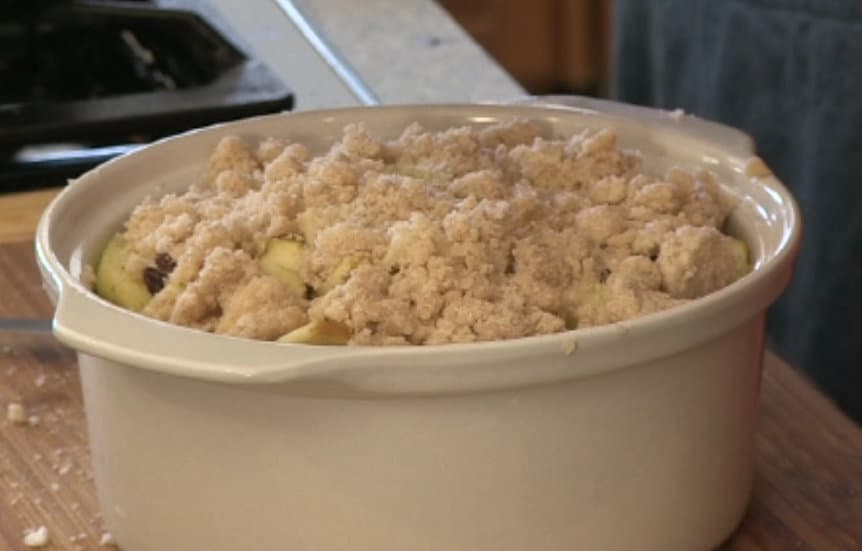 Apple Brown Betty
Apple Brown Betty is so simple and really wonderful. This is a classic dessert dish that you and your family will love! Serve with whipped cream or ice cream! Enjoy!
Print
Pin
Rate
Prep Time: 20 minutes
Cook Time: 1 hour
Total Time: 1 hour 20 minutes
Servings: 6 people
Calories: 278kcal
Ingredients
1 cup all-purpose flour
1/4 tsp salt
1/2 tsp cinnamon
1/4 tsp nutmeg
3/4 cup sugar
8 tbsp butter chilled
4 slices firm-textured bread crusts removed
1 cup raisins
3 small cooking apples peeled, cored, and sliced
Whipped cream for serving
Instructions
Pre-heat oven to 350 F.

Butter a 9-inch baking dish.

Sift the flour, salt, cinnamon, nutmeg, and sugar into a bowl.

Cut the butter into small pieces.

Cut it into the flour mixture, using a pastry blender, or the back of a fork...should resemble wet sand, or course cornmeal.

Cut the bread into crouton-sized pieces.

Soak the raisins in boiling water until plump, about 5 minutes, then drain them.

Combine the bread, raisins, and sliced apples in a bowl.

Sprinkle the bottom of the prepared baking dish with a third of the flour mixture.

Add the apple mixture and top with the remaining flour mixture.

Bake for about 45 minutes covered, and then another 15 minutes uncovered, or until the top is crisp and apples are tender.

Serve hot or cold, with whipped cream (or vanilla ice cream).
Nutrition
Calories: 278kcal