We are just crazy for meatballs and these are so flavorful and juicy. And the sauce is truly spectacular.
Who doesn't love a good meatball? Or course there are our Italian Meatballs, Swedish Meatballs, and even Asian Shrimp Balls, but these Mexican meatballs are so full of vibrant flavors, they give all the other meatballs of the world a run for their money! And they are really a snap to prepare!
How To Make Mexican Meatballs in Salsa Verde
Albondigas have been around for a long time, like centuries. Their history is a little uncertain, but one thing is very certain: these incredible balls of deliciousness are not difficult to make, we promise, but they are exploding with flavor.
The salsa verde sauce imparts incredible flavor into the juicy balls of yumminess.
NOTE: If you liked this video, please subscribe to our YouTube channel. Remember to click the little 'bell' icon so you'll never miss a new video. Thank you!
The Ingredients You Will Need
The ingredients for both the salsa verde and meatballs are pretty straightforward. There are a couple of ingredients, tomatillos and canned chipotles, that you might have trouble finding, depending on where you live. We've provided some substitutes in the list below:
For the Salsa Verde, here's what you'll need:
Fresh tomatillos – These look like little green tomatoes with a loose husk surrounding them. They can be found in the produce section of many well-stocked supermarkets. Green tomatoes and a squeeze of fresh lime juice are good substitutes.
Jalapenos – Fresh is best. See "NOTE" below for spice level information.
Garlic – Fresh and minced
Cumin – Ground, found in the spice section
Cilantro – Fresh is definitely best, and leave some extra for garnishing the dish
Vegetable oil – You could also use olive oil
Salt – We think 1 tsp is just the right amount, but you can try less, taste, and adjust according to your tastes.
EXPERT TIP: If you can't find tomatillos, and green tomatoes aren't available, then seek out canned or jarred green sauce in the Hispanic section of your local supermarket. Skip making the sauce and just simmer the meatballs in the sauce, it won't be as good as homemade, but it will still be delicious.
For the Albondigas, here's what you'll need:
Ground beef – Try not to go with high-fat-content beef. 85% is fine, 90% is great.
Ground pork – If you can't find ground pork, you could go with all ground beef, or substitute ground chicken or turkey. Don't use Italian sausage or breakfast sausage.
Fresh Bread crumbs – We take 2 to 3 slices of our favorite bread, remove the crusts, and then pulverize them in our food processor. In a pinch, store-bought breadcrumbs will work just fine.
Fresh eggs – You'll hard boil 2 of them, and then use the other as a binder in the meat mixture.
Chipotle peppers in adobo sauce – Usually found in the Hispanic section of many supermarkets. If you can't find them, roast a cayenne pepper and add a tsp of smoked paprika. Or, just omit them.
White onion – Finely chopped. You'll need about ½ cup.
Salt and pepper – Season to taste, but we add about 1 tsp salt and ½ tsp pepper.
Garnishes – Fresh chopped cilantro and crumbled Cotija cheese is the perfect topping for these amazing meatballs.
NOTE: If you like your salsa spicy, go with two jalapenos, and don't remove the seeds. For medium, go with two but do remove the seeds after the peppers are cool enough to handle. For mild, go with 1 pepper and remove the seeds.
Use either your blender or food processor to purée the salsa. The more you blend/process, the smoother the salsa will be. Chunky or smooth is up to you!
Tips For Perfect Mexican Meatballs
Do ahead – The salsa verde can be made up to several days in advance. Keep covered in the fridge. You may want to consider making a double or triple batch, as it is so good as a dip, or a sauce over enchiladas, eggs, and so much more!
Soak the bread crumbs – Allowing the fresh breadcrumbs to soak in the milk for about 5 minutes guarantees that the bread is extremely moist, which means super juicy and moist meatballs.
Weigh the uncooked meatballs – This isn't 100% necessary, but it ensures you'll have uniform-sized meatballs, which means they will all cook the same. 2.2 ounces makes a very nice-sized meatball. Or, just eyeball. They should be slightly larger than a golf ball.
Don't overcook – The meatballs will be perfectly cooked after 40 minutes of simmering in the sauce. You'll flip them after 20 minutes. If you let them cook for too long, they will not be near as juicy.
EXPERT TIP: As you form the meatballs with your hands, place them on a baking sheet pan lined with wax paper or parchment paper. Also, be sure to not leave the chopped egg too chunky. As you are forming the balls, you may need to use your fingers or thumbs to push any protruding cooked egg parts into the ball.
How To Serve
These meatballs work on so many levels. They make a spectacular main course when served alongside Cilantro Lime Rice. The rice soaks up that amazing salsa verde wonderfully.
But, of course, they also make for an incredible appetizer for a dinner party or party.
We also love to serve them in our slow-cooker. Provide toothpicks and let guests enjoy them. If serving this way, you might want to make the meatballs a little smaller.
EXPERT TIP: After you've let the salsa verde simmer for about 10 minutes, you'll want to very carefully add the uncooked meatballs into the sauce. Be careful, as the sauce might splatter and it will be hot. Don't worry if the balls are not covered by the sauce. You'll flip them after 20 minutes and they will cook completely through.
Other Classic Mexican Dishes
Mexican food is one of our favorite types of cuisine in the world. Here are some of our other favorite dishes:
Tortilla Soup with Chicken
Carne Asada
Classic Chili Rellenos
Roasted Poblanos Stuffed with Chicken and Rice
Chipotle Roasted Chicken
Veracruz-Style Shrimp Creamy Pumpkin Sauce
Shrimp Tacos Dorados
But in the meantime, just check out this absolutely stunning dish:
We love all kinds of meatballs, no doubt about that.
And these Mexican meatballs (Albondigas) are right there at the top of the list of our all-time favorites.
After one bite, you'll understand why!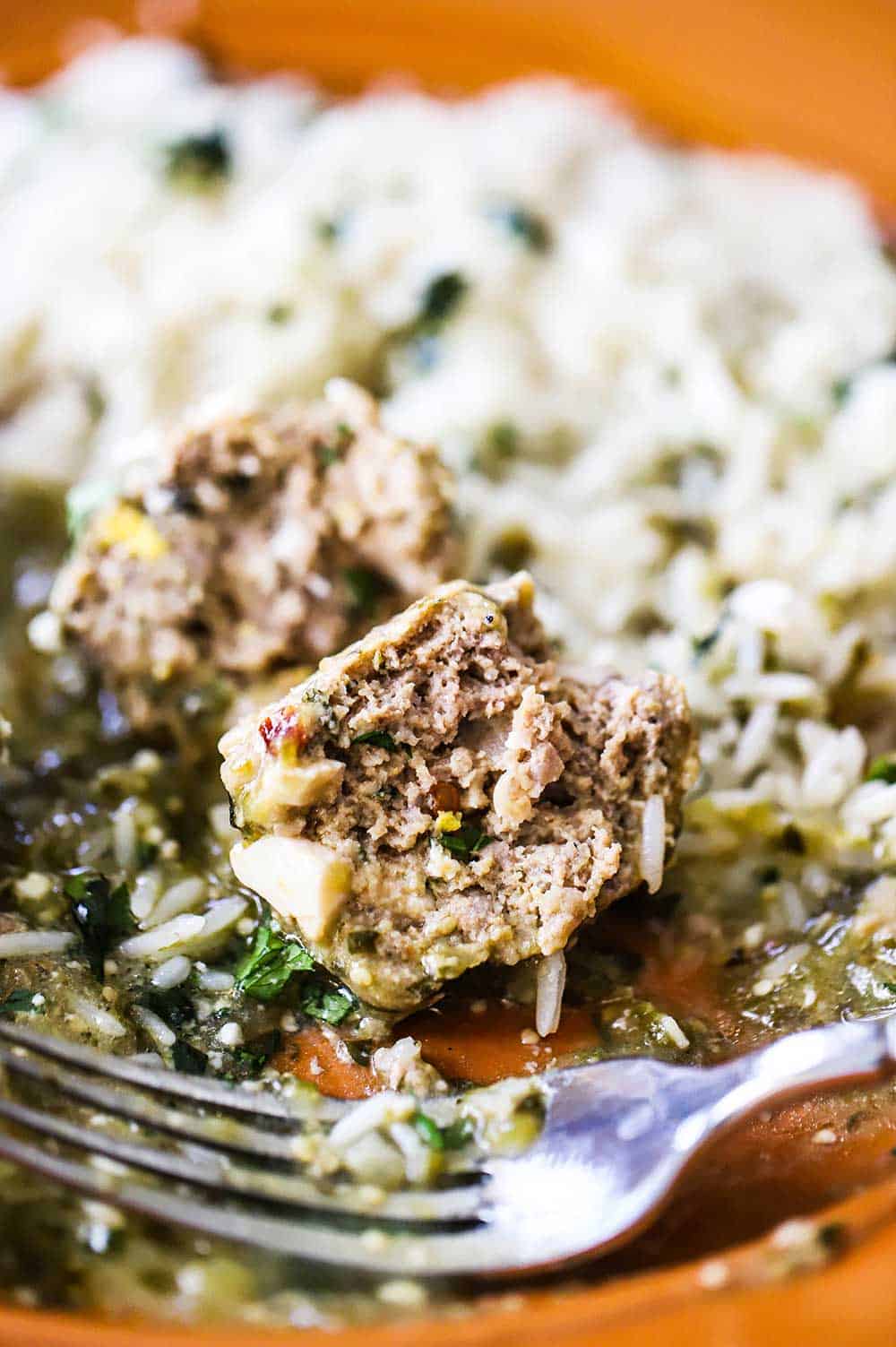 Ready to make the best meatball this side of Mexico? Go for it!
And when you do, be sure to take a photo of them, post it on Instagram, and tag @HowToFeedaLoon and hashtag #HowToFeedaLoon!
Mexican Meatballs with Salsa Verde (Albondigas)
The meatballs are incredibly juicy and the flavor is off-the-charts good. The sauce is medium spice level. For less, go with 1 jalapeno, and be sure to remove the seeds.
Print
Pin
Rate
Servings: 6 people
Calories: 403kcal
Equipment
Blender or food processor

Large skillet cast-iron works well
Ingredients
Make the Salsa Verde
1½ lbs tomatillos about 12 of them, husked and rinsed
2 jalapeno peppers
2 cloves garlic minced
1 tsp cumin cumin
¾ cup cilantro chopped
1 cup chicken stock
1 tbsp vegetable oil or olive oil
1½ tsp salt
ALBONDIGAS
3 large eggs
½ cup whole milk heated to a simmer
1½ cups breadcrumbs fresh
½ lb ground sirloin
½ lb ground pork
2 tsp chipotle peppers in adobo sauce, chopped
1 tsp adobo sauce from the canned chipotles
½ white onion chopped
1 tbsp parsley fresh, chopped
1 tsp salt
½ tsp black pepper freshly ground
2 tbsp cilantro for garnish
Cotija cheese crumbled, for garnish
Instructions
Make the Salsa Verde
Put the tomatillos and the peppers in a Dutch oven, or a large pot. Cover the vegetables with cold water. Add 2 of the eggs.

Bring to a boil over medium heat, then decrease the heat to a simmer.

After about 6 minutes, remove the eggs with a slotted spoon to a bowl of cold water.

Continue cooking the tomatillos and peppers for another 15 minutes.

Let the vegetables cool somewhat. Place the peppers on a cutting board and use a knife to remove the stems. Cut the peppers open and scrape out the seeds. For an extra spicy sauce, leave some (or all) of the seeds in the pepper.

Use a slotted spoon to transfer the vegetables to a blender. Add the garlic, cumin, cilantro, and stock and pulse until slightly puréed.

In the same pot that you boiled the veggies in, or in a new large skillet, add the oil over medium-high heat. Add the sauce and cook, stirring often, until slightly thickened, about 10 minutes.
Prepare the Meatballs
Peel the eggs and chop them into small to medium-sized dice.

Pour the milk over the breadcrumbs in a mixing bowl and let stand for 5 minutes, without stirring.

Add the ground beef, pork, chopped hard-boiled eggs, chipotle, adobo sauce, parsley, raw egg, salt (1 tsp), and pepper (½ tsp). Use your hands, or a spatula, to mix the ingredients all together.

Dived the meat into 12 equal parts and roll them into balls. Each ball should weigh about 2.2 ounces.

Reheat the salsa sauce to a simmer. Gently place the meatballs into the sauce.

Simmer for 40 minutes, turning the meatballs over after 20 minutes.

Serve in bowls garnished with cilantro and crumbled Mexican cheese (Cotija). Drizzle some of the salsa over the meatballs and pass the rest at the table.
Notes
See the video near the top of the blog post for visual guidance. If you liked the video, please subscribe to our YouTube channel.
If you can't find tomatillos, you can go with green tomatoes and add about 1 tsp of fresh lime juice to the blender. Sometimes you can find canned tomatillos in the Hispanic section of your grocery store. Bottle green sauce (verde) is just fine. Skip making the sauce and simmer in two cans or bottles of store-bought sauce.
The salsa can be made up to 3 days in advance.
The sauce can be frozen for up to 2 months. The meatballs (with sauce) will keep covered in the fridge for up to 5 days. They can be frozen for up to 1 to 2 months.
Nutrition
Calories: 403kcal | Carbohydrates: 32g | Protein: 23g | Fat: 16g | Saturated Fat: 7g | Polyunsaturated Fat: 3g | Monounsaturated Fat: 8g | Trans Fat: 0.4g | Cholesterol: 150mg | Sodium: 1461mg | Potassium: 738mg | Fiber: 4g | Sugar: 9g | Vitamin A: 559IU | Vitamin C: 22mg | Calcium: 121mg | Iron: 4mg
POST UPDATE: This recipe was originally published June, 2014, but was updated with improved tweaks to the recipe with new tips and photography and a fabulous new video in July, 2022!