This Jumbo Lump Crab Au Gratin recipe is incredible.   Rich and decadent…and all about the crab.    Pick yourself up some good quality lump crab meat (Gulf crab is amazing) at your local fish market.
Make this dish and be prepared for lots of 'oohs' and 'ahh's'.  It's not for the faint of heart, and one serving is a wonderful appetizer, probably for 2 – 4 people.
But, boy oh boy, is it good.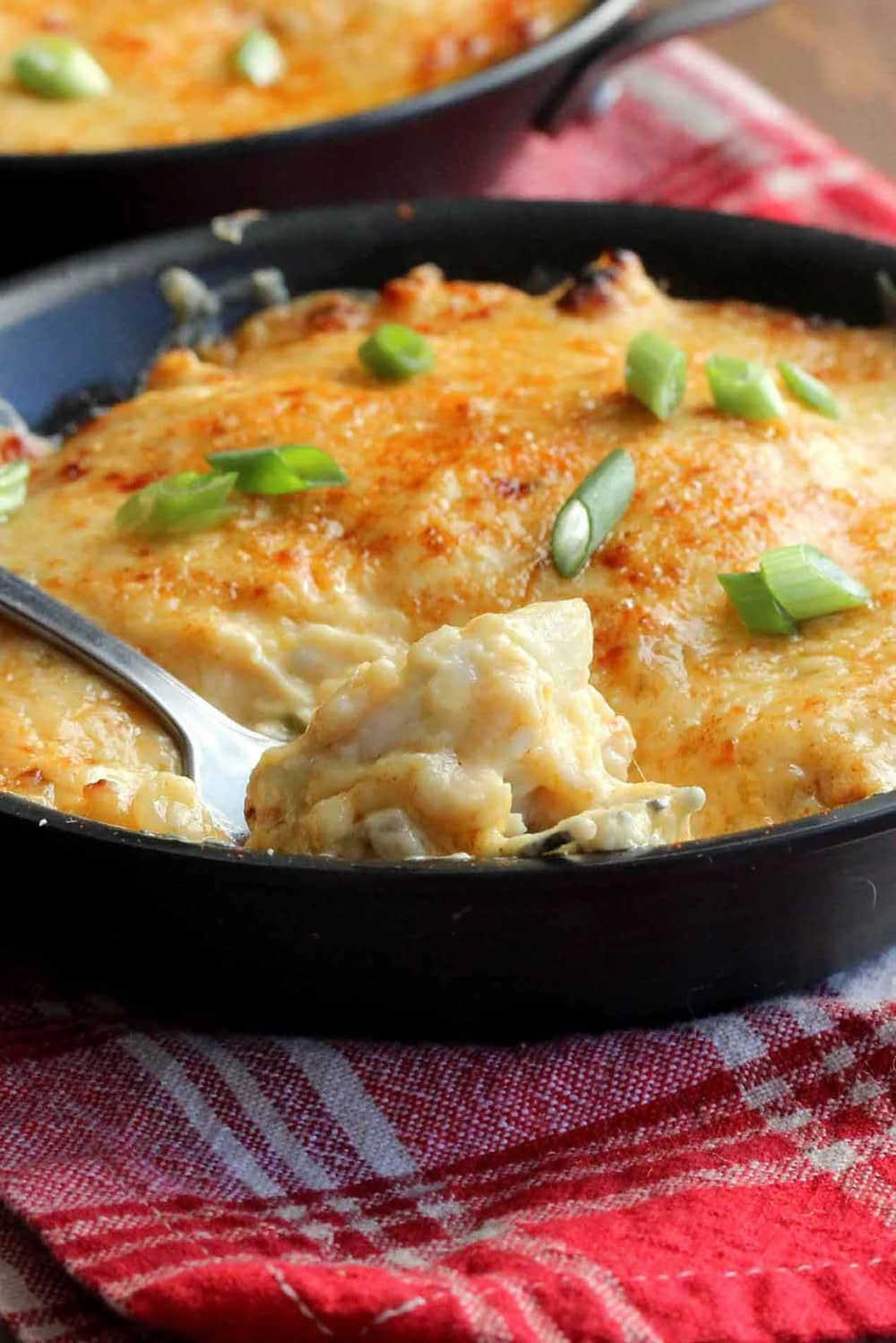 What's not to love with jumbo lump crab meat, Gruyere cheese and a little Cayenne for good measure?  
Sinfully good!
Want to know another sinfully delicious seafood dish?  Shrimp and Cheesy Grits (click for full recipe).
Now, it's time to make this amazing Jumbo Lump Crab Au Gratin recipe!

Make Jumbo Lump Crab Au Gratin!

Jumbo Lump Crab Au Gratin
This jumbo lump crab au gratin is decadent and incredibly delicious. Serve as a wonderful first coarse. The crab, of course, is the star here, but complimented beautifully with the Gruyere and seasonings.
Author: Kris Longwell
Recipe type: Appetizer
Cuisine: Seafood
Serves: 4 - 6
Ingredients
½ cup (1 stick) unsalted butter
1 medium onion, finely chopped
1 celery rib, finely chopped
2 tablespoon chopped green onions (mostly just the white parts), plus another 1 tablespoon of minced (green parts...for garnish)
1 garlic clove, minced
2 large egg yolks, slightly beaten
1 12 oz. can evaporated milk
¼ cup all-purpose flour
1 teaspoon Kosher salt
½ teaspoon cayenne pepper
½ teaspoon of freshly ground black pepper
1 cup (8 ounces) grated Gruyere cheese
1 lb jumbo lump crab meat, picked over for shells and cartilage
Instructions
Pre-heat the oven to 350 F.
Melt the butter in a large skillet over medium-high heat.
Add the onion, celery, green onions (white parts), and garlic, and cook, stirring, until the vegetables are softened, about 5 minutes.
While the vegetables cook, vigorously whisk the egg yolks and evaporated milk together in a small bowl until well blended; set aside.
Add the flour to the skillet, and blend well into the vegetables to create a white roux; be sure to not let the flour brown.
Using a whisk, add the milk mixture, stirring constantly to blend into the roux mixture.
Stir in the salt, cayenne, and black pepper, and continue to stir for another 4 - 5 minutes. (if sauce seems to thick, add a little milk to thin...should be the consistency of thick creamed soup).
Remove from the heat, and fold in half the cheese; blend until it is totally melted and fully incorporated.
Gently divide the crab meat among four mini oven-proof casseroles, or iron serving dishes; trying not to break up the crab lumps.
Top evenly over the four with the cheese sauce, then sprinkle with the remaining grated cheese.
Bake until bubbly/ about 15 minutes, then reset the oven for broil, and broil until the cheese begins to brown, about 5 minutes (keep an eye on this...don't let it burn!!).
Remove from the oven, sprinkle with the green onions (green parts), and serve at once!