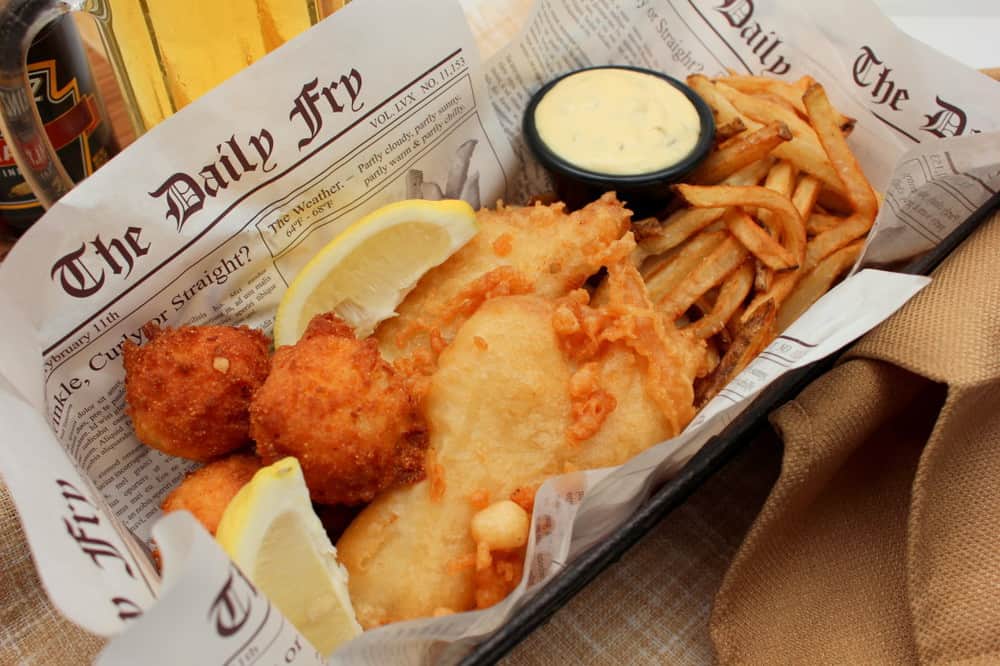 Who doesn't love English Pub Fish and Chips?  Well, I don't know.   But I sure know who loves them like crazy!   The Loon and me!   And these fit the bill.  I've been tweaking this recipe for years…and this is fail-proof.  Takes a little time, and you need to read through it all…then prep accordingly.  But the end result is a beer batter fish and chips fit for a King (and Queen).
English Pub Fish and Chips
Ingredients
4 large potatoes, preferably Russet, sliced into 2 1/4 x 3/8 strips (of mandolin makes this really easy)
1 cup of all-purpose flour
1 teaspoon of baking powder
1 teaspoon of salt
1/2 teaspoon of ground black pepper
1/4 teaspoon of onion powder
1 bottle of cold beer, your favorite ale, stout or lager
1 large egg, lightly beaten
6 to 8 pieces of cod
Vegetable oil, for frying
Instructions
Place the potatoes in bowl of ice water for about 30 minutes.
Heat the oil in a deep heavy skillet, or deep fryer...to 350 F.
Drain the potatoes and dry them well, about 15 minutes.
Drop the potatoes, about 1 cup at a time, into the hot oil and fry for abut 3 minutes.
Remove with a slotted spoon and drain on paper towels.
Repeat until all potatoes have gone through the 1st round of frying.
Let rest for about 10 minutes.
While the potatoes are drying before frying, stir together the dry ingredients and then add in the egg and beer. Stir to mix.
Add a little more flour on a platter and dredge the fish fillets.
Add the floured fillet to the batter and let the excess batter drip off.
Carefully add the fish to the hot oil.
Turn the heat to high (370).
Cook until the fish is golden.
Drain on paper towels.
To finish the chips, fry the pre-cooked potatoes in the hot oil.
Fry until they are golden brown, and crisp...about 4 more minutes.
Drain on paper towels.
Serve fish with the chips and accompany with Homemade Tartar Sauce, lemon wedges, malt vinegar and Southern Hush Puppies!
http://howtofeedaloon.com/fish-chips/