This Best-Ever Chicken Salad recipe is really the perfect go-to chicken salad for sandwiches or on top of a green salad.     You could easily add crumbled bacon, or raisins, or cashews, or even mix in a little curry powder to the mayo.  Of course, homemade mayo puts this salad over the top.  But again, a good quality store-bought mayonnaise works perfectly well, too.  145% Loon Approved!
I love to roast chicken pieces ahead of time, but you can also easily purchase a rotisserie chicken from your local supermarket and use that instead.   Either way, this chicken salad is so tasty and can also be adjusted to fit your favorite tastes.
Hey!  Watch us show you how easy it is to make this truly incredible Best-Ever Chicken Salad recipe!
We think the addition of seedless grapes, almonds and fresh dill are part of what make this chicken salad so wonderful.
These have become my new all-time favorite mixing bowls. So durable, handy, and affordable. I can't believe I'm so excited over bowls!
And if you really are in the mood to make this truly the BEST-EVER chicken salad…make your mayonnaise from scratch. There's nothing better than homemade classic mayonnaise (click for recipe).  Watch us show you how easy it is!
I mean, just think how really amazing this Best-Ever Chicken Salad recipe would be if you made the mayo from scratch!!
It's all about using fresh ingredients.
This truly is the Best-Ever Chicken Salad!
The flavor combo simply cannot be beaten.
And it's even better after it sits in the fridge for a few hours, or overnight!
I mean, just look how delicious this Best-Ever Chicken Salad recipe looks!
Wait until you taste it!! You and those around you will love it!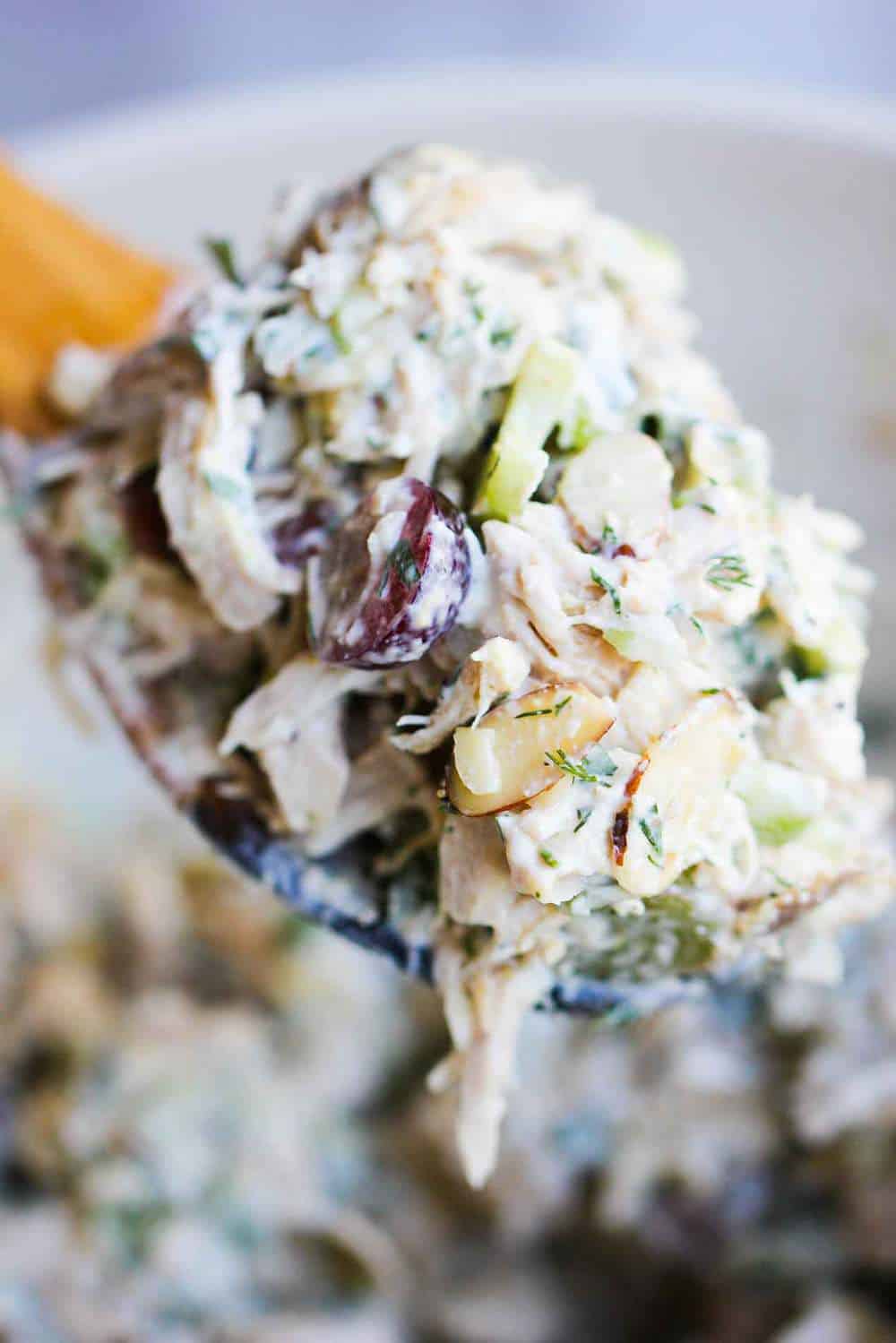 How about a close up of all this deliciousness? You can almost taste how good this is just by looking at it.
There is a reason this is hands down the most popular chicken salad recipe not only on How To Feed a Loon, but on the internet, too!!
Best-Ever Chicken Salad
This Best-Ever Chicken Salad is really wonderful. Perfect for incredible chicken salad sandwiches (croissants are great!), or on top of a lovely bed of greens. Either way, you're just going to love this Best-Ever Chicken Salad! 100% Loon Approved!
Author: Kris Longwell
Recipe type: Lunch
Cuisine: Lunch
Serves: 4 - 6
Ingredients
3 - 4 lbs of chicken parts (bone-in, skin-on thighs and breasts work well) (you'll need about 3 to 4 cups of cooked chicken)
2 tablespoons quality olive oil
1 cup of seedless grapes, sliced in half (red and green varieties are great)
1 cup almonds, thinly sliced (optional)
2 celery ribs, chopped
3 scallions, thinly sliced, white and green parts
2 tablespoons fresh dill, chopped
1 tablespoon fresh parsley, chopped
1 cup mayonnaise
Juice of 1 lemon
1 tablespoon Dijon mustard
1 teaspoon Kosher salt (start with ½ teaspoon, then add more, to taste)
Freshly ground pepper
Instructions
Pre-heat oven to 350 F.
Rub oil all over the chicken pieces and sprinkle with salt and pepper.
Bake for 45 to 55 minutes (internal temp should reach 165 F). .
Remove the chicken, let cool, then pull the meat from the bones and roughly chop.
In a large bowl, mix together the chicken, grapes, almonds, celery, scallions, dill & parsley
In a small bowl, mix together the mayonnaise, lemon, mustard, salt and pepper.
Add the mayonnaise mixture to the chicken mixture, and gently stir until will mixed.
Refrigerate for at least an hour.
Serve on a bed of green leaves with sliced tomatoes and avocado. Or, serve on bread with green leaf lettuce. Add more toppings to your taste!
Enjoy!