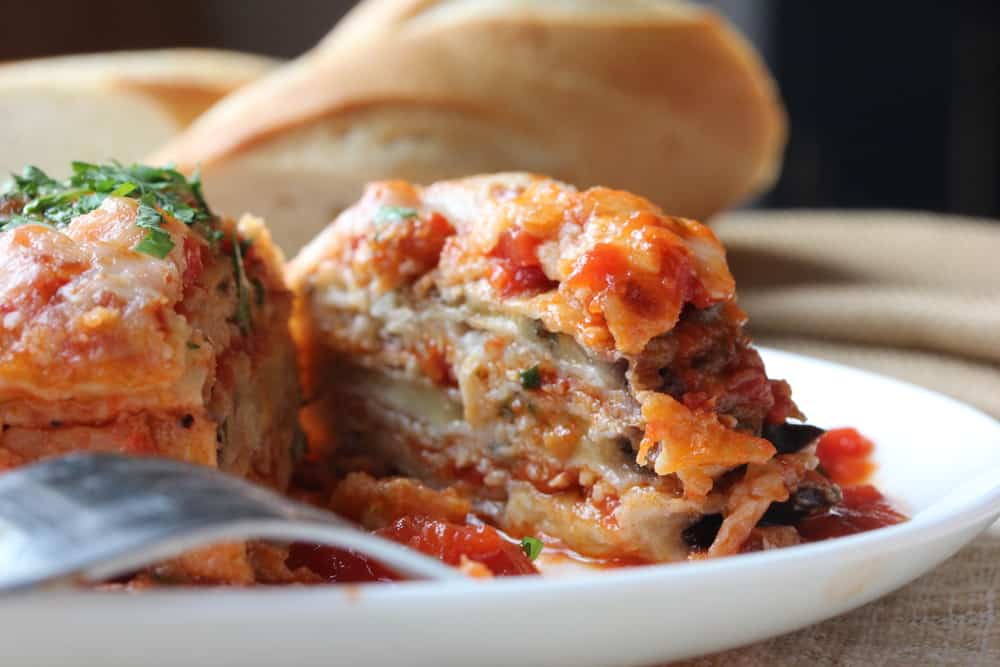 This recipe for Authentic Eggplant Parmigiana is about as 100% Italian -American comfort food as you will find.  This is one of those 'spend-a-few-hours-in-the-kitchen-on-a-Saturday-afternoon', and make something truly magical.  It would be nice to say that since this is vegetarian, with eggplant in the name, it's super lean and healthy.  Well, that would be a lie.   It's all natural products, of course…but it's bold, gooey goodness is something to cherish for a special occasion.   This is a classic Italian-American dish that will always deliver.  You can prepare up to 8 to 12 hour before serving, then bake for 50 minutes, pop under the broiler for a few for minutes…and you've got a real treasure on your hands.  Delicious!
Authentic Eggplant Parmigiana
This authentic eggplant parmigiana is pure Italian-American comfort in a single dish. The eggplant makes for the perfect vehicle for the cheese and
homemade marinara sauce.
Delicioso!
Author: Kris Longwell
Recipe type: Entree
Cuisine: Italian
Serves: 5 - 6
Ingredients
1 to 2 eggplants
2 cups all-purpose flour
2 to 3 cups vegetable oil, for frying, or heat your deep fryer
6 large eggs
2 cups grated Parmesan cheese
1 tablespoon fresh flat-leaf parsley, chopped
½ teaspoon of Kosher salt
4 cups homemade marinara sauce
3 cups fresh mozzarella cheese, grated
Instructions
Cut the ends off the eggplant and discard them. Cut each eggplant into ¼-inch round slices and sprinkle salt over each of the rounds.
Place in a colander for 40 to 60 minutes.
Rinse eggplant rounds under cool water to remove salt. Dry with paper towels.
Meanwhile, spread the flour out on a large platter.
Coat each slice of eggplant with flour and shake off excess. Set aside.
Next, in a deep, heavy saucepan, heat the oil to 350 F, or heat your deep fryer to 350 F. (If you don't have a deep-frying thermometer, the oil will be hot enough when it creates a sheen, and a small piece of bread sizzles when tossed in the oil.)
In a shallow bowl, whisk the eggs together with ½ cup cup of the grated Parmesan cheese, the parsley, and the salt.
Dip the eggplant, a slice at a time, in the egg mixture and let any excess drip off.
Deep-fry the eggplant slices, 3 to 4 at a time, for about 3 minutes, or until they are golden brown and tender.
Remove them with a slotted spoon and place them on paper towels to drain and cool.
Pre-heat oven to 350 F.
Spread 1 cup of marinara sauce over the bottom of an 8 x 4-inch loaf pan.
Arrange a layer of eggplant slices over the sauce (they can slightly overlap, if necessary).
Spread 4 tablespoons of marinara sauce over the eggplant.
Sprinkle ½ cup of the mozzarella and 1 tablespoon of the Parmesan cheese over the sauce.
Repeat, layer the eggplant, marinara sauce, mozzarella, and Parmesan cheese to top the pan.
End with a layer of eggplant and about ¼ cup marinara sauce spread over the top of it.
Sprinkle a good handful of Parmesan cheese on top of the sauce.
Cover the top with aluminum foil and place the pan on a baking sheet.
Bake the eggplant for about 50 minutes.
Let the pan sit for 30 to 40 minutes until cool enough to serve.
Cut into slices and serve with warm marinara sauce and grated Parmesan on the side.